Editor's Note: The pandemic set off social fault lines that influence violence, and Indianapolis sets a new homicide record almost daily. This story is part of a series that examines those fault lines, with a look at historical struggle, including a systemic lack of services and resources for low-income and Black Indianapolis residents.
This past spring Gleaners Food Bank in Indianapolis distributed nearly 8 million pounds of food -- more than twice the usual amount.
Over the summer, one Gleaners program served more than 1.5 million pounds. The CARE mobile pantries provided food for nearly 48,000 households, three times the 2019 number. Chris Coleman found work at the drive through distribution events through a local staffing company.
He knows many people in Indianapolis struggle with food insecurity. "Be able to help the people to help to feed the hungry 'cause it's a lot of people out here," Coleman said.
The original aim of the CARE program was for public safety officials to build relationships with residents in high crime neighborhoods and to build relationships with people in the community while filling a basic need. To date, it has served more than 300,000 people.
"You know how we is in Indianapolis?" Coleman said, "Nobody goes hungry in Indianapolis. Nobody."
But it takes a lot to fill in the food system gaps.
More than 200 food pantries, distribution sites or meal programs are set up across Marion County any given week, and all reported a spike in need this year. Indy Hunger Network Managing Director Kate Howe said the spike was largely driven by the loss of jobs during the pandemic.
"There were a lot of people who were out of work and were seeking assistance maybe for the first time or the first time in a long time," Howe said.
A new study measures how hunger increased in Marion County because of the COVID-19 crisis.
The number of additional meals it would take to achieve food security is known as the meal gap. In Indianapolis that number nearly doubled from 380,000 in February to 740,000 in June.
The timing of the study allows a first look at the meal gap since the pandemic hit. Howe said the gap increased even though the meal supply -- including increased government programs and nonprofit assistance -- nearly doubled during the same time.
"But it just still wasn't enough because the need increased so rapidly," Howe said, "and our great concern is that these programs are running out, many of them at the end of this year."
On top of that, nutrition needs typically grow in the winter because many have to use money they would normally spend on food to cover utilities. Others lose income, even in normal years, because of a drop in seasonal employment. And, with the pandemic, food insecurity has grown in Indianapolis from 20 percent to 28 percent.
With an eye on all those factors, the CARE program -- typically a summer program -- continued to serve people into the fall months at its three locations: Ivy Tech, John Marshall High School and the Marion County Election Board.
The social factors that play into why one person has health food access and another does not are complicated. The socio-economic cracks that people fall through are formed by years of social disinvestment that impact many historically Black Indianapolis neighborhoods. And while all of those social factors do not have a direct cause and effect relationship -- everyone who is food insecure is not at increased risk of violence -- they are related.
How is food insecurity related to violence?: One less stress
Debra Stowers has lived on the near northwest side for the past six years. She said the pandemic created desperate situations for many, all over Indianapolis.
"The police are all over the city at different homicides and shootings, multiple paths, multiple. I pray that it gets better, because we already got something that's killing us here," Stowers said. "Why kill each other?"
When talking about the root causes of violence, food insecurity is frequently part of the conversation. People who are food insecure are not statistically more likely to experience violence, but people who are at high risk for violence are statistically more likely to experience food insecurity.
Indianapolis is experiencing a record number of homicides.
Gleaner's Communication Director Sarah Estell said supplying food to impoverished neighborhoods is a valid way to address that spike.
"If you could take one thing away, that caused people to commit a crime, that then they, you know, found themselves in jail, or with fines that they couldn't pay," Estell said. "All of those issues that have been brought to the forefront."
When the CARE, Community Action Recovery program began, in 2015, it was part of Indianapolis's then-Public Safety Director Troy Riggs effort to reduce violent crime by addressing its root causes. One of its initiatives was to deliver food in a group of neighborhoods identified as hotspots for violent crime, many are still hotspots today.
WFYI covered the policing initiative through a reporting series called Intersections.
For that series in 2015, Riggs talked about why food distribution matters.
"Any area that's having trouble, that has a degradation of quality of life, and that's really what we're talking about, crime is an after-effect," Riggs said. "When you look at this, the breakdown of family is one of the glaring issues in each one of these areas. That leads to a lot of issues, lack of education, lack of coping skills, a lack of people being fed properly."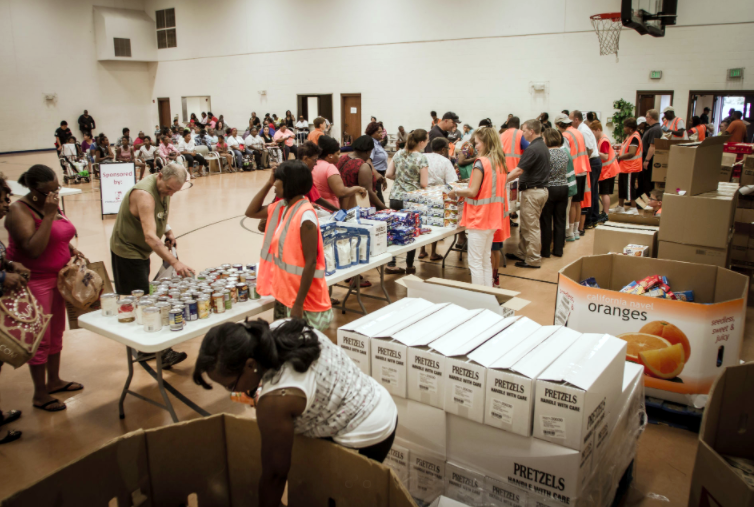 But despite City efforts, including the holistic approach by public safety in 2015, Indianapolis is experiencing record violence and homicides. Real change hasn't come to the same neighborhoods that have disproportionately impacted by violence and face root cause challenges.
Unai Migel Andres is an analyst at the Polis Center and said the lack of food exacerbates all the other outcomes of poverty, including violence.
"Food in my opinion is a basic need. It's a human right, even though it's not treated as such in the U.S.," Andres said.
Andres, who is originally from Spain, says the U.S. is the only country that doesn't recognize this right among its population.
Andres says in Indianapolis, the data clearly shows a relationship between food insecurity and public policies.
"Neighborhoods that are disinvested, they tend to have lower income populations, which means that they have lower purchasing power, which translates into a less feasible market for establishing a grocery store or any other business."
Transportation to grocery stores in neighborhoods that are food deserts is also a long standing problem in Indianapolis. According to IUPUI's Savi data 236,000 people live in transit food deserts.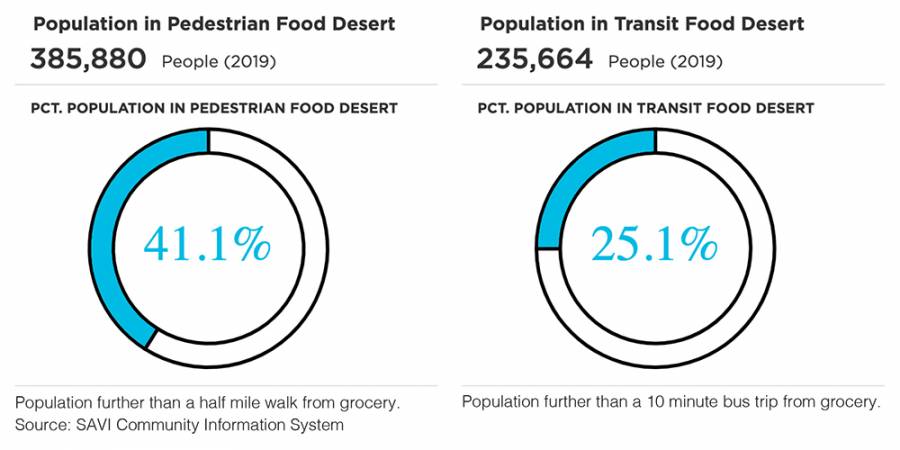 Many also experience barriers to connecting with free food or government assistance like SNAP, often because of systemic barriers, including transportation or a lack of internet.
Luckily, Indianapolis resident Debra Stowers does receive social security disability. The 54-year-old, retired cook lost both her legs to Buerger's disease which causes clogged arteries related to tobacco use. Stowers also receives SNAP but has still visited the CARE program a few times.
"Much needed. Close and consistent, free," Stowers says. "It's a big help."