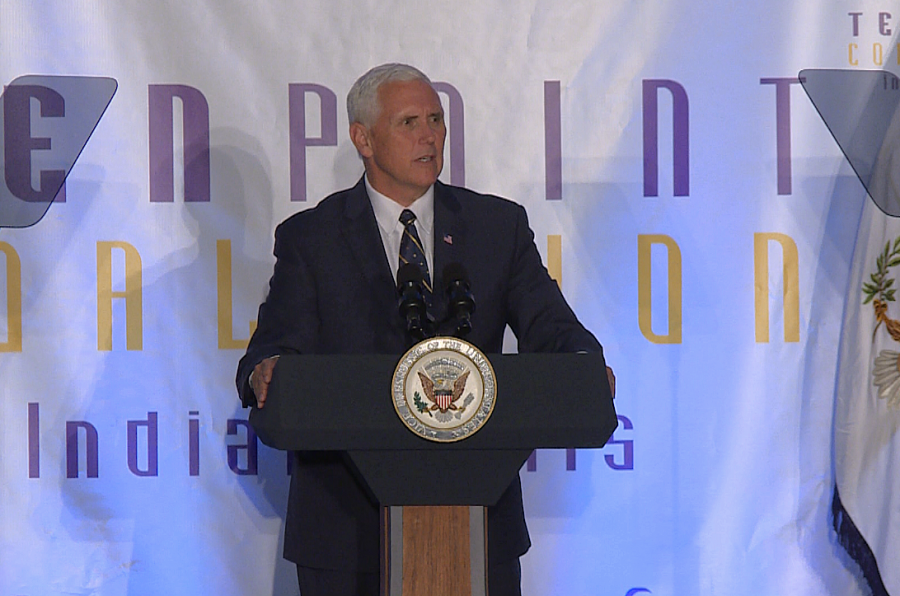 Talking about violent crime in cities like Indianapolis, Vice President Pence says "We can't just arrest our way out of the problem, we've got to create opportunities for people." (Photo by Drew Daudelin)

Vice President Mike Pence visited Indiana Friday. He was the keynote speaker at a luncheon for The Indianapolis Ten Point Coalition, a nonprofit focused on reducing violent crime.
Ten Point President Charles Harrison says they want resources to help citizens police their own communities.
"The drug dealers and the neighborhood cliques are now helping us to try to keep the peace. I have never seen anything like that before," Harrison says.
The strategy is at odds with some messaging from the Trump administration, which is calling for increased law enforcement in high crime areas. Still, Pence applauded Ten Point in his speech, saying the group's root-cause approach should serve as a model for national efforts to curb violent crime.
"It's not just about having faith patrols on the streets and working with local law enforcement," Pence says. "It's about making sure that our young people have better choices."
Pence says this is why the Trump administration is fighting to grow the country's economy.
Pence also says the Trump administration will work on nationwide welfare reform, to help people in poverty move "from dependency to the workplace."
And he says they will work to make world-class education available to every child in the country.
Individual tickets for the luncheon cost $250. VIP tickets, which included an opportunity to meet with Pence, cost $10,000.
Earlier this week, Indiana Attorney General Curtis Hill announced plans to replicate Ten Point's work in a handful of cities around the state.