School 103 on the Far Eastside was the first failing IPS school restarted under a controversial law allowing the district to partner with outside groups to independently run a school.
Earl Phalen's Phalen Leadership Academy was approved in 2015 to remake Francis Scott Key -- a K-6 school that had been rated a "F" by the state for five consecutive years.
Since then School 103 has become a focus for critics and supporters of IPS Superintendent Lewis Ferebee's plan to collaborate with charter operators in an attempt to turnaround failing schools and bring new teaching models into the district.
I've covered criticisms of Phalen, challenges at starting the school, and looked at how the school has become a central piece of a massive philanthropic effort at the Carriage House East apartment complex.
Now ISTEP scores show only 4.6 percent of students passed both the English/Language Arts and math portions of the exam in Spring 2016. That's a five point drop from 9.6 percent in 2015 when IPS ran the school.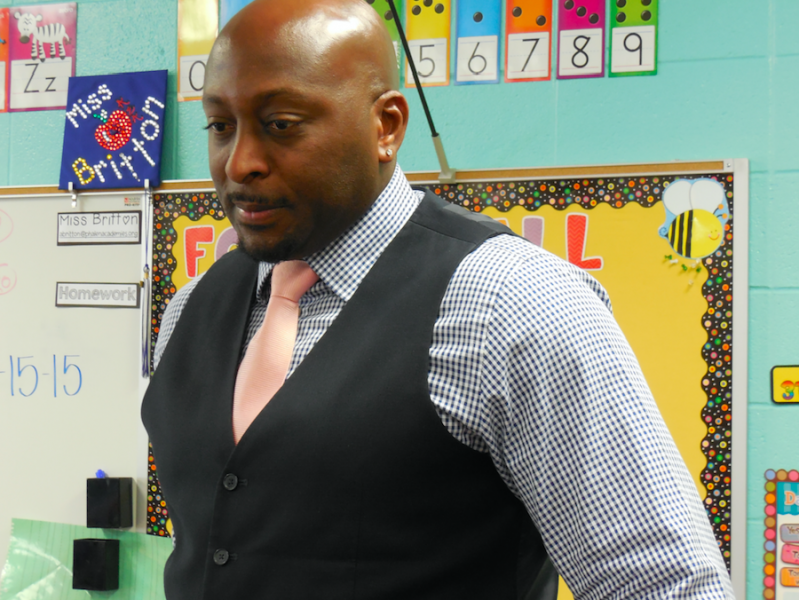 When I called Phalen to ask about the scores he took a very pragmatic tone -- the scores are not good -- unlike the superintendents who have "blasted inconsistencies with the testing system."
"Winners win and losers lose. Sometimes the rules are fair and sometimes the rules are not fair," he said. "I am not saying that argument isn't valid and I am not saying it is valid. I am saying we are not in that space. We have a job to help kids do well and our kids did poorly."
The focus at School 103 for the first five months last year, Phalen said, was building a positive student culture -- not academics. Fights between students were cut by 69 percent last school year, compared to the previous year before Phalen took over.
Until you have students feeling comfortable, safe and focused in class -- you can't learn, Phalen said.
That description is very similar to what I saw at Arlington High School last year. Academics took a backseat for months as administrators and teachers sought to create a positive community at the restarted school -- a slog that continued into the spring semester. (Like School 103, Arlington saw a decreased ISTEP pass rate to only 3.5 percent.)
"We are not pleased with our (ISTEP) results. And we have been executing a plan to improve those results really since day one of last year. If you expected us to have an 80 percent pass rate last year -- that is not innovation, that is a little bit pollyannaish," Phalen said. "We are more in the real world which is -- this stuff takes time and persistence."
As I've reported before, when the 2015-16 school year began at School 103, at least 80 percent of students were a year behind in math and English, and 63 percent of students were ranked in the bottom 25 percent nationally in reading.
Despite the ISTEP scores, School 103 is expected to see its accountability grade improve for the first time in years to a "D." The state Department of Education has released preliminary results of 2016 A-F grades to school leaders.
"I am not celebrating a D and I will never celebrate a D and my team will never celebrate a D," Phalen said, adding that School 103's culture was in place when classes began this academic year. "The fact is, we are able to now devote so much time to the academic growth of our children … you will see the fruits of that persistent focus over time."
But the ISTEP scores have already caused critics to question Phalen's ability to turnaround the school.
Indianapolis attorney MaryAnn Schlegel Ruegger asked the IPS Board during last Thursday's meeting why they wouldn't cancel its five-year contract with Phalen to operate the school.
"... IPS poured money and attention into the school for the 2015-16 school year. Why did ISTEP scores drop steeply, and not rise? What is missing or not being done according to the five year contract between Phalen and IPS?"
The board, as per its policy, had no response for Ruegger. But after the meeting, Ferebee said he had no concerns about Phalen's oversight.
"We are not going to knee jerk to results that we don't have a lot of confidence in," he said.
Here are the 2016 ISTEP pass rates for Phalen's other schools:
Phalen Leadership Academy, Indianapolis: 37.1% (2016); 39.3% (2015); Phalen's first school, opened in 2013 on North Illinois Street.
George H. Fisher IPS School 93, Indianapolis: 30% (2016); 19.1% (2015); Phalen began managing this school in summer 2016.
Thea Boman Leadership Academy in Gary: 24.4% (2016); 34.7% (2015); Phalen took over management of this school in summer 2016.
Contact WFYI education reporter Eric Weddle at eweddle@wfyi.org or call (317) 614-0470. Follow on Twitter: @ericweddle.