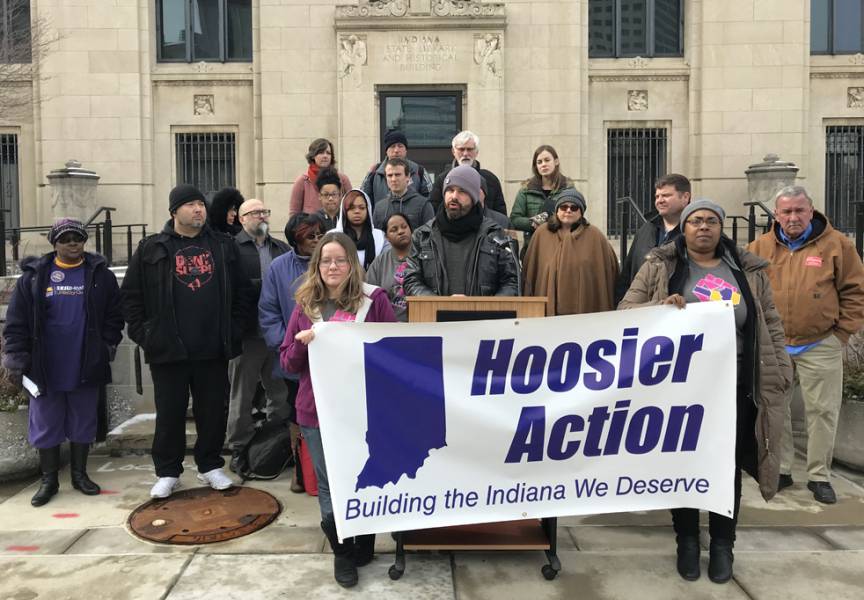 Jesse Myerson, outreach director for Hoosier Action, says a new bill meant to combat drug dealers won't have a positive effect on the state's opioid crisis. (Photo by Drew Daudelin)

The political activist group Hoosier Action outlined its legislative agenda Tuesday at a press conference outside the Indiana Statehouse.
Members of the group talked about societal issues surrounding poverty, like predatory loan companies and access to food stamps.
Jesse Myerson is outreach director for the group. Myerson says it strongly condemns one proposed bill that would increase the severity of the crime for drug dealers if the deal results in the death of a user.
Incarceration, Myerson says, is not the answer.
"It does not get people off of drugs. It only increases the windfall profits that are being reaped by the people who benefit from incarceration," Myerson says. "And it does nothing to receive reparations for the people who've been harmed by these predatory pharmaceutical companies getting people hooked on drugs."
The legislative session is about halfway done, so some legislation the group hoped would pass has already been set aside, like the Pregnancy and Childbirth Discrimination Bill and the Small Loan Finance Charges Bill.