Ports of Indiana officials are hoping a successful 2017 sets the stage for more growth this year.
The Ports of Indiana handled 11.8 million tons of cargo in 2017 – a 5 percent increase from the previous year and the second highest annual shipment total between the three ports. This marks the fourth consecutive year the organization exceeded the 10 million ton threshold. Officials estimate the ports generate almost $8 billion in economic development each year.
All three ports grew last year, made possible through partnerships with a Korean steel company, POSCO Steel, and bulk terminal operating company Metro Ports – the country's oldest stevedoring (loading and unloading crew) company. Ports of Indiana CEO Rich Cooper is hoping to use this growth to cultivate additional years of success.
"We look for synergies in our business. Who's the next company that we could move next door to the one that we just recruited," says Cooper.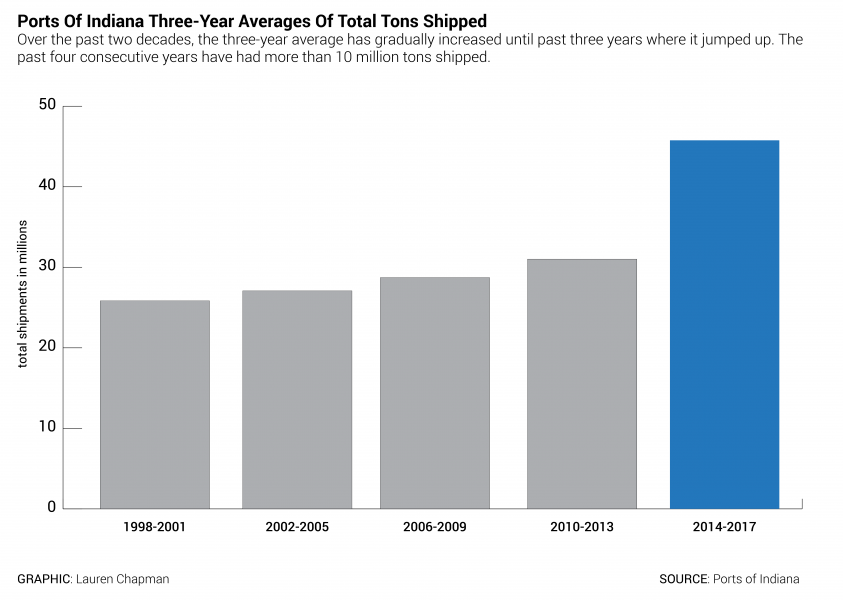 While the numbers have been showing positive results over the past years, the focus is already on how to keep setting unprecedented numbers since the authority's founding in 1961.
"Everybody wants to see continued growth, and it's our belief here that if we're not continuing to grow our business, then we could be in for some setbacks that none of us want," says Cooper.

While all three ports are reported having had successful 2017's, Ports of Indiana-Mount Vernon set a historic record in Indiana's port history, recording 6.8 million tons in shipments.
And officials say the ports aren't even operating at full capacity, meaning there's room to keep growing.
Mount Vernon port director Phil Wilzbacher says the port he oversees is only running at 50 percent operating capacity making the vacancy a helpful marketing tool to attract new businesses.
"In turn, what that could represent is the industry does not have to invest or put capital in to those type of facilities because the port already has them," says Wilzbacher.
The Burns Harbor port is located on Lake Michigan and both the Mount Vernon and Jeffersonville ports are on the Ohio River.

All three ports handled more cargo last year, driven by increases in shipping coal, steel, fertilizer, ethanol and limestone, among other materials.
Some distinctive items managed to pass through Indiana's ports including ICARUS – the world's largest liquid argon particle hunter – shipped from Switzerland to the United States Department of Energy's Fermi National Accelerator Laboratory (Fermilab) in Batavia, Illinois.
And to continue growing physically, both the Jeffersonville and Burns Harbor ports will be expanding over the next few years through grants from the U.S. Department of Transportation. The Ports of Indiana is also exploring the possibility of adding a fourth port in southeast Indiana, inside the Cincinnati metropolitan area, after entering an agreement to purchase 750 acres of land along the Ohio River in Lawrenceburg and Aurora, Indiana. Cincinnati is the only major metropolitan area Indiana touches that has no port presence.
"Looking at that possibility, we get excited about could we now replicate what we've done at our existing three ports in the far southeastern part of our state," says Cooper.
However he says this will be done while keeping in mind not causing the syphoning from existing ports.
"That does none of us any good; doesn't do the state and good; doesn't do our ports any good," Cooper says.
The interest is there, but Cooper says additional research still needs to be done.