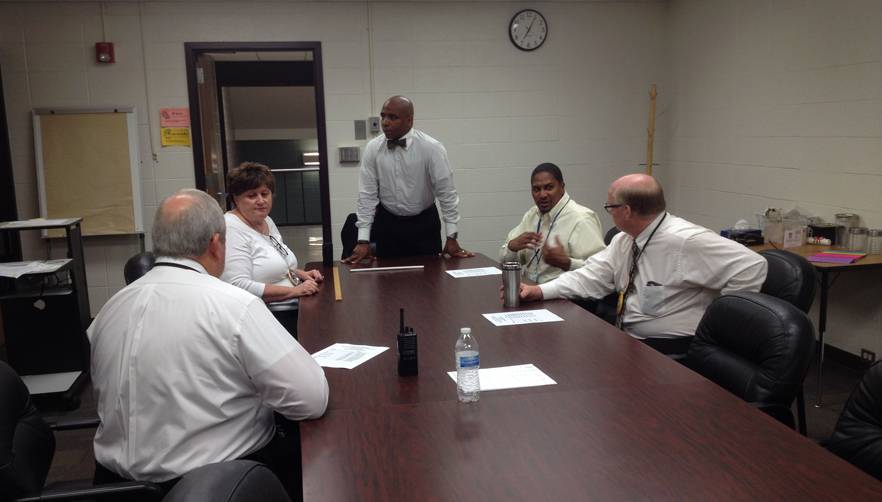 Arlington Principal Stan Law prepares his senior leadership team on Aug. 3, 2015 right before students are let in the building for the first time. Photo: Eric Weddle/WFYI Public Media
After three years under management of a private company, Arlington Community High School has returned to Indianapolis Public Schools. It's the first school under state intervention to transition back to its home district and school leaders are under pressure from the community and state to make it work. WFYI education reporter Eric Weddle will spend a year reporting from inside the school on its successes and challenges. In this first part of the series, A New Day, he looks at just how difficult it can be to start over at a school.
---
Arlington Community High School teacher Kevin Sandorf quiets his fourth period English class and starts counting from 40.
Sandorf calls out a number for each student not sitting in one of the polished desks he purchased years ago at a suburban school sale.
His count is 49 -- three students short of how many he expected.
"I realize the class is overloaded but yesterday it was a whole lot worse," he tells the students. "So we look for the glass half full not the glass half empty."
Sandorf's classroom is immaculate and he'll remind the students that he bought everything in it, including the flat screen TVs, a sound system and framed inspirational posters. He strives for each student who walks in the door to have a folder -- emblazoned with their name and color-coded by class period -- waiting for them.
But despite the prep, Sandorf and other teachers are fighting against daily fluctuations of class size and changes to student schedules.
That's because more than two weeks after Indianapolis Public Schools began its 2015-16 school year, Arlington is still settling.
More than 200 students are missing from the school.
On the first day of class, Aug. 3, 388 students in grades 7-to-12 walked into the Northeastside school. Another 167 more arrived by Tuesday, the 12th day of school, for a total of 555 students enrolled.
But around 800 students are expected to be Arlington Golden Knights this year.
It's still unclear if the remaining students are playing hooky or enrolled in another school.
"We are missing valuable, invaluable time," says Principal Stan Law. "And the longer you are away from school, the longer that gap is since the last time you been in school -- to me it is a no brainer why kids need to be in school on time, the first day."
Law, the former principal at Shortridge Magnet High School, is impatient with the progress. Setting a new tone and culture at Arlington is no easy task when students trickle in every day.
He hopes that by Labor Day those missing students will arrive. The State Department of Education determine how much funding a school receives per student based on the Sept. 18 enrollment count.
But there are other problems too.
During class time, groups of students roam the hallways of the 380,000 square-foot facility, and staff -- including IPS police officers -- struggle to contain them.
School administration have found themselves hamstrung by missing and incomplete student transcripts, creating a painstaking process for counselors to finalize schedules. That leads to students being shifted from one class to another or 49 of them ending up -- at least for a while -- in Sandorf's fourth period class.
Staff have also been unable to access Learning Connection -- the online student record portal that also contains IEPs, or individualized education program, for special education students.
Around 400 students lack school indentification cards because the machine that makes them is broken.
'A Rebirth'
Law says he expected some of these issues but not so extensive. Yet, he maintains most students are in the correct class and they are learning. Arlington's stability, he says, is "around 85-90 percent."
There would be more stability, he says, if he was able to take control of the school before early July 2 -- that's when IPS became the school's operator again.
When Arlington opened a month later, it was the first time in three years the school was part of the district. The state took over Arlington in 2012, after six straight years of "F" grades. Tindley Accelerated Schools, a local nonprofit charter school operator then known as Ed Power, was hired to run Arlington.
But Tindley said low student enrollment -- less than 400 students -- didn't provide enough funding to cover costs, like maintenance and utilities. So IPS and Mayor Greg Ballard's office convinced the State Board of Education to return the school to the district; and in April the change was approved.
Yet, Arlington still remains under the board's watch and the board could retake control of the school if IPS fails to make improvements. IPS Superintendent Lewis Ferebee has pledged academic improvements at Arlington, including a graduation rate of 60 percent -- that's an increase of 16.5 percentage points from 2014 when the school was run by Tindley.
"We do consider it, I guess you could call it, a rebirth. Again, I say, I don't really look at what Arlington was like in the past. We weren't here," Law says. "We just have the opportunity to have a blank canvas and build a school from there."
Now all eyes are on Law and his team to see if they can turn the school around.
That is just what Law oversaw at Shortridge. The school was a "D" when he took the lead in January 2012 -- after subsequent years of academic probation and "F" grades. The school was rated a "C" for 2013-14 and Law is expects it will be a "B" when the accountability grades for the past school are released early in 2016.
After Law accepted the job as Arlington principal, a handful of teachers, including Sandorf, staff and the senior leadership team chose to follow him from Shortridge in Midtown to the Northeastside.
In a series of talks with teachers right before classes began, Law told them this year won't be easy and many in the state -- and beyond -- will rate their success on test scores and graduation rates -- no matter the challenges they face.
And the challenges are steep.
More than half of Arlington students have yet to pass their 9th grade English exam -- a requirement for graduation without a waiver. Staff are also finding out that some students have far fewer credits than they thought.
Debra Ward, an assistant principal overseeing Arlington's 7th and 8th graders, recalled how she and other management at Shortridge had a choice of where to work -- and they chose Arlington because of a shared purpose.
"We went down the row and said, 'Are you in? Are you in?' And you were either in or out. If you wanted to be out it was no big deal. But if you wanted to be in, then we were going over as a team," she says of a meeting held last school year at Shortridge. "I think we will make a difference. Because our philosophy is kids first and we want this to work. We want our kids to be successful."
'Cards You're Dealt'
Sandorf's fourth period class moves to the media center where there are enough chairs for the 49 students but not all of them are sitting down.
Sandorf sits with four male students and explains why the reading assignment in front of them is a stepping stone toward passing their end-of-course English exam and graduation. Yet other students text on cell phones and dart around the room in the final minutes of the class.
When the class ends, the students spill out into the hallway and Sandorf follows. Walking back to his classroom he says, for now, teaching at Arlington is part improvisation.
"You take the cards you're dealt and you go with it. Is it perfect? Not even by a long shot," he says. "But there is intent and you are looking for some end in mind and that is what we do and hopefully we'll make it work."
Contact WFYI reporter Eric Weddle at eweddle@wfyi.org or call (317) 614-0470. Follow on Twitter: @ericweddle.