Researchers at Purdue University are working to find more environmentally-friendly adhesives for everything from cardboard packages to shoes.
They're hoping creatures such as shellfish might hold clues for trying to get things to stick together - naturally.
Purdue researchers say many adhesives are petroleum based - making them difficult to recycle.
In his office, Professor Jonathan Wilker pointed to cardboard boxes around his office - many of them with white packaging labels stuck to their sides.
"Nobody is going to bother to pull this stuff off before it goes to a recycling bin and even if you tried you wouldn't be able to get it all off," he said. "So this box is destined for a landfill."
And, according to Wilker, these traditional adhesives are everywhere and are responsible for so many things - electronics, boxes, and even things like plywood - ending up in a landfill.
In an effort to find more sustainable, environmentally friendly alternatives Wilker is looking at marine creatures like mussels and oysters, which use their own natural adhesives to stick to surfaces.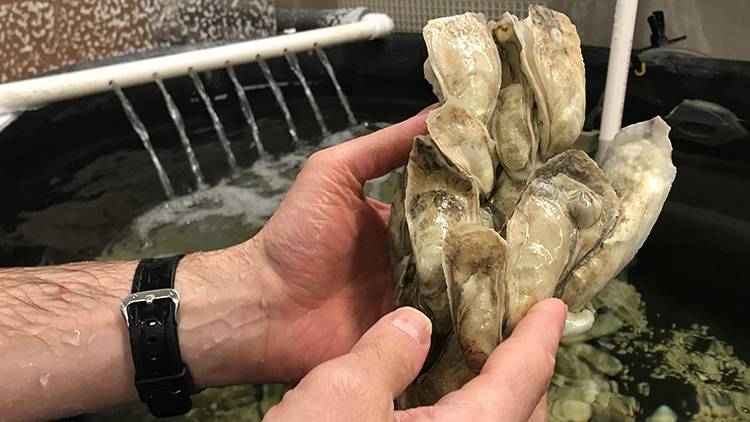 The Purdue lab has an aquarium room with tanks for various shellfish.
"It's maybe the closest thing you're going to get to an ocean in the state of Indiana," Wilker joked.
In one tank, mussels connect to one another with long, string-like attachments. In another tank, oysters are connected by an almost cement-like material.
"What we've found is that rather than the mussel adhesive being organic in nature this is more inorganic in nature," he said.
The hope, according to Wilker, is to try to learn from these different kinds of natural adhesives and then mimic them.
"And then because they are bio-based and sustainably sourced the adhesives could potentially degrade later," he said. "Sustainability is an area we're putting a lot of effort into these days."
Sustainability is part of why the research is important. Another aspect is looking at how to create an adhesive that works well underwater.
Wilker said the research could have medical applications - as replacements for things like sutures or staples.
"So if we look at nature and say how do shellfish make strong bonds underwater, one part of that is understanding the fundamentals of how they do it," he said. "The other is translating the information we learned into new adhesive systems."
Wilker said sustainable replacement adhesives developed by his team for uses such as packaging could reach the market as early as this year.
But he said medical adhesives, which are used on the human body, are still a long way off.