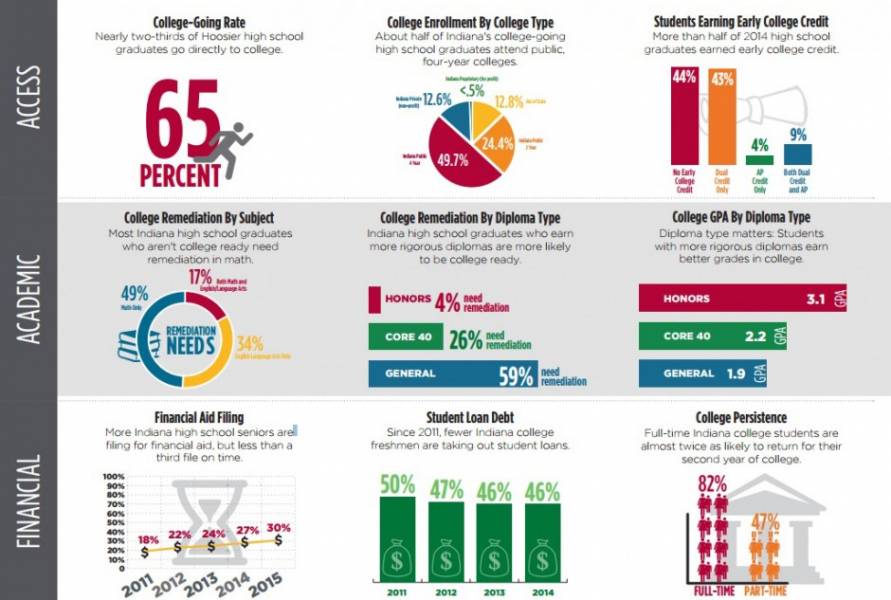 Indiana Commission for Higher Education

The annual Indiana College Readiness report found 82 percent of Hoosier student who enrolled in college in 2014 were prepared for coursework -- that's an improvement of five percentage points from the previous year.
Since the 2011, the amount of students entering college directly from high school who need remediation in math or English has fallen from 31 percent to 18 percent.
"The trends are in the right direction and we are encouraged by that," Higher education commissioner Teresa Lubbers said. "We know we still have much work to do. "
Minority and poor students are far behind college enrollment.
In 2014 just 14 percent of non-white students and 34 percent of students who qualify for free or reduced lunch attend college directly after graduation. The state average is 65 percent.
Marion County had the highest rate of minority graduates attending college at 37 percent.
"We saw a higher improvement rates in our low income, minority and first generation students," Lubbers said. "They actually outpaced the growth that we saw across populations. Now I don't want to be misunderstood, as I said, the achievement gap is still clearly there."
The annual report provides data at the state, county, school corporation and individual school level. A new online dashboard lets users compare and map multiple years of data.
Other findings in this year's report:
College remediation by subject: 49 percent math only; 34 percent English/Language Arts; 17 percent both subjects.

College remediation by diploma type: Honors, 4 percent; Core 40, 26 percent; general, 59 percent.

Financial aid filing: Only 30 percent of students complete the Free Application for Federal Student Aid, or FAFSA, on time.

Student loan debt: 46 percent of college freshmen took out loans, a drop from 50 percent in 2011.
Contact WFYI education reporter Eric Weddle at eweddle@wfyi.org or call (317) 614-0470. Follow on Twitter: @ericweddle.