State Rep. Ed DeLaney is again weighing in on the plans by Indianapolis Public Schools to close four schools, including three high schools, next year.
The Indianapolis Democrat is calling for Broad Ripple High School to remain the home of some type of educational offering -- possibly even charter schools.
The IPS Board voted to close Broad Ripple Ripple and the other schools Monday night as part of a facility and curriculum rehaul they say will lead to improved academic offerings. The board also approved the start of the disposition process of Broad Ripple and John Marshall Middle School through sale or lease.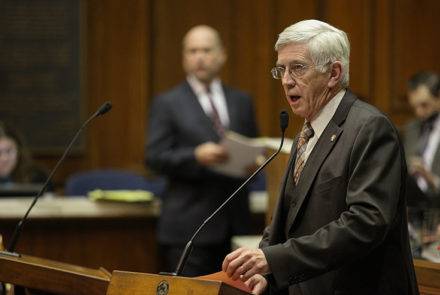 DeLaney issued a statement Tuesday again reiterating his hope the Broad Ripple community "will come together to support the use of this facility for high school education."
DeLaney, who is often critical of school choice, says the option could be "one or more quality charter schools and perhaps even a revamped Broad Ripple High School."
His statement continues:
"IPS has forced these choices on us. It has decided to radically change high school education and to focus its services in a small area and on an ever-changing menu of specialized options for study.
"The idea of having a neighborhood alma mater with decent classes for all is dead in IPS. It is up to us whether we try to manage the fallout or not. If we fail, IPS is sure to sell to the highest bidder. I am ready to assist those who value high schools more than real estate deals."
On August 9th Delaney held a public meeting about possible reuse ideas for Broad Ripple High School. At the time, IPS Superintendent Lewis Ferebee says that would be premature.
During one barbed exchange with Ferebee, Delaney criticized the district for not aggressively competing against charter schools that enroll former IPS students.
"I am troubled by your comment that you don't pay attention to how many kids go to the charter schools. Isn't that your competition?," Delaney asked.
"I didn't say we don't pay attention. Our efforts are around supporting the students that chose IPS," Ferebee responded
Contact WFYI education reporter Eric Weddle at eweddle@wfyi.org or call (317) 614-0470. Follow on Twitter: @ericweddle.