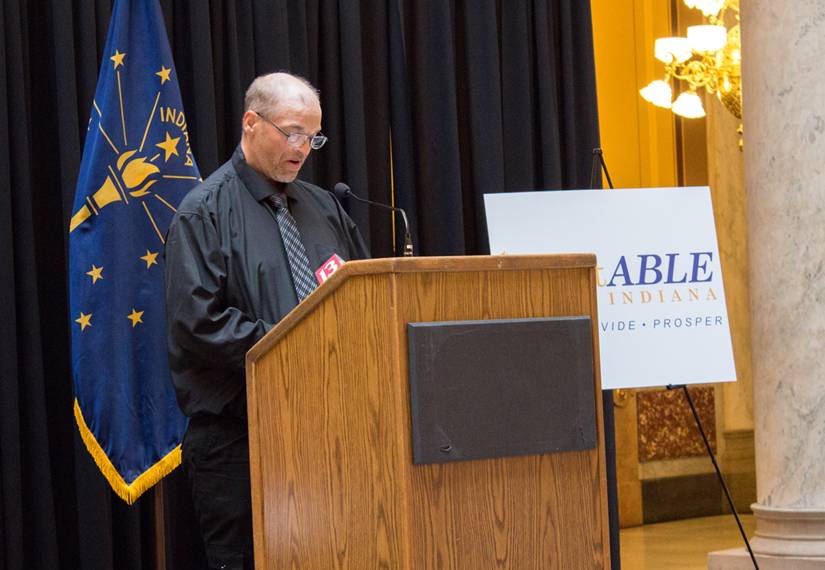 Shawn Fulton plans to use the program, and spoke Thursday as an advocate for disabled Hoosiers. (Photo by Drew Daudelin)

The federal government passed The ABLE Act four years ago – ABLE stands for "achieving a better life experience."
The bill allows states to offer a program in which somone with a disability, or the parent of a disabled child, can create a savings account with special tax advantages.
In 2016 Indiana lawmakers voted to enable the program, and the result is called InvestABLE.
To qualify you need to experience blindness or have a similarly severe disability. And you have to have been diagnosed before the age of 26.
Indiana Treasurer Kelly Mitchell says without the program, disabled Hoosiers could only save $2,000 a year before losing tax benefits. But through it that number jumps to $14,000 a year, with a total savings cap of $100,000.
Mitchell says it's important that the money, once qualified, can go towards a range of expenses, like education, housing and transportation.
"They're able to save for their children," Mitchell says. "That gives a parent peace of mind, and it allows adults to be able to save for things outside of what they've been able to, up until now."
Shawn Fulton is planning to use the program, and spoke as an advocate for disabled Hoosiers at the launch event.
"Saving is an important part of my life, because I don't want to depend on other people, or grants, to help with the stuff that I need to do," Fulton says.
Fulton started a DJ company nearly 20 years ago. He says the improved savings account will allow him to grow his business and help with expenses like clothes and housing payments.
Anyone qualified can sign up for an account online with a minimum deposit of $25.
The state estimates 80-to-100,000 people could be eligible for the new program.