When Sabae Martin was a young teenager in middle school, her mother used to ask her not to go near the basketball courts at Tarkington Park on 39th and Illinois streets. But Martin went anyway. She wanted to get a glimpse of the cute boys playing — what her mother expected she would be doing.
"That's my favorite memory of this park to see all of the fellowship of basketball and the camaraderie of competition," Martin said with a beaming smile and reminiscent eyes as she stood on the same spot.
A generation later, Seretha Edwards also went to Tarkington Park with her friends every single day after school. There was always some kind of festivity going on — someone's birthday or graduation. Edwards often considered there to be an open invitation to whatever was happening at the park.
"Yeah, even if we didn't know the people having a birthday party, we were kids at the time. You know, nobody's gonna turn a kid down wanting a hot dog," Edwards said.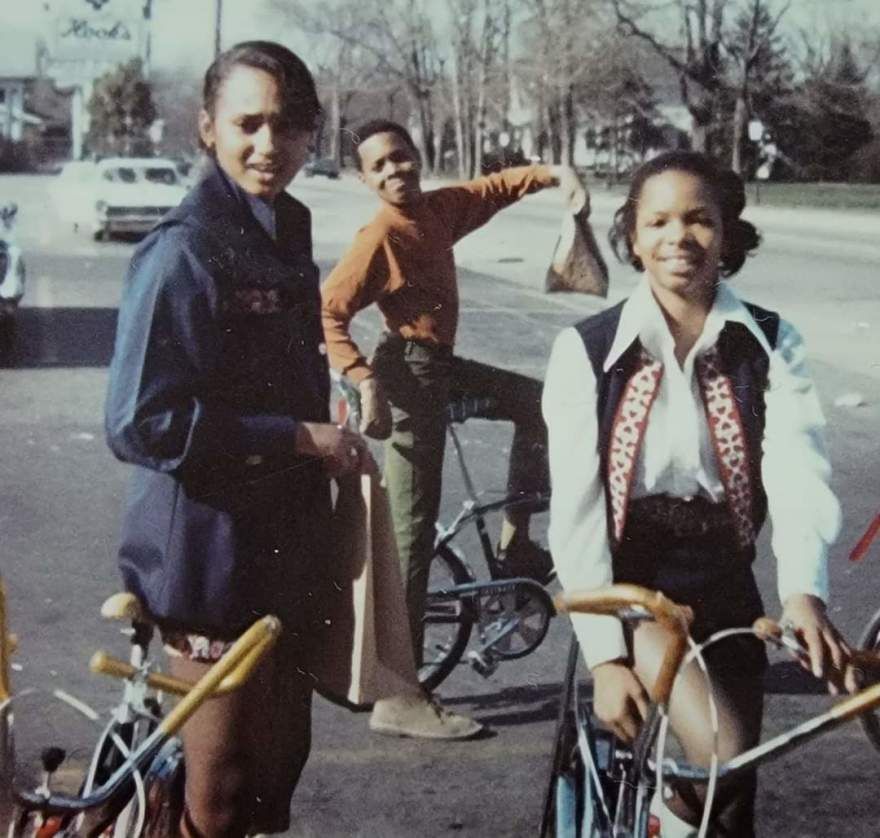 But the playful kids have grown.
Martin is now 63, and Edwards is 40. They remember Tarkington Park as a cultural hub for the Black community around the Butler-Tarkington neighborhood. It's where stories of joy, competition and discovery unfolded everyday.
Today, the area where the park is located is at the intersection of stark racial, health and socioeconomic disparities. And part of that is due to the city not making the neighborhood a priority for years and systemic barriers that have kept the Black community from having a voice in their own neighborhood.
As Martin stood at the edge of Tarkington Park by Illinois Street, she pointed to a few abandoned shops.
"There used to be a grocery store here, and a grocery store there. And I repeat the same thing, where did they go and where are the replacements and why is it taking so long?" Martin said.
At some point, one of the grocery stores was turned into a brewery, just across from the playground. It shut down in 2018. Last year, a CVS Pharmacy on 38th street also closed and now is a car wash instead.
The road bordering the park — 38th Street — divides Indianapolis into two very different communities. To the north, houses cross the million-dollar mark. The streets are lined with greenery, mature trees, manicured yards and fancy lamp posts. Residents are predominantly White.
To the south of the street, the color scheme starts to change, as if it is an Instagram filter or a Hollywood movie preset — there are smaller and older houses, more concrete and more Black and Brown residents.
The park is located in the zip code 46208. A study by the Indiana University Richard M. Fairbanks School of Public Health shows that this zip code has one of the lowest life expectancies in greater Indianapolis — 73 years. That's nearly 11 years less compared to zip codes less than 10 miles away.
The average income here is almost half the national average. And 53 percent of the residents are African American or Hispanic — they mostly live in the lower-income part of the zip code. The White residents are clustered in the higher income part, which is less than a two-minute car drive away.
A Community Fenced Off
Coach Donnell Hamilton, or Coach Nell, knows the area well. He grew up around here and used to come to Tarkington Park all the time.
"This is like a central meeting point for all neighborhoods around here and it has been this way for a long time," Coach Nell said.
Now, he trains the Indy Steelers — a youth football team for more than 100 kids between the ages of 5 and 14.
For more than a decade, they have trained every Tuesday, Thursday and Saturday for at least two hours each day. But on Labor Day weekend in 2015, something unexpected happened.
"We were showing up to practice one day and we were fenced off the park; we couldn't go anywhere," Coach Nell said. "The kids were upset. We did not know what was going on."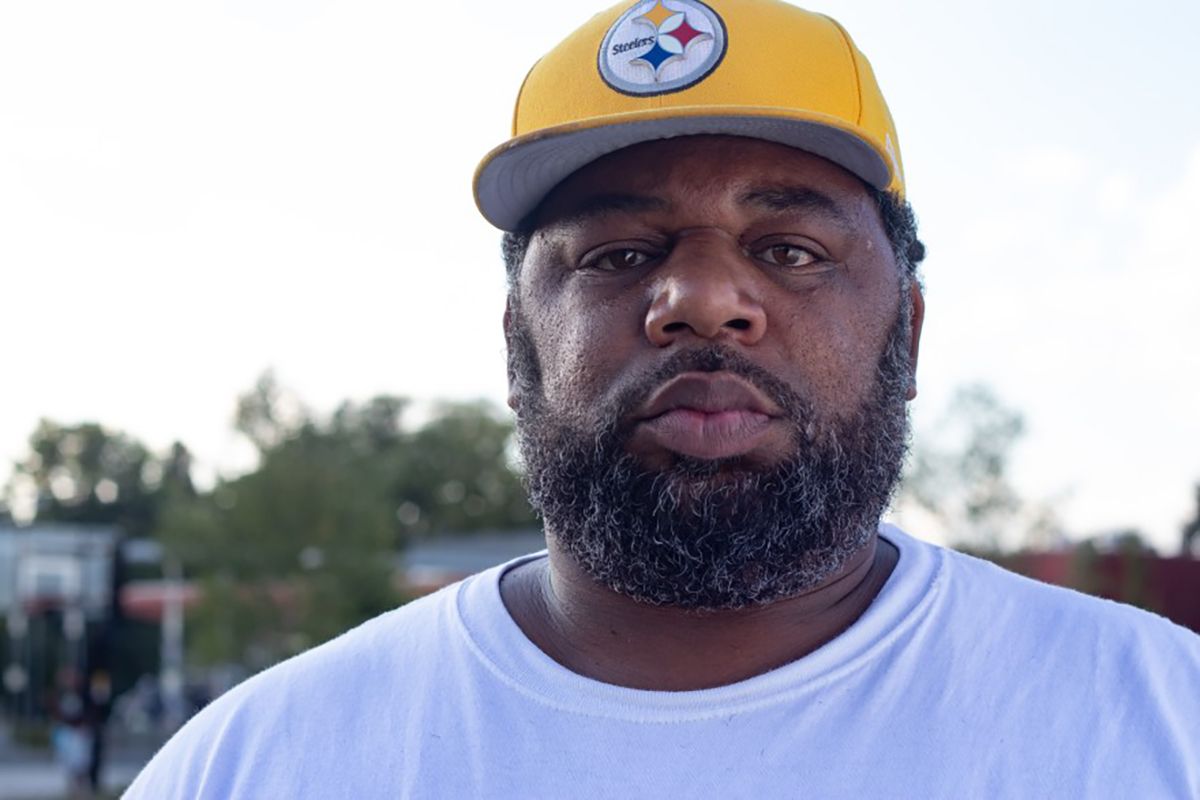 Hundreds of residents around the park also did not know what was happening. And that sparked an outrage in the Tarkington Park community.
The image of kids being fenced out of their own park was such a throwback to times when Black Americans were not allowed in many public spaces, including parks, which are an essential element in a community's quality of life and ultimately health and life expectancy.
A Good Idea, In Theory
It all started with an idea in 2012.
The city wanted to give Tarkington Park a little facelift — a splash pad, a climbing wall, new playground and a community cafe. The goal was to attract people from all neighborhoods.
"There was a commitment to do a new master plan for Tarkington Park," Michael McKillip, executive director of Midtown Indy, said. "The plan for the park was 30 years old. It was pretty underwhelming at the time."
McKillip was one of the people tasked by the city to plan the park's renovation.
"Essentially, the role we played was as an advocate to articulate a vision for Tarkington Park as a place to unify the historically divided neighborhoods that surround it," he said.

He took his role seriously. He hosted meetings with many in the Black community — business owners, church leaders and community workers. It was a full house in many of these meetings. And things were going well, or at least that's what McKillip thought.
"I was like, wow, we have several hundred people who weighed in and, you know, public participation in shaping the future of city stuff rarely happens," he said.
McKillip was a lobbyist for 10 years before the nonprofit work. He knows that people are more likely to show up to stop something from happening as opposed to a planning meeting. And so, he felt like the process was pretty inclusive.
It took around three years to secure most of the $5 million needed to renovate the park, and in 2015, the park was fenced off to mark the beginning of construction.
And that's when the Steelers showed up, unable to practice on a field they had called home for years.
Systemic Barriers Persist
Sabae Martin, Seretha Edwards and many other community members stood with Coach Nell and the kids to protest the changes they say they had no input on and had no idea were happening.
For many Black residents here to attend a planning meeting would mean arranging for child care, possibly a ride and time away from the multiple jobs — a pretty big ask. In some meetings, only online responses were factored in; paper-based ones weren't. Many households here also have limited internet and computer access, which means online surveys are difficult to circulate. These systemic barriers spill over in all aspects of the Black community's life — even things like having a say in their own community park.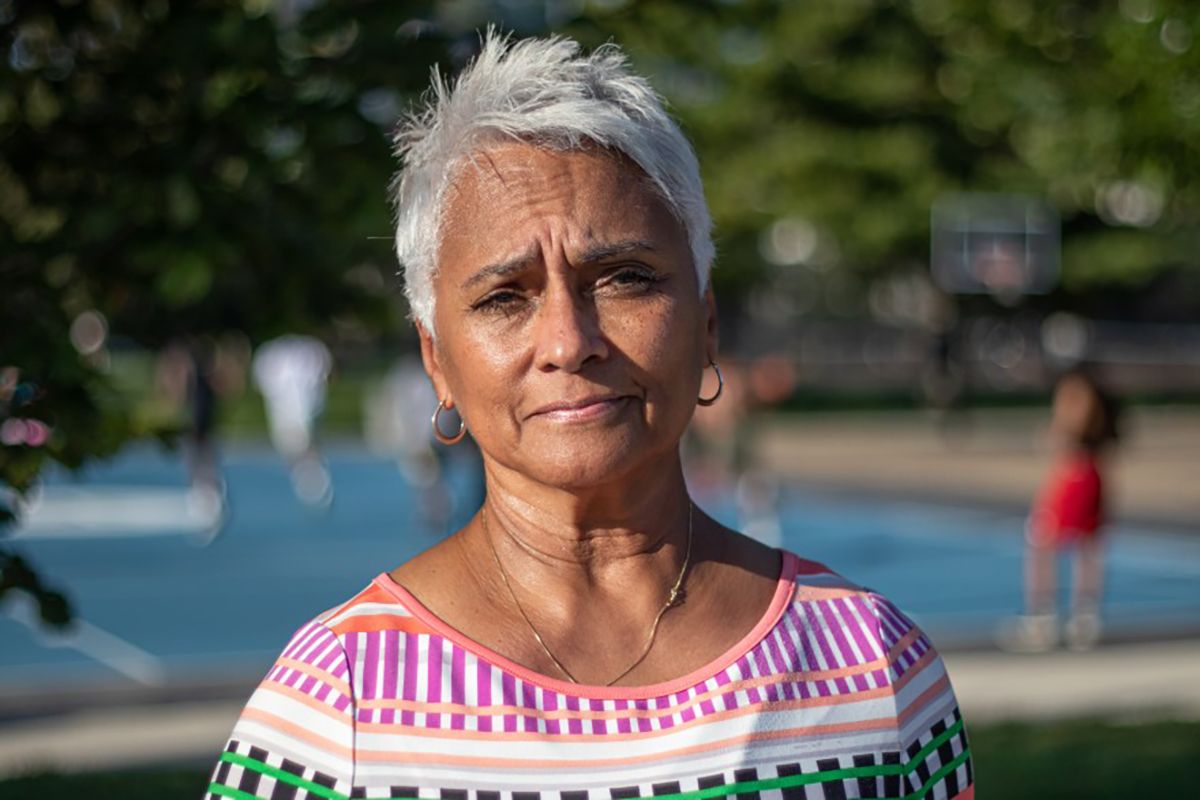 The early stages of brainstorming for the park back in 2012 had included a dog park as an amenity some people in the neighborhoods surrounding the park, mainly the White and affluent ones, may have wanted to see. McKillip said it was just that — an idea that was never part of the actual renovation plan.
But when the community felt blindsided by the park renovations, just talk of replacing part of their kids park with a dog park was enough to fuel protests. "Kids over dogs" was the overarching theme.
"It took people like Ms. Sabae Martin to help me see this from the perspective of folks who have seen a lot of folks like myself, come into a neighborhood and try to make things better, but really make things worse," McKillip said.
"The fence came to symbolize the community's fear of displacement. You say you want to invest in my neighborhood, but all I see is a fence that keeps me out."
For McKillip, the backlash and the conversations that followed were a wake-up call. And in his mind, it reinforced the idea that protests and voicing concerns through social movements is crucial, especially for communities that have long been ignored like the African American community.
"And I think the protests showed me that this was a very deep problem," McKillip said. "Now, this wasn't one or two people with an axe to grind. This was a whole community that felt left out. And that's a problem."
He reflected on the process and realized that to truly be inclusive, he needed to keep in mind longstanding and entrenched systemic barriers, mistrust in the neighborhood and the community's few existing options for leisure, recreation and health.
McKillip today is an ardent advocate for the community around here, and because of his work, things are getting better around the park. But it takes time.
"Building trust is not something that ever ends," he said.
'Is It Because It's New?'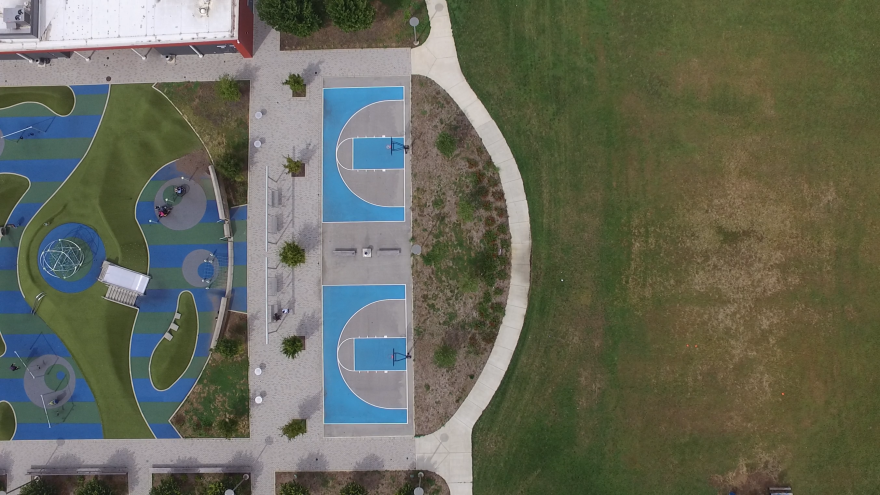 The renovations were completed in 2016. The park is inarguably prettier and fancier and with that came more White families than before — something many in the Black community do not mind. But for some, like Edwards, it raises questions.
"My son even asked me, 'Is it because it's new?'" Edwards said. "I told him everything that's new attracts new people."
She agrees that he may have meant that new things are mostly for White people, but she can't be certain — after all kids have their way with words. But she is certain that while her kids may not be aware of politics and racism, they pick up on daily cues from the environment around them.
And such cues abound around here.
For instance, after the renovations, the Steelers have significantly less space to train. The area they are left with is covered with small hills and dirt.
"Before the renovations? Oh, man. We had all of this area we could do everything we wanted," Coach Nell said. "Now we are confined to a smaller area, which is OK, I mean we make do with what we have."
But making do with what's there is what many in the Black community say they have been pushed to do for a very long time and it often comes at a price. In this case, it's a physical price: kids have suffered twisted ankles and other related injuries because of the bumpy field.
"This wouldn't have happened on the old course," Coach Nell said.
Burgeoning Relationship
Still, things are getting better around Tarkington Park in many ways and the Black community is warming up again.
Almost everyday, there is a group of little day care or school kids in colorful swimsuits from around the area coming to enjoy the cool water sprinkling from the splash pad on hot summer days. The community cafe at the park is now a Black-owned business.
The Juneteenth celebration took place in the park a few months ago. Other events like Tarkington Park Fest in 2019 boasted activities for all family members to kick off the start of the summer.
"The best day we had in the park was Tarkington Park Fest. It was the absolute best day," Martin said. "The splash pad was full of kids, there were food trucks, music and the coming together of the community with basketball tournaments."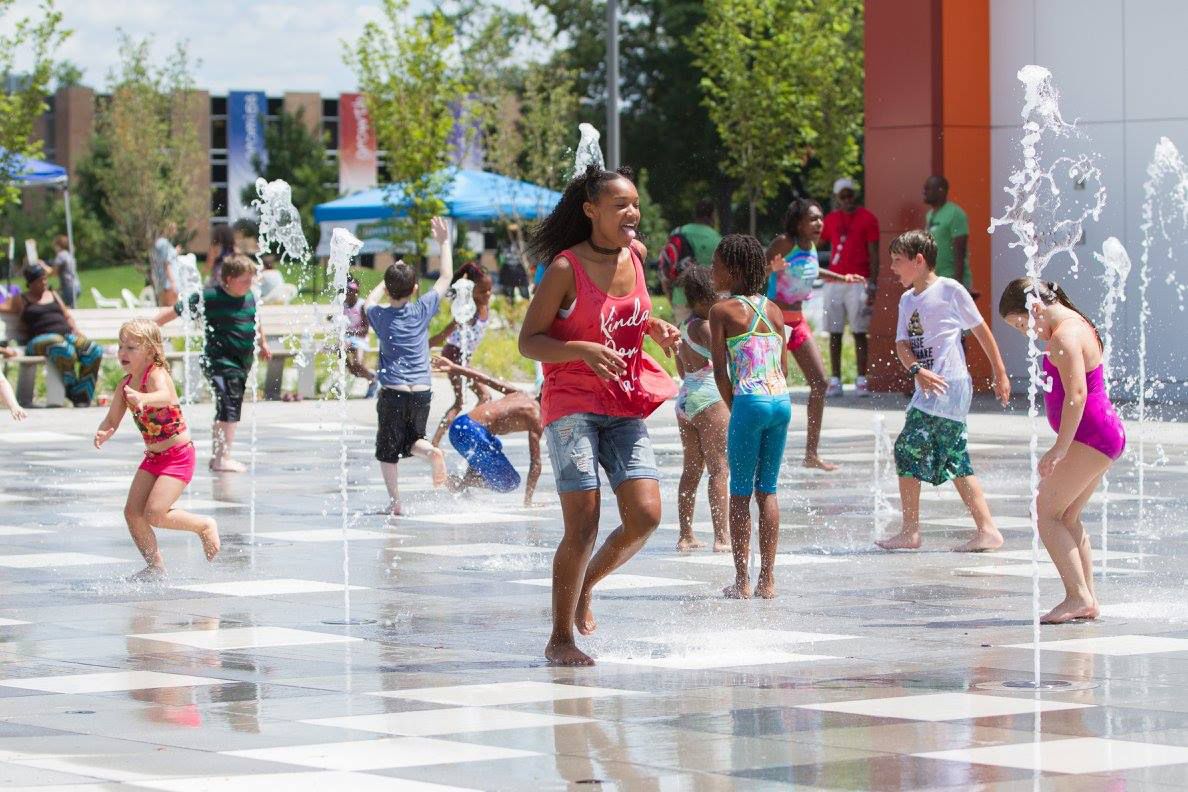 McKillip's nonprofit, Midtown Indy, and Martin also collaborated on the "Black Legacy Project" where the Concord Building on the corner of 38th and Illinois streets was used as a canvas to draw the faces of Butler-Tarkington professionals — doctors, journalists, lawyers — who thrived in spite of the redlining that the community went through for decades until it was outlawed in 1968.
It was a way to inspire younger generations to strive for greatness no matter the circumstances. That project was one of the key moments in a burgeoning relationship between McKillip and the community.
This type of constructive dialogue was born out of the conflict around the park. Now the community only hopes the same will spill over to address other issues affecting life expectancy around here — like the detrimental lack of access to food, subpar public education and, ultimately, a bigger and safer field for the Indy Steelers to carry on their training.
"We've been in talks [about] that for five years," Coach Nell said. "So hopefully it comes around. Hopefully people start listening."
This story is part of a reporting fellowship on health care performance sponsored by the Association of Health Care Journalists and supported by The Commonwealth Fund.
Contact reporter Farah Yousry at fyousry@wfyi.org. Follow on Twitter: @Farah_Yousrym.