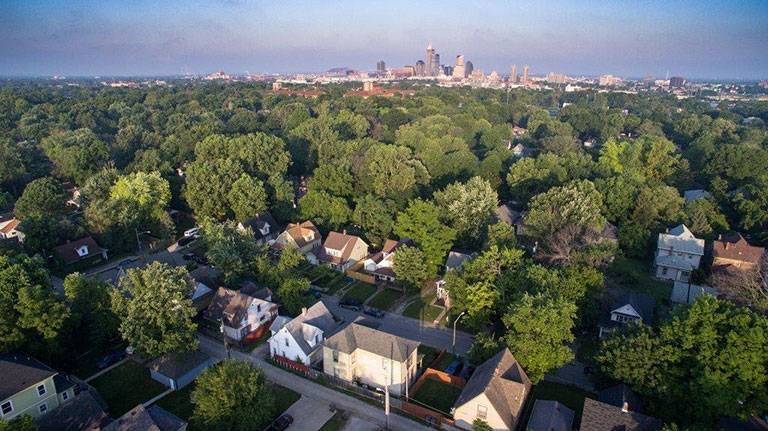 In the poorest neighborhoods in Indianapolis, people live sicker, shorter lives. What would it take to narrow the health gap?
Few conversations about health encompass such a wide a variety of topics as life expectancy. The length of an average American life increased dramatically in the 20th century, from 47 to 76 years, thanks in large part to advances in modern medicine.
But our collective lifespan is affected by more than medicine, and life expectancy number can serve as an important tool for researchers to study and compare conditions of life in communities across the country.
"I think it's best used, as an indicator of how well a society and a culture is serving and supporting its people," says Tamara Leech, a researcher at the IUPUI Richard M. Fairbanks School of Public Health, who has studied life expectancy in Indiana. "And also as kind of a relative comparison across communities."
If you look at life expectancy in this way, Indianapolis is not doing well. A recent study published in the Journal of the American Medical Association studied the connection between income and life expectancy in the 100 most populous metro areas. And Indianapolis ranked 97th for life expectancy for its poorest residents.
And the state as a whole didn't fare well – Indiana was one of ten states with the lowest levels of life expectancy for individuals in the bottom income bracket.
Nationally, the JAMA study found that if you're a man in the top 1 percent of the income distribution you'll live 15 years longer than a man in the bottom 1 percent. If you're a woman, the gap is 10 years.
It also revealed that things aren't getting better for everyone. While people at the top have added three years to their average lifespan since 2000, numbers at the bottom of the income spectrum remained stagnant.
"But that national story doesn't hold true everywhere," says JAMA study coauthor Michael Stepner, an economics researcher at MIT. "In some areas the poor are catching up, and some they are falling behind," he says. "That's a learning opportunity: what policies and interventions might close the gap?"
Through our series, The High Price of Inequality, Side Effects will explore what this broad indicator can tell us about our communities here in Central Indiana, what lawmakers and local organizations are doing to narrow the health gap, and what it's like to try to stay healthy if you're poor in Indianapolis.