Indiana's former school's chief Tony Bennett and U.S. Rep. Luke Messer are two names swirling around Washington, D.C. as possible picks by President-elect Donald Trump to be the Secretary of Education, according to journalists and policy advisors at a forum Monday.
These two are part of a handful of conservative education leaders mentioned inside the Beltway as possibilities for the post, said Vic Klatt, a principal of Penn Hill Group and former GOP staff director for the U.S. House Committee on Education.
Bennett is a "bright guy and has ties to Vice President (Mike) Pence, who I believe will be one of the key movers and shakers on education policy within the administration," Klatt said.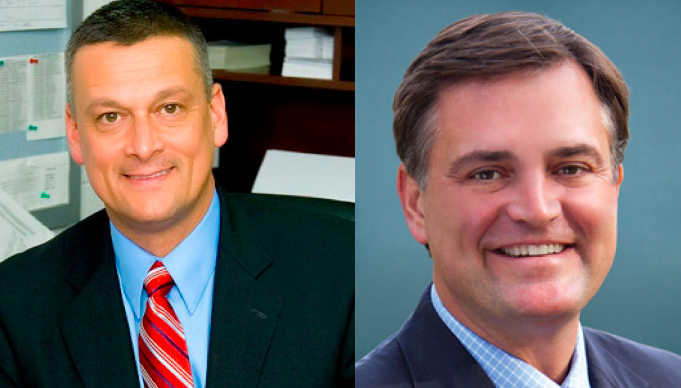 Those who know Bennett's deep support in getting Indiana to adopt the Common Core State Standards may question why Trump, who has pledged to "get rid" of Common Core, would even consider him.
But Bennett has been a staunch supporter of vouchers and charter schools -- areas that Trump has pledged massive expansions, such as $20 billion to create school choice block grants for poor students.
Messer, who represents Indiana's 6th congressional district, was called a "sleeper" candidate for the job, by Klatt, who went on to describe the congressman as: a "really good guy, really bright guy who has a pretty significant background in education policy and is an expert in school choice issues."
Klatt and Education Week reporter Alyson Klein said others are also rumored for the post: Wisconsin Governor Scott Walker; retired surgeon and former presidential candidate Ben Carson; Florida's former education commissioner Gerald Robinson who is a member of Trump's transition team; and Bill Evers, former education assistant secretary under President George W. Bush.
The comments were made today during a forum hosted by the Education Writers Association at The National Press Club in Washington, D.C. Journalists, policy experts and D.C.-insiders discussed what a Trump presidency could mean for changes to higher education and K-12 policy. (Watch a video of the forum here.)
Bennett was once a rising star in the school reform movement until he was hit with a series of setbacks and ethics charges: a surprise election loss as Indiana superintendent in 2012; and resigning less than nine months later as Florida's education commissioner in wake of lingering Hoosier scandals related to campaigning and emails that discussed changing the state's accountability grade for a charter school.
Bennett pushed forward major reforms in Indiana during his one term, such as setting up a private school voucher program (which is now one of the larges in the country), selling Indiana lawmakers on Common Core State Standards (before the same lawmakers and Vice President-elect Pence killed it a few years later) and expanding charter schools.
Messer, who was just elected to a third term in Congress, has focused on expanding school choice. He formed the congressional School Choice Caucus, introduced legislation that would allow states to use federal funding to expand choice, according to his website.
Most recently Messer criticized federal education bureaucrats for basically forcing ITT Technical Institute to close by preventing the for-profit college from taking student's federal financial aid for tuition.
During the campaign Trump hired a Messer staffer, Rob Goad, to serve as his education adviser.
Right now, it's only speculation who Trump will chose to a head a department that he has said is "massive, and it can largely be eliminated."
Contact WFYI education reporter Eric Weddle at eweddle@wfyi.org or call (317) 614-0470. Follow on Twitter: @ericweddle.