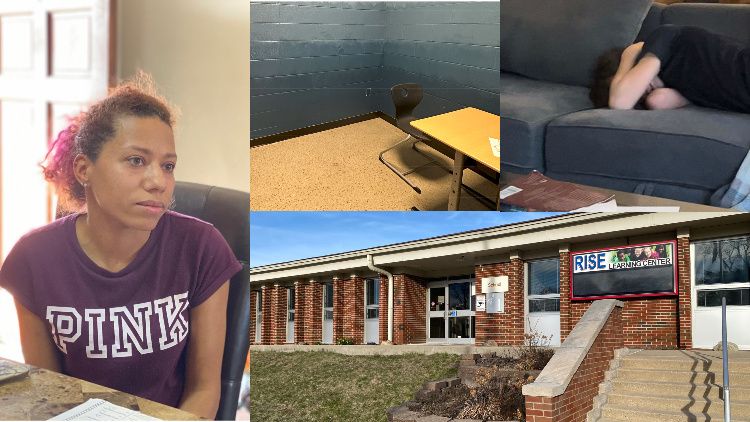 Indiana lawmakers approved legislation in 2013 intended to regulate and curb the use of restraint and seclusion in schools.
These interventions should be used rarely, according to the law, and only as a last resort in situations where the safety of students or others is threatened.
But a WFYI investigation found a lack of oversight from the Indiana Department of Education means it's unclear whether the law has had its intended effect.
Reporter Lee V. Gaines talked with All Things Considered newscaster Darian Benson about the series and some of the families featured in the reporting.
The investigation
The two-part series Uncounted also uncovered multiple failures and discrepancies in the reporting of and use of restraint and seclusion, including:
Indiana schools are misreporting how often they restrain and seclude students to the DOE.

The DOE has never conducted an audit of school seclusion and restraint data as required by a 2018 rule. After inquiries from WFYI, the DOE says it is now conducting audits for the last two school years.

The DOE hasn't held schools accountable for violating their restraint and seclusion plans. Families are left with few options to address the misuse of these interventions, including filing federal complaints or lawsuits.

Two members of the Indiana Commission on Seclusion and Restraint told WFYI the body has lost its focus and its members have debated their purpose and intended role since 2019.

Students in some special education programs are frequently secluded and restrained and those incidents are hidden from public view.
Click the links below to read each story:
Indiana isn't holding schools accountable for forcibly isolating and restraining students
Indiana parents are kept in the dark as schools isolate and restrain kids thousands of times
Lawmakers call for student protections, accountability following WFYI investigation
Bipartisan lawmakers want solutions in the wake of a WFYI investigation that revealed Indiana schools inaccurately report how often they restrain and forcibly isolate students.
Click here to read the response from lawmakers.
Database: Students secluded and restrained in Indiana schools.
(This story has been updated.)