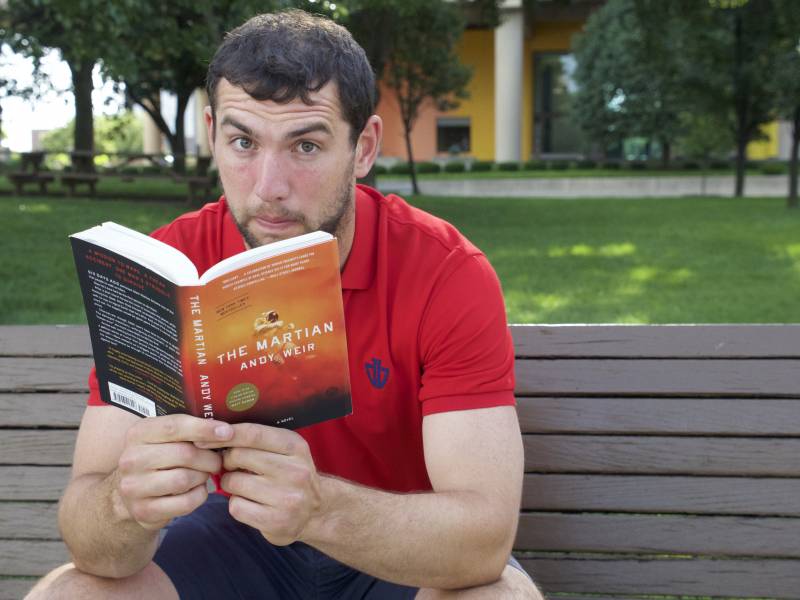 INDIANAPOLIS – Indianapolis Colts quarterback Andrew Luck is as comfortable in the library as he is dodging a pass rush. His love of books even prompted him to start his own book club in 2016, and now the Andrew Luck Book Club has found a home on WFYI Public Radio.
"I'm happy to announce that I'm joining the team at WFYI Public Radio," Luck said. "WFYI and I share a passion for good storytelling, and from here on out you'll be able to read along with me whether you're a rookie or a vet, then catch my podcast on 90.1 FM."
Joining the Andrew Luck Book Club is easy. People can visit www.andrewluckbookclub.com and see what books Andrew has selected as the "book of the month." There will be one book for youth ("Rookies") and one book for adults ("Veterans"). As people read the book, they can engage with Andrew and other readers through social media using the hashtag #ALBOOKCLUB. They can also listen in to his podcast, which will air one Monday night each month at 9 p.m. on WFYI 90.1 FM and on-demand at wfyi.org.
To help launch the new partnership, Luck will host his first live, in-person book club discussion on Wednesday, May 10 at WFYI. There will be a limited number of seats available for the event, which is designed to be a parent-child activity with the goal of building family engagement through reading. To find out more about the book club or how to attend the May discussion, please visit www.wfyi.org/give.
About WFYI Public Media
As a PBS and NPR member station that also produces local and original content, WFYI Public Media serves the public through six 24/7 digital broadcast services. WFYI Public Radio operates on two distinct stations – 90.1 FM and 90.1 HD2 The Point, while WFYI Public Television operates three DTV services (20.1, 20.2 and 20.3). Through intentional community engagement, WFYI has a strong education component, particularly as a hub for the public media initiative American Graduate: Let's Make It Happen, and an ongoing public presence as an organization that amplifies the voices of our community. Additionally, WFYI runs the Indiana Reading and Information Service (IRIS), a reading service for visually - and literacy-impaired people. Learn more at www.wfyi.org.
###