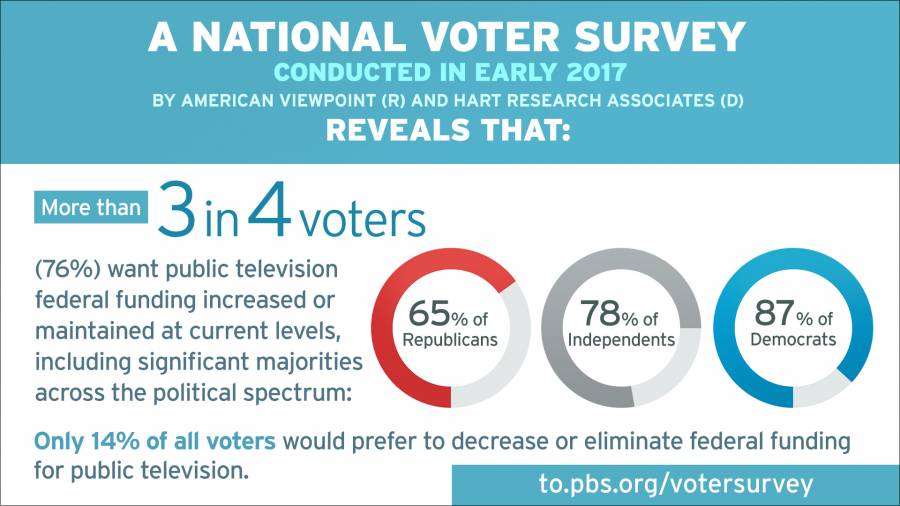 INDIANAPOLIS - WFYI President and CEO Lloyd Wright says President Trump's just-released budget proposal that includes the elimination of funding for the Corporation for Public Broadcasting (CPB) is a misguided attempt to help reduce the federal deficit. Wright is calling on the general public to voice its support for public media, the Public Broadcasting Service (PBS), which has just been verified as America's most trusted national institution for the 14th consecutive year, and NPR.
"People overwhelmingly support what public media stations like ours do in communities all over the country, and we need them to take the time to let their legislators know how they feel," Wright said. "Without WFYI, Hoosiers would be without trusted news and information programs like 'Indiana Week in Review,' 'Morning Edition,' 'All Things Considered' and many more, as well as our PBS KIDS programming that is proven over decades to improve child development and increase readiness and success in the classroom."
Lloyd is referring to two new national surveys — one by Rasmussen Reports (subscribers) and another conducted jointly by leading Republican and Democratic researchers for PBS — that reveal voters across the political spectrum overwhelmingly oppose eliminating federal funding for public television.
PBS president and CEO Paula Kerger has also condemned the proposed cuts.
"PBS and our nearly 350 member stations, along with our viewers, continue to remind Congress of our strong support among Republican and Democratic voters, in rural and urban areas across every region of the country," Kerger said in a prepared statement. "We have always had support from both parties in Congress, and will again make clear what the public receives in return for federal funding for public broadcasting."
The cost of public broadcasting is small, only $1.35 per citizen per year, and the $445 million appropriated to the CPB represents just 0.01 percent (one one-hundredth of one percent) of the federal budget.
"Eliminating funding for public broadcasting will have no significant effect on reducing our national debt," Wright said. "Instead, it will have devastating consequences on what has been one of the best investments the government has made for the last 50 years. It's been a tremendously successful public-private partnership."
WFYI is asking citizens to contact their Congressional representatives and let them know how they feel about the proposed cuts. There is also a national web site established – protectmypublicmedia.org – for people to easily submit a public statement of support. There are also many other details about public media funding and value available at wfyi.org and pbs.org/value/home.
WFYI receives roughly $1.4 million in federal funding from the CPB, and losing that revenue would make a significant impact on its programming and operations. Anyone wishing to financially support the station is asked to give online at wfyi.org/give.
About WFYI Public Media
As a PBS and NPR member station that also produces local and original content, WFYI Public Media serves the public through six 24/7 digital broadcast services. WFYI Public Radio operates on two distinct stations – 90.1 FM and 90.1 HD2 The Point, while WFYI Public Television operates three DTV services (20.1, 20.2 and 20.3). Through intentional community engagement, WFYI has a strong education component, particularly as a hub for the public media initiative American Graduate: Let's Make It Happen, and an ongoing public presence as an organization that amplifies the voices of our community. Additionally, WFYI runs the Indiana Reading and Information Service (IRIS), a reading service for visually - and literacy-impaired people. Learn more at www.wfyi.org.
About PBS
PBS, with nearly 350 member stations, offers all Americans the opportunity to explore new ideas and new worlds through television and online content. Each month, PBS reaches nearly 100 million people through television and nearly 33 million people online, inviting them to experience the worlds of science, history, nature and public affairs; to hear diverse viewpoints; and to take front row seats to world-class drama and performances. PBS' broad array of programs has been consistently honored by the industry's most coveted award competitions. Teachers of children from pre-K through 12th grade turn to PBS for digital content and services that help bring classroom lessons to life. PBS' premier children's TV programming and its website, pbskids.org, are parents' and teachers' most trusted partners in inspiring and nurturing curiosity and love of learning in children. More information about PBS is available at www.pbs.org, one of the leading dot-org websites on the Internet, or by following PBS on Twitter, Facebook or through our apps for mobile devices. Specific program information and updates for press are available at pbs.org/pressroom or by following PBS Pressroom on Twitter.
About NPR
NPR connects to audiences on the air, online and in person. More than 26 million radio listeners tune in to NPR each week and more than 30 million unique visitors access NPR.org each month making NPR one of the most trusted sources of news and insights on life and the arts. NPR shares compelling stories, audio and photos with millions of social media users on Facebook, Twitter, Instagram, Pinterest, YouTube and Snapchat; NPR News and NPR One apps, online streaming, podcasts, iTunes radio and connected car dashboards help meet audiences where they are. NPR's live events bring to the stage two-way conversations between NPR hosts and the audience in collaboration with the public radio Member Station community. This robust access to public service journalism makes NPR an indispensable resource in the media landscape.
###