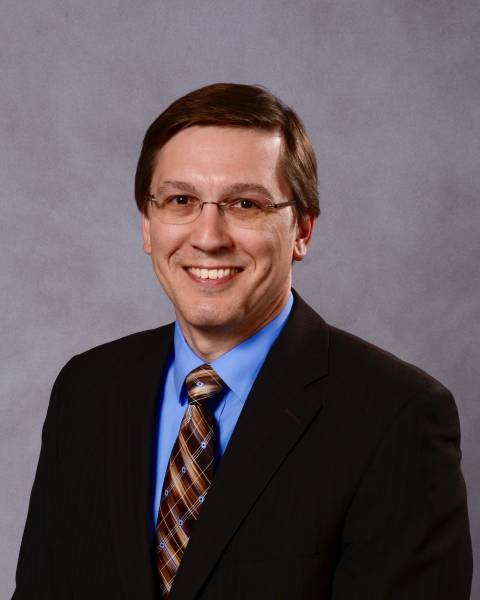 WFYI Incoming President Greg Petrowich

INDIANAPOLIS – Public media veteran Greg Petrowich will become WFYI's new president and CEO July 1, 2019, succeeding Lloyd Wright who is retiring after 30 years as the organization's leader. Petrowich has spent the past 10 years as executive director at WSIU Public Broadcasting in Carbondale, Ill., and the majority of his 28-year career in public media.
"I've had my eye on WFYI for some time, and have developed a respect and appreciation for how the organization has positioned itself for the future," Petrowich said. "Now, with the statewide news collaborative and the energy from the city and the team at WFYI, I can't think of a better time to be part of this organization that is clearly carving out its space as essential in Indy and in public media nationwide."
The selection of Petrowich ends a six-month national search and a two-year succession plan by the WFYI board of directors, which worked with Koya Leadership Partners, an executive search firm that specializes in leading mission-driven searches. More than two dozen candidates were carefully screened with six finalists selected before Petrowich emerged as the unanimous choice.
"Greg is a collaborative leader. He's always suggesting new ideas and bringing people together around those ideas," WFYI Board Vice Chair Brenda Horn said. "His passion for public media comes through at all levels, and he has tremendous leadership experience in the national public media organizations. We're beyond thrilled to have him lead WFYI into the future."
Over the past five years at WSIU, Petrowich has also served as president of the Illinois Public Broadcasting Council creating partnerships and promoting community service. Prior to WSIU, he spent seven years as general manager of KUAC-FM/TV in Fairbanks, Alaska, while simultaneously serving as president and CEO at Alaska One Public Television. He also spent six years as the general manager at KRCU-FM in Cape Girardeau, Mo. At each of his posts, he demonstrated increased service to the community via expanded use of technology, enhanced local programming and a commitment to independent journalism.
From 2009-2015, Petrowich served two consecutive three-year terms on the Board of Directors for National Public Radio where his major market colleagues quickly spotted his energy and his quest to anticipate the future of media.
"Greg is one of the most talented young leaders in the system," WGBH President and CEO Jon Abbott said. "He's creative, thoughtful and innovative in imagining what public media can be going forward. He's very smart strategically, but he's also a great listener. He's genuine and generous with people, and as a result he can get people thinking about what they can accomplish."
Petrowich becomes just the fourth president in WFYI's history, and takes over at an exciting time as the organization approaches its 50th anniversary in 2020. The radio station's ratings are at an all-time high; its television productions like "Eva: A-7063" are receiving national acclaim; its award-winning news operations continue to grow; its digital offerings keep expanding; and its commitment to early learning through PBS KIDS and the innovative Bright By Text service continue to serve thousands of people each day. Fortunately, he will have Wright nearby to help him adjust to his new surroundings.
"I will be a resource for Greg and WFYI for as long as needed," Wright said. "I've been blessed to lead this wonderful organization for three decades and, knowing Greg, I am sure there are only more great things to come. He's a visionary who's committed to local journalism and community service, and I'm excited the board chose him to step into this role."
Succeeding Wright, a member of the Indiana Broadcasters Association Pioneer Hall of Fame, means following in some very large footsteps, and Petrowich is already devising a plan to meet that challenge.
"Through nearly 30 years in public media, I've worked with teams to build stronger partnerships within the local community and throughout our system," he said. "My sense is that WFYI has a lead role in bringing the stories and sensibilities of Indiana and the Midwest to the rest of the country. To do so, we'll have to remain engaged with the audience and innovative in our services."
Petrowich holds a bachelor's degree in Radio-Television and Journalism from Southern Illinois University. He and his wife, Laura, have two children. To learn more about him, please visit wfyi.org/greg-petrowich.
About WFYI Public Media
As a PBS and NPR member station that also produces local and original content, WFYI Public Media serves the public through six 24/7 digital broadcast services. WFYI Public Radio operates on two distinct stations – 90.1 FM and 90.1 HD2 The Point, while WFYI Public Television operates three DTV services (20.1, 20.2 and 20.3). Through intentional community engagement, WFYI has a strong education component, particularly as a hub for the public media Ready To Learn initiative, and an ongoing public presence as an organization that amplifies the voices of our community. Additionally, WFYI runs the Indiana Reading and Information Service (IRIS), a reading service for visually - and literacy-impaired people. Learn more at www.wfyi.org.
###