American Masters: Becoming Helen Keller National Event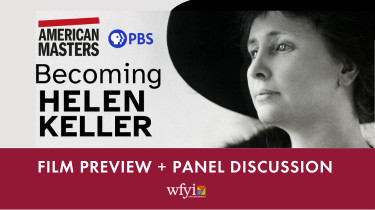 October 18, 2021

7:00-8:30pm ET
Register here
Join audiences nationwide on Monday, October 18, 2021, at 7:00 pm ET, for a virtual celebration of American Masters: Becoming Helen Keller featuring highlights from the film and a panel discussion with Kirk Adams (President and CEO, American Foundation for the Blind), Alexandria Wailes (actor and dancer), and other special guests.
This event is presented by The WNET Group in collaboration with PBS stations with Alabama Public Television, Iowa PBS, WCNY, WFYI, WGCU Public Media, WQED, WQLN Public Media and WXXI.
Register here to celebrate American Masters: Becoming Helen Keller from the comfort and safety of your home. The film screening and panel discussion will be open captioned and include ASL interpretation.
---
About American Masters: Becoming Helen Keller
American Masters: Becoming Helen Keller examines one of the 20th century's human rights pioneers in honor of National Disability Employment Awareness Month. The new documentary rediscovers the complex life and legacy of author and activist Helen Keller (1880-1968), who was deaf and blind since childhood, exploring how she used her celebrity and wit to advocate for social justice, particularly for women, workers, people with disabilities and people living in poverty.
Narrated by author, psychotherapist and disability rights advocate Rebecca Alexander, the film features on-camera performances from Tony- and Emmy Award-winning actor Cherry Jones reading Keller's writings. Actor and dancer Alexandria Wailes provides American Sign Language (ASL) interpretation of Keller's words with all other ASL interpretation by writer and rapper Warren "WAWA" Snipe. The program also features audio description by National Captioning Institute and closed captioning by VITAC.