Listen Up with Ira Glass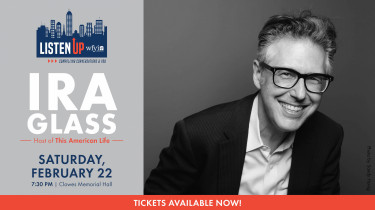 February 22, 2020

7:30 PM
Clowes Memorial Hall
Get Tickets Now!
Ira Glass returns to Indianapolis for an emotional and thought-provoking presentation of his captivating stage show Seven Things I've Learned. Ira Glass is the creator, producer & host of This American Life, the iconic weekly public radio program with millions of listeners around the world. Using audio clips, music, and video, Ira Glass delivers a unique talk; sharing lessons from his life and career in storytelling: What inspires him to create? What drives his passion? How have failures and successes informed his decisions? During his presentation, Ira Glass will mix stories live onstage and help his audience better follow the creative process of one of our foremost storytellers.
This American Life airs on 90.1 FM Fridays at 8:00 pm and Saturdays at 1:00 pm or wherever you listen to podcasts.

"It's hard to make something that's interesting. It's really, really hard. It's like a law of nature, a law of aerodynamics, that anything that's written or anything that's created wants to be mediocre. The natural state of all writing is mediocrity... So what it takes to make anything more than mediocre is such an act of will..." Ira Glass
TICKET INFORMATION
Standard Ticket: $19 or $39
Reserved seat at the conversation
VIP Ticket: $125
VIP tickets are now sold out.
ABOUT IRA GLASS
Ira Glass is the host and creator of the public radio program This American Life. The show is heard each week by over 2.2 million listeners on more than 500 public radio stations, with another 2.5 million downloading each podcast. He's also one of the editors of the podcasts Serial and S-Town. Glass began his career as an intern at National Public Radio's network headquarters in Washington, DC in 1978, when he was 19 years old.
Over the years, he worked on nearly every NPR network news program and held virtually every production job in NPR's Washington headquarters. He has been a tape cutter, newscast writer, desk assistant, editor, reporter and producer. He has filled in as host of Talk of the Nation and Weekend All Things Considered. He put This American Life on the air in 1995. A television adaptation of This American Life ran on Showtime for two seasons and Glass has produced three feature films: Mike Birbiglia's "Don't Think Twice" and "Sleepwalk with Me," and the Netflix movie "Come Sunday." Under Glass's editorial direction, This American Life has won the highest honors for broadcasting and journalistic excellence, including six Peabody awards. In 1999, the American Journalism Review declared that This American Life was "in the vanguard of a journalistic revolution" and since then, a generation of podcasts and radio shows have sprung up — Radiolab, Invisibilia, StartUp, Reply All, Love + Radio, Heavyweight — building on the style of narrative journalism championed by Glass and his staff.
---
WFYI's Listen Up is a series that brings public media personalities to Indianapolis for thought-provoking and inspiring conversation and storytelling. Your ticket is more than just a one-of-a-kind experience, it supports public media in Indiana.