Listen Up with Kelly McEvers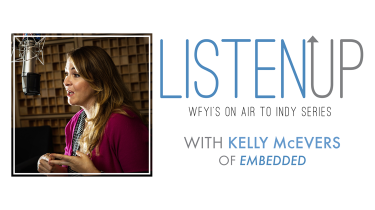 September 13, 2018
6:30 pm
Egyptian Room at Old National Centre
GET TICKETS
She has been tear-gassed in Bahrain, traveled undercover to follow Arab uprisings, stayed a night in a tent city with a Nobel Peace Prize winner and spent weeks inside Syria with anti-government rebels. Now Embedded, NPR's podcast that takes a news story and digs deeper, host Kelly McEvers is coming to Indianapolis to go beyond the stories.
Join Kelly McEvers for a live presentation of the podcast, Embedded. In this episode, she and the team trace the origins of "The Apprentice," the show that some would say helped Donald Trump to the White House. But how? We'll hear from producers and contestants about what was one of the most popular reality shows of its time. One contestant says he dreamed of being on the show in high school. Another says she thought the whole thing was a lark. And what about those tapes?
VIP TICKETS: $75
Up-front seating for the conversation
WFYI & Listen Up Swag Bag
Post-conversation Meet & Greet with drinks and hors d'oeuvres
GENERAL ADMISSION TICKETS: $25
Entrance to the conversation
Opening seating - first come, first serve
First 100 guests who purchase a general admission ticket will receive a Listen Up notebook
Your ticket is more than just a one-of-a-kind experience, it supports public media in Indiana. A portion of your ticket will be a tax deductible gift. All proceeds benefit WFYI Public Media.
ABOUT KELLY MCEVERS
Kelly McEvers is the host of Embedded, NPR's podcast that takes stories from the news and goes deeper. The show has dug into members of the Trump administration's pasts, reported additional stories behind police shootings caught on video, and visited a town ravaged by the opioid epidemic.
Before working on Embedded full-time in February 2018, Kelly McEvers was also a co-host of All Things Considered, NPR's award-winning afternoon news magazine. She hosted the program from NPR West in Culver City, California.
Read more about Kelly here.
---
Listen Up is a series that brings public media personalities to Indianapolis for thought-provoking and inspiring conversation and storytelling.