Listen Up with Sam Sanders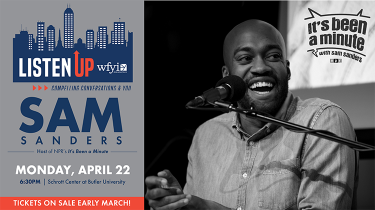 April 22, 2019

6:30 PM
Monday, April 22
Schrott Center for the Arts
Get Tickets
Join other public media fans in Indianapolis on Monday, April 22 at the Schrott Center for the Arts to hear from NPR's Sam Sanders!
---
Make it your best week ever when Sam Sanders comes to Indianapolis on Monday, April 22 for our next Listen Up, presented by Lumina Foundation & Sierra Nevada Brewing Company. Sanders, the host of the NPR podcast It's Been a Minute with Sam Sanders, understands the balance between being informed and talking it out, and he'll share those insights during his appearance at Butler University's Schrott Center for the Arts.
Tune in to WFYI 90.1 FM on Sundays at 2 p.m. to hear the radio broadcast. The podcast version releases two episodes each week: a "deep dive" interview on Tuesdays, and a Friday wrap-up of the week's news.
Never listened before?
Check out some of the deep dive interviews:
TICKET INFORMATION
Standard Ticket: $25
Reserved seat at the conversation
VIP Ticket: $75
Up-front seating for the conversation
Meet & Greet with Sam Sanders, including drinks and hors d'oeuvres immediately following the conversation
ABOUT SAM SANDERS
Sam Sanders is a reporter and host of It's Been a Minute with Sam Sanders at NPR. In the show, Sanders engages with journalists, actors, musicians, and listeners to gain the kind of understanding about news and popular culture that can only be reached through conversation. The podcast releases two episodes each week: a "deep dive" interview on Tuesdays, as well as a Friday wrap of the week's news.
Previously, as a key member of NPR's election unit, Sam covered the intersection of culture, pop culture, and politics in the 2016 election, and embedded with the Bernie Sanders campaign for several months. He was also one of the original cohosts of NPR's Politics Podcast, which launched in 2015.
Sanders joined NPR in 2009 as a Kroc Fellow, and since then has worn many hats within the organization, including field producer and breaking news reporter. He's spent time at three Member stations as well: WUNC in North Carolina, Oregon Public Broadcasting, and WBUR in Boston, as an intern for On Point with Tom Ashbrook.
Sanders graduated from the Harvard Kennedy School in 2009 with a Master's degree in public policy, with a focus on media and politics. He received his undergraduate degree from the University of the Incarnate Word in San Antonio Texas with a double major in political science and music.
In his free time, Sanders runs, eats bacon, discusses the tortured genius of Kanye West, and continues his love/hate relationship with Twitter.
---
Listen Up is a series that brings public media personalities to Indianapolis for thought-provoking and inspiring conversation and storytelling.
---
Your ticket is more than just a one-of-a-kind experience, it supports public media in Indiana. A portion of your ticket will be a tax deductible gift. All proceeds benefit WFYI Public Media.