Listen Up with Sonia Manzano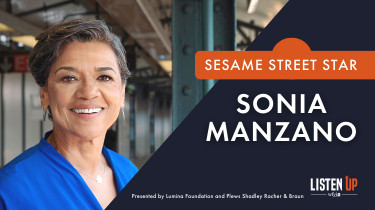 May 24, 2022

7:30 p.m.
Schrott Center for the Arts
VIP Reception 6-7 p.m.
Get Tickets
Listen Up is launching our 2022 season with a familiar face who has an amazing story of breaking barriers! Sonia Manzano – who you may know as Sesame Street's Maria, a character she played for 44 years – will be coming in person to Indianapolis for this Listen Up presented by Lumina Foundation and Plews Shadley Racher & Braun. WFYI invites you to join us on Tuesday, May 24 at 7:30 p.m. at the Schrott Center for the Arts on Butler University's campus.
Sonia will share insights from where she started as a poor Puerto Rican girl growing up in the South Bronx to being one of the most influential Latinas in television. She will also discuss the impact that television has on children as they are growing up. Sonia's career has allowed her to expand representation and education in the media, from her work on Sesame Street, the Casagrandes, Law & Order to her current role as executive producer, writer and voice actor on Alma's Way, which launched last year on PBS.
Want to meet our special guest? Purchase a VIP ticket that includes a reception from 6-7 p.m. in the lobby of the Schrott.
TICKET INFORMATION   
Individual Tickets include access to the event and audience Q&A for $21
VIP tickets include a meet and greet with Sonia before the event from 6-7 p.m. in the lobby of Schrott and closer seating for $46.
Sonia will be taking questions from the audience. Want to submit a question in advance? Head here to share it with us.
ABOUT SONIA MANZANO
For over 40 years, Sonia Manzano inspired, educated and delighted children and families as "Maria" on Sesame Street. Named among the "25 Greatest Latino Role Models Ever" by Latina Magazine, Manzano broke ground as one of the first Hispanic characters on national television. Throughout her career, she has enriched diversity on television, on the stage and in the educational realm. A first-generation Puerto Rican born on the mainland, Manzano's tale is one of perseverance and courage as she overcame countless obstacles to become one of the most influential Latinas in television.
Ms. Manzano has created and developed with Fred Rogers Productions an animated children's program for PBS, Alma's Way which premiered in October 2021. She is also the author of several books including "The Revolution of Evelyn Serrano" and a memoir, "Becoming Maria: Love and Chaos in the South Bronx". She has also penned three picture books with Simon and Schuster. Her latest book called "A World Together" aims to promote unity by celebrating cultural and generational diversity.