Living in the Community with Dementia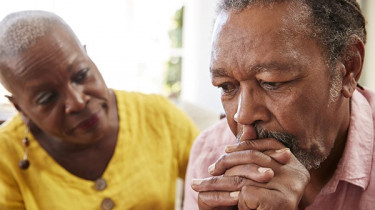 February 10, 2022

9:00-11:00 am EST
Virtual Event
Register
Did you know?

1. There are approximately 110,000 Hoosiers aged 65 and older living with Alzheimer's disease, the most common cause of dementia.
2. An overwhelming majority of people living with dementia reside in the community with only 1 in 5 in assisted living or nursing home settings.
3. Older age is the biggest risk factor for Alzheimer's disease (35% of people aged 85 and older have Alzheimer's disease), however, people with Down Syndrome develop Alzheimer's at an earlier age (30% in their 50's have Alzheimer's disease).
About Dementia
Dementia is a progressive loss of cognitive ability that is severe enough to interfere with daily life. Although normal aging changes may lead to occasional memory lapses, dementia is not due to old age, and it is crucial that an older adult with cognitive symptoms be evaluated to determine a specific cause of the symptoms. Early diagnosis has many benefits including timely provision of counseling and caregiver support and appropriate medical care including avoidance of medications that may worsen cognitive symptoms.
Most people living with dementia (PLWD) reside in the community and many live alone. Over 90% of PLWD receive help from family, friends, or other unpaid caregivers. Caregiving for PLWD often includes helping with daily activities (e.g., bathing and dressing), providing emotional support, managing medications, and coordinating in-home support services and health care. Although caregivers of PLWD often report a sense of satisfaction about caregiving, they also frequently report higher emotional stress and are more likely to experience depression and report poorer health than non-caregivers.
Join A Virtual Discussion About Living in the Community with Dementia
Join this webinar event as experts discuss the many challenges faced by the growing number of older Hoosiers living with dementia in the community.
We will cover dementia care services developed in Indiana that have been shown to improve the health outcomes of PLWD and reduce caregiver stress. Community and state initiatives to better address the challenges of PLWD and their caregivers will also be discussed.
Guest Presenters
Guest presenters include report authors Steven Counsell, MD, AGSF, FACP, Professor of Medicine at IU School of Medicine and Founding Director, IU Geriatrics Program from 1997-2016 and former Chief of Geriatrics, Eskanazi Health, and NiCole Keith, PhD, FACSM, Professor, Dept. of Kinesiology and Associate Dean of Faculty Affairs, IU School of Health & Human Sciences.
Brittani Howell, Community Engagement Specialist for Side Effects Public Media, will moderate a panel discussion after the presentation.
Panelist include: Tauhric Brown, President & CEO, CICOA Aging & In-Home Solutions; Katherine and Kyla McEntire, mother/daughter family caregivers; Dr. Glenda Westmoreland, MD, MPH, AGSF, Director of Geriatrics Education, Department of Medicine, Division of General Internal Medicine and Geriatrics Statewide Competency Director, Interpersonal and Communication Skills, IU School of Medicine; and Natalie Sutton, Greater Indiana Chapter Executive at the Alzheimer's Association.
Register
The discussion is free to attend and open to the public. Registration is required to gain access to this virtual event.