WFYI Live| Public Universal Friend Chrysalis Release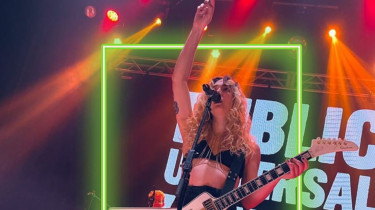 March 24, 2023

Public Universal Friend Chrysalis Release
with Lily & Madeleine
White Rabbit Cabaret
Friday, March 24, 2023
Doors: 8 p.m., Show: 9 p.m.
Tickets $15
21 and over event

Join WFYI Live as Small Studio Session alums Public Universal Friend celebrate the band's sophomore release Chrysalis on Friday, March 24 at White Rabbit Cabaret. The show, supported by WFYI Live and Indy String Theory, also includes an appearance and collaboration with Lily & Madeleine.
Public Universal Friend (sometimes known simply as PUF) is an Indianapolis-based art rock band. Its 2021 debut served as a coming out record for frontwoman Jody Galadriel Friend, disclosing her gay trans womanhood by way of its release. release PUF describes the new release, Chrysalis, as "laced with the bold romance and profound grief of southern gothic deconstruction, wherein Friend's poetic incantations carry pointed lyricism: a vindictive queering of Friend's homegrown southern sound."
Prep for the event: check out Public Universal Friend's 2021 Small Studio Session and Jody Friend's top 5 songs on Small Studio Signal Boost.