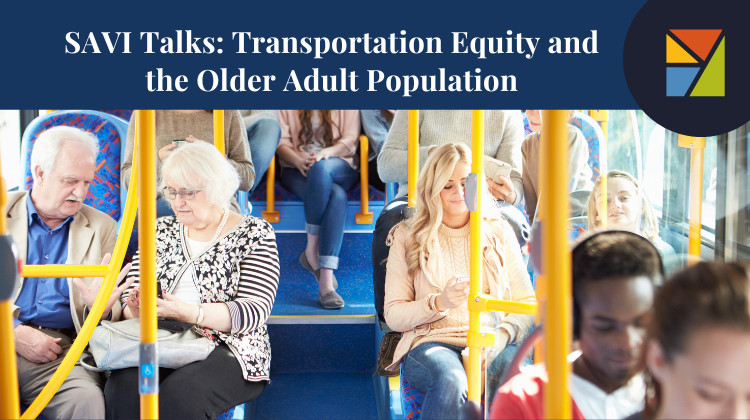 Culture, news and community – connected to you.
SAVI Talks: Transportation Equity and the Older Adult Population
Register
---
Date and Time
Thursday, December 8, 2022 9 a.m. (ET)

---
About the Event
Did you know the greatest number of older adults in Central Indiana tend to live where there is the lowest density of fixed public transit? Or, that IndyGo plans to change its service plan in 2023-2027 to help improve ride frequency and improve access for older adults near existing routes in Marion County?
Join WFYI, The Polis Center, and CICF on December 8 for the next State of Aging in Central Indiana Report (SoAR) webinar and panel discussion: Transportation Equity and the Older Adult Population. Via this virtual event, you will learn more about public transit accessibility for the older population in Central Indiana and have the opportunity to ask questions of a panel of local experts.
Data reveals that within Marion County, older residents tend to live in areas where the least amount of public transit is available. Census tracts with the greatest population of adults aged 65+ also have the greatest average distance to travel to public bus stops. Plans to expand IndyGo from 2023-2027 will likely improve transit options for some older adults in Marion County, but limited transit opportunities may persist in several areas where older adults reside. In addition, transportation inequities will likely persist in the suburban and rural areas beyond Marion County. Findings suggest a continued need to investigate the feasibility and sustainability of other transit options such as micro transit and ride hailing to accommodate our growing older adult population.
This event is a partnership between The Polis Center, WFYI Public Media, and the Central Indiana Senior Fund, a fund of the Central Indiana Community Foundation.
Presenters
Dr. Matthew Dietrich
Senior Research Data Analyst
The Polis Center
Matt Nowlin
Community Analysis Manager
The Polis Center
Jill Sheridan, Moderator
City Government and Policy Reporter
WFYI Public Media
Panelists
Karren Brooks
Director, Way2go Transportation, CICOA Aging & In-Home Solutions
Jen Higgenbotham
Senior Planner II
Indianapolis Metropolitan Planning Organization
La Keisha Jackson
Indianapolis City Councilor; Executive Director, Pathways Resource Center
Mike Roth
Senior Director of Mobility Solutions, IndyGo
---
Partners
9:00-11:00 am Virtual Event
Register