Happier Birth Days: Improving Birth and Health Outcomes for Indiana's Black Moms and Babies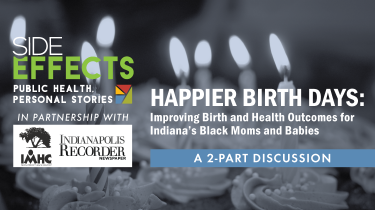 December 11, 2018
Tuesday, December 11, 2018 (part 1)
Tuesday, January 8, 2019 (part 2)
**LIVE Streamed from YouTube**
REGISTER
Watch the live stream here: https://www.youtube.com/watch?v=MrGpRdOFR5o&feature=youtu.be
Indiana ranks 45th for infant mortality (CDC, 2016)
Indiana ranks 46th for maternal mortality (CDC, 2011-2015)
For some, there's limited access to care. For others, especially black mothers and babies, there are other complications. Hear what's being done to address these tragic statistics when Side Effects, the Indiana Minority Health Coalition (IMHC) and the Indianapolis Recorder join forces to present two live panel discussions.
Part 1, Tuesday, December 11, 2018, focuses on pregnancy and birth. Watch it online now.
Part 2, Tuesday, January 8, 2019, highlights the postpartum period.
Both will be streamed via YouTube Live. Register now to ensure that you receive the YouTube link just before the event. IMHC will also host viewing sessions at its statewide affiliates. Check happierbirthdays.eventbrite.com for locations. Both conversations will be moderated by Oseye Boyd, editor of the Indianapolis Recorder, from WFYI Studios.
PART ONE Panelists:
Dr. Kristina Box, State Health Commissioner, Indiana State Department of Health
Bianca Wilson-Gillespie, Advocate, Mother, Volunteer Doula in Training
Dr. Indy Lane, Community Health Network
Ashley Rainey, MSN, RN, Clinical Educator, Labor and Delivery
PART TWO Panelists:
Dr. Virginia Caine, Director, Marion County Public Health Department
Kelli Brien, Program Director, Speak Life
Ryan Karim, Breastfeeding Coordinator, WIC
Dr. Brownsyne Tucker Edmonds, IU School of Medicine
Questions for the panel? Please email rrockel@wfyi.org