Side Effects Virtual Town Hall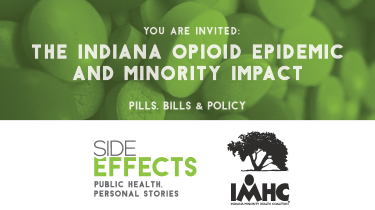 February 13, 2018
The Indiana Opioid Epidemic and Minority Impact
Tuesday, February 13
10:30 a.m. - Noon
RSVP Here
Join Side Effects Public Media & The Indiana Minority Health Coalition for a virtual town hall conversation. The conversation will focus on Indiana's opioid epidemic and its impact on minorities.
Panelists will include:
Dr. Brad Ray, SPEA at IUPUI
Professor Ronald Sullivan, Harvard Criminal Justice & Drug Policy Researcher
Joslyn Whitticker, Community Health Representative
Dr. Jocelyn Bush, MD, Anesthesiology and Pain Management Physician
Panel will be moderated by Michael R. Twyman, Ph.D
Please RSVP here to join us! The participation link for the event will be emailed to everyone registered beforehand.
This event will be available through a live stream.