WFYI Family Members: Meet & Greet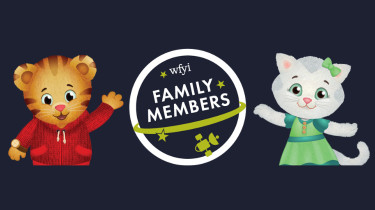 April 4, 2023

WFYI Public Media
1630 N Meridian Street
Hour-long reservations at 4, 5 or 6 p.m.
Calling all Daniel Tiger fans! You're invited to come meet Daniel AND Katerina Kittycat at WFYI on Tuesday, April 4. On top of making a kiddo's dream come true by meeting their favorite cats, snacks and activities will also be provided.
How is this going to work? Slots are available at 4, 5 or 6 p.m. Each reservation is for an hour, which includes time to meet the celebrities and check out the activities. Hope you can join us!
About WFYI Family Members
Is PBS Kids on at your house all the time? Do you look to Daniel Tiger to help kiddos in your life learn about hard things? Have your kids graduated from Molly of Denali to NOVA? Then WFYI Family Membership is for you! Show your love for the lifelong learning your family gets with WFYI by becoming a Family Member today. This group is full of parents, grandparents, foster parents and other adults who are committed to nurturing growth, exploration and curiosity in the next generation of public media fans. It's a powerful way to support the programs you rely on.