Indiana Reading and Information Services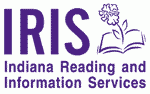 Every day, IRIS broadcasts the regional newspapers and many other Indianapolis publications. Listeners are provided with special radio receivers free-of-charge to use as long as they are needed. One must live within 45 miles of Indianapolis to receive the broadcasts and there is an application requiring medical or social certification of print impairment.
Nina Mason Pulliam On Demand Service
IRIS now offers an audio streaming service online! "Nina Mason Pulliam On-Demand" offers listeners audio recordings of local newspaper content, periodicals, books, and much more, 24/7, whenever you're in the mood to listen!
Offering timely content from newspapers like The Indianapolis Star and local periodicals such as the Indiana Business Journal, Indianapolis Monthly and NUVO, IRIS staff and our corps of dedicated volunteers provide IRIS listeners with a wide array of publications that you need to be more informed, and more independent. And there's no special radio receiver needed to use this service – only a computer and an Internet connection.
You can even listen to many of these publications on most smartphones.
"Nina Mason Pulliam On Demand" is available now at wfyi.org/iris-on-demand for regular IRIS users who have obtained a user name and password. If you don't have a user name and password yet, contact the IRIS office at (317) 614-0404.
*Thank you also to the Ruth E. Stilwell Endowment Fund, a fund of the Central Indiana Community Foundation for their generous support of IRIS.