Indiana Reading and Information Services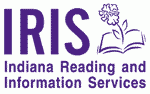 Indiana Reading and Information Services (IRIS) is a reading service for anyone with a visual, physical, or learning disability. Our service is for people with Macular Degeneration, Diabetic Retinopathy, Low Vision, Blindness, Arthritis, Cerebral Palsy, Multiple Sclerosis, Stroke, Parkinson's, Alzheimer's, Autism, Down Syndrome, Dyslexia, Illiteracy, English as a Second Language Learners, and other conditions that affect reading traditional print.
We have volunteers who read from a variety of publications on a monthly basis that include local and national newspapers, online articles, magazines, chapter books, and public service announcements related to food pantry listings, library services, government services, and local events for the disabled. IRIS airs from 6 am-10 pm daily with new updated programs every week. IRIS Listeners can tune in by listening to a specially-tuned radio (sent upon request) or by streaming us on the web from their cellphone, tablet, or computer. IRIS is a free service from WFYI Public Media.
*One must live within 45 miles of Indianapolis to receive the broadcast on a specially-tuned radio. There is an application requiring medical or social certification of print impairment.
You can listen to IRIS on the Internet!
IRIS offers an audio streaming service online!
IRIS Live Radio Stream:

Nina Mason Pulliam On Demand offers listeners audio recordings of local newspaper content, periodicals, books, and much more, 24/7, whenever you're in mood to listen, anywhere in the world! IRIS staff and our corps of dedicated volunteers provide IRIS Listeners with a wide array of publications that you need to be more informed and more independent.
There's no special radio receiver needed to use this service--- only an Internet-connected device.
Nina Mason Pulliam On Demand is available at www.wfyi.org/iris-on-demand for regular IRIS users who have obtained a user name and password. If you don't have a user name and password yet, contact the IRIS office at (317) 614-0461.
_______________________________________________________________________________
The following programs are recorded in the IRIS studio at WFYI Public Media.
AARP Magazine and Bulletin
"Annie"-mals is our animal segment where a potluck of material is used regarding national wildlife including information from The National Wildlife Federation, National Parks, and the Indianapolis Zoo Member Magazineand publications National Geographic Kids, USA Philatelic Publication, Sierra Magazine, All Animals Magazine from The Humane Society of the United States, Amos Butler Audubon Society Central Indiana periodical, Birds & Blooms Magazine, Ranger Rick Magazine, Guide Dogs for the Blind periodical, and other sources.
Automotive is our segment that includes magazines Autoweek, Car and Driver, Road and Track, and Motor Trend.
At Your Service has a potluck of articles from The Braille Monitor from National Federation of the Blind, In Your Corner from Rock Steady Boxing (Fighting Back Against Parkinson's), Indy Boomer Magazine, Seniors Guide, Medical News Today Online, and other publications that include information for those with Alzheimer's, Multiple Sclerosis, Cerebral Palsy and other conditions.
Bookmarks offers book reviews from several sources.
Central Papers is recorded from Urban Times Newspaper.
Eastside Papers is a weekly reading of the Weekly View newspaper.
For the Home is a potluck of material from Real Simple, House Beautiful, This Old House, Better Homes and Gardens, and Good Housekeeping.
Great Books is a collection of various chapter books.
Grocery Ads from Kroger, Meijer, Fresh Thyme and Needler's.
Health Topics including published books on cancer, taking control of your health care, and articles from The American Journal of Medicine.
Home & Garden with tips for gardening, urban sustainability, and the environment.
Indianapolis Business Journal (IBJ)
Indiana Connections Magazine
Indianapolis Recorder Newspaper
Indy Star Newspaper
Just Food has readings from Eat This Not That Magazine, local grocery store events, articles from various sources including New York Times, three ingredient recipes, and more.
Multicultural Hour has articles from Ebony, Essence, Indiana Minority Business Magazine, as well as online articles of ethnic discussion and event information for Indy's International Marketplace.
National Geographic
New Yorker
New York Times
Northside Papers
Oprah Magazine
People Magazine
The Pet Report has news, entertainment,and healthinformation for pets of all kinds ranging from bugs to reptiles to cats and dogs to miniture ponies.
Pharmacy Ads from Walgreens and CVS.
Reader's Digest
Senior Life
Smithsonian
Southside Papers with readings from Southsider Voice, The Southside Times, and SOUTH- Indy's Southside Magazine.
Sports Time with articles pulled from Sports Illustrated, Golf, IU Alumni Magazine, Red Bulletin Magazine, ESPN, Indiana Pacers, Indiana Fever, Indianapolis Colts, and Indy Indians, among others online sources.
Store Ads including Target, Meijer, Family Dollar, Menards, and other Indy Star Newspaper inserts.
TIME Magazine
Science Hour with articles from National Geographic, Nature: International Journal of Science, Smithsonian, Women In Science, and others.
TV Guide with articles from Entertainment Weekly.
VETS is our Veteran program reading from Navy Times, Army Times, Marine Times, Air Force Times, Stars and Stripes Online, Veteran Affairs News, American Legion, and other sources.
Westside Papers
WFYI Member Magazine
Woman's World is another potluck program with articles from Women's World, Smithsonian, National Geographic, Parade Magazine, TIME Magazine, AARP, People, Indy Star Newspaper, Prevention Magazine, DAV Magazine, Mayo Clinic Health Letter, Kroger's mymagazine, Franciscan Health's HeartBeat, Woman's Day, and others.
Yesterday's Radio with shows from the 1940s to 1980s.
---
The following programs are available on IRIS Radio through a program share.
Wall Street Journal
_______________________________________________________________________________