Indiana Reading and Information Services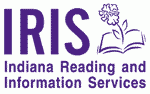 Do you or someone you know have difficulty reading? Indiana Reading and Information Services (IRIS) is a free audio reading service for anyone with a condition that affects reading traditional print. Listeners can stay informed, inspired, and engaged with the central Indiana community by tuning to hear articles from area newspapers, popular magazines, public services announcements, chapter books and more.
How To Listen
Listen to the IRIS live broadcast (6 am-10 pm daily) or stream IRIS content on-demand on any internet-connected device. Live broadcast and on-demand listening requires an online IRIS account, which you can apply for online here or by contacting the IRIS office at (317) 614-0461.
Listen live with a specially tuned HD radio, loaned at NO COST to listeners who live within 45 miles of Indianapolis. To request a specially tuned radio, listeners must apply online or contact the IRIS office at (317) 614-0461.
How To Apply
Before applying, you will need:
Contact information of an individual who will be responsible for returning the receiver if the applicant cannot do so.
To apply online, click here. To apply on paper, download this PDF and mail to:
WFYI Indianapolis
IRIS
1630 N. Meridian St.
Indianapolis, IN 46202
Questions? Contact the IRIS office at (317) 614-0461.
Iris Programs Include
Tune in with IRIS to listen to:
local, national and global reporting from The Recorder, the Indy Star, the New York Times and many more
useful articles about health, senior life and home & gardening tips
news and announcements from central Indiana, including local store advertisements, public health bulletins, and neighborhood newspapers
delightful science, entertainment and animal-related news
compelling stories from the New Yorker, Oprah Magazine, and popular chapter books
Get the full IRIS program schedule with this printable guide!

Volunteer to Read with IRIS
Contribute your skills and passions to bring stories and resources to those with difficulty reading print. Join a team of IRIS volunteers who read aloud and record text from local and national publications. Volunteer commitments vary. Most IRIS volunteers read and record once a week or month. Want to become an IRIS volunteer? Learn more and sign up here. We will be in touch with you soon with more information. 
_______________________________________________________________________________