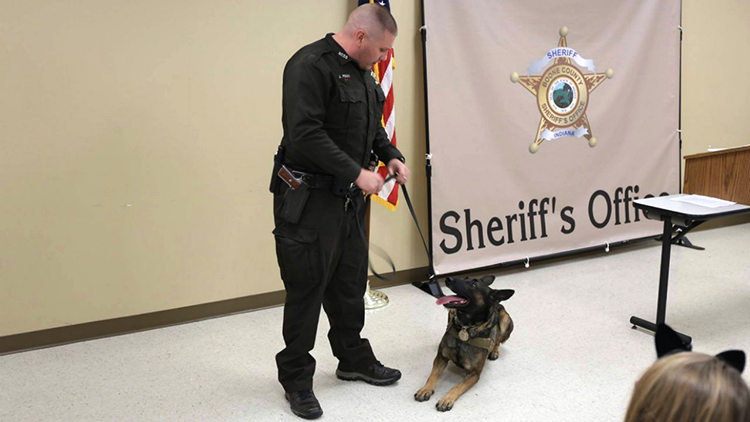 Boone County Sheriff's Deputy Jacob Pickett, shown here with his K9 partner Brik. (Photo credit BCSO)

Criminal charges have been filed against two men involved in the fatal shooting of Boone County Sheriff's Deputy Jacob Pickett.
Anthony Baumgardt is the suspected shooter. He is being held in jail on six counts including murder, possession of methamphetamines, and carrying a gun without a license.
Another man, John Baldwin Jr., was with Baumgardt at the time and is charged with criminal recklessness, auto theft, and leaving the scene of an accident.
Boone County Sheriff Mike Nielsen says he booked Baumgardt in Boone County Superior Court.
"I am angry, I am so angry," Nielsen says. "I am sad, I am heartbroken, and I am devastated. But we are not alone. Our community and our brothers and sisters across this country have come together in our time of need."
According to an affidavit, officers were serving an unrelated arrest warrant on the morning of Friday, March 2 when Baldwin Jr. was identified as someone wanted on warrant. When officers instructed Baldwin Jr. to stop his vehicle, Baldwin Jr. refused and a chase ensued.
Baumgardt, who was in the vehicle with Baldwin Jr., allegedly exited the vehicle and fled on foot, with Deputy Pickett behind him. Shots were fired on Deputy Pickett, and one was fatal. Police returned fire on Baumgardt, who was wounded and taken into custody. A pursuit of Baldwin Jr. continued, and he was taken into custody.
An investigation is ongoing. Boone County Prosecutor Todd Meyer says Baumgardt's initial hearing in front of a judge is expected as soon as Wednesday, March 7.
Baldwin Jr. is also eligible as a habitual felony offender, and Meyer says he recieved that charge.
Police say Deputy Pickett's visitation will be held in Indianapolis at Crown Hill Funeral Home on Thursday, March 8 from 2 to 7 p.m.
His funeral is scheduled for Friday, March 9 at Connection Pointe Christian Church of Brownsburg.