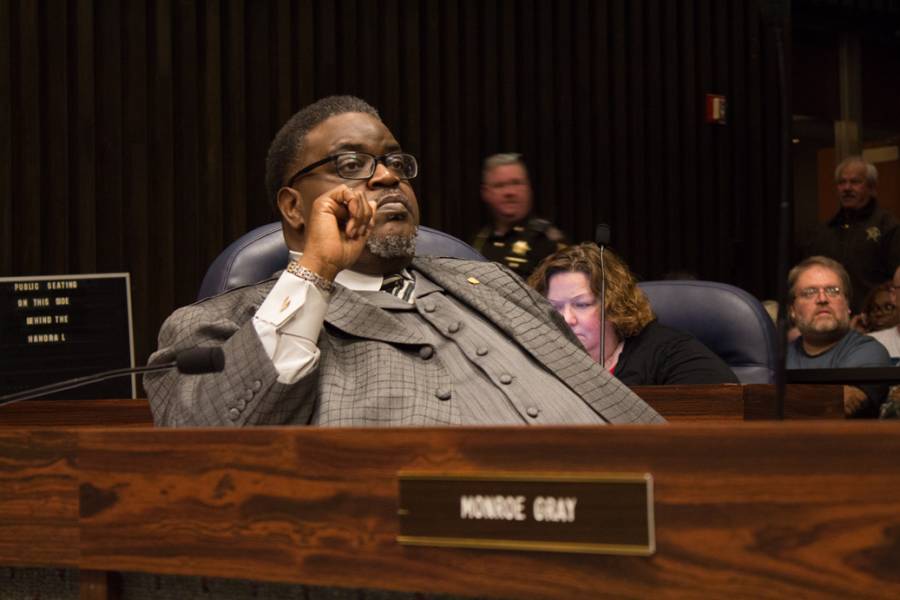 Stephen Clay was president of the Indianapolis City-County Council for six weeks before resigning. (Photo by Drew Daudelin)

Stephen Clay, the Democrat whose sudden rise to president of the Indianapolis City-County Council was surrounded by a series of controversies that prompted his party to turn against him, has stepped down.
Clay announced his resignation minutes before the council's full meeting Monday night – the very meeting in which Democrats were planning to vote him out of the position.
Clay was president of the Council for just six weeks.
During his announcement, Clay also vowed to back Democrat Councillor Vop Osili as his replacement. At the start of the meeting Osili was nominated by former president Maggie Lewis, and he was successfully elected. No other councillors were nominated.
Osili thanked his fellow councillors for their vote of confidence and says their work ahead will require collaboration.
"I'm confident that each one of us is up to that task," Osili says. "Our council has shaken the confidence of our constituents. But that was yesterday. And it's time that we move forward."
With his parting words, Clay said his decision to step down was made in the best interest of the Council body.
"We can have robust and vigorous debates, and somehow find common ground to move the people's agenda forward," Clay says.
Clay made the decision at the last minute, according to multiple councillors. Just days before the Monday meeting, Clay's lawyer questioned the legality of the effort to vote him down through a procedural vote, and Clay said he would fight to keep the presidency.
But Osili says Clay approached him on Monday, to offer the transfer of power.
Indianapolis Mayor Joe Hogsett, who has remained silent throughout Clay's tumultuous tenure, issued this statement Monday night:
"For two years, I have worked with all 25 City-County Councillors to address the challenges confronting our city. Whether a structurally balanced budget, increased funding for infrastructure or putting more officers on the street, Democrats and Republicans have come together and moved our community forward. In that same spirit, I look forward to working with President Osili and the City-County Council on behalf of Indianapolis taxpayers."
Many expect Osili might undo some of Clay's controversial actions, like the firing of three council staff members and committee appointments awarded to Republican councillors.
Osili says they'll look into those issues in the week ahead.
Clay remains on the council. He says he has no regrets about his time as president.