Three weeks after his surprising victory, President Stephen Clay could be voted out
Members of the Indianapolis City-County Council voted Monday night to hold yet another vote on its president. Its current president Stephen Clay is under attack by fellow Democrats for allegedly making backroom deals to get elected.
Clay, a Democrat, defeated incumbent Democrat Maggie Lewis earlier this month. Clay promptly removed certain Democrats from committees and replaced them with Republicans who helped him win. As a result many view his election as a personal strategic maneuver, guided more by self-interest than earnest political goals.
The inner-council drama that ensued came to a head Monday night, when Councillor Joseph Simpson, a Democrat, motioned to hold a vote to remove Clay from his position at the next full meeting.
Many Republicans abstained, but the motion passed with 13 votes. The council will decide whether to remove Clay as president during its meeting on Feb. 19.
The amount of votes that will be needed to remove him is 13.




City-County Council President Stephen Clay answered questions after Monday night's meeting, when many of his fellow Democrats took steps to remove him from the position. (Photo by Drew Daudelin)

About a dozen protesters attended the Monday meeting to protest Clay – for two very different reasons.
The first is about the controversy surrounding his election.
But some at the meeting protested Clay for an old but recently surfaced allegation of child molestation levied against him. Clay denies the allegation.
Local resident Mike Mahern says he has no reason to doubt the accuser.
"He has no reason to lie, his mother has no reason to lie," Mahern says. "And I think for the city council to voluntarily make this man their president is outrageous beyond words."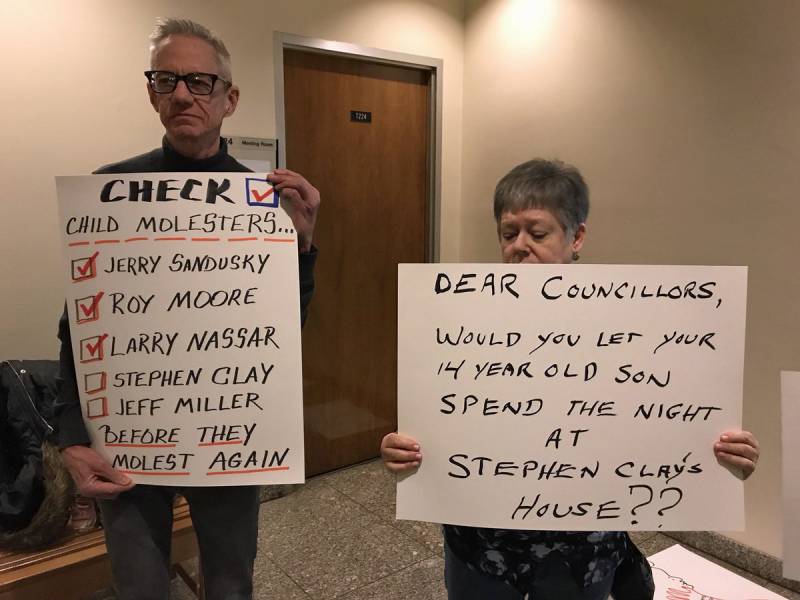 Mike Mahern, left, was among the group Monday night protesting Stephen Clay. (Photo by Drew Daudelin)

Clay says public protests against him, as well as the attempt to oust him as president, are signs of a healthy, functioning democratic body.
And he shrugs off criticism from those in his own party, saying they "shouldn't be surprised" by his committee assignments.
"Government works best when people are able to work together," Clay told reporters after Monday's meeting. "I understand passions, and I understand preferences. But our people are better served when we are able to reach across the aisle."

The council approved funding for the city's first witness protection program
The City-County Council passed a proposal to approve $300,000 for a new witness protection program.
Officials in the Indianapolis Metropolitan Police Department have cited witness cooperation as a major hurdle in solving violent crime cases.
Paul Babcock, director of the city's Office of Public Health and Safety, says agencies receiving money will decide how to use it. But he says there are stipulations for the types of programs they could create.
"Bus tickets, potentially hotels on emergency basis, transportation, rent...things like that to provide for some sort of stable environment for potential witnesses," Babcock says.
Some councillors say the additional funds are a good start, but that more is needed.
The proposal passed with a vote of 22 – 0.

The city is one step closer to building its "community justice campus"
Councillors also approved partial funding for a new Marion County Jail on the city's east side.
The proposal authorizes the acquisition of property at Twin Aire, on the site of the former Citizen's Energy gas plant. And it approves $55 million to start construction.
Some support the project as a potential stimulant for economic development in a neighborhood that experienced sharp decline in recent decades.
The facility, which city officials refer to as a community justice campus, would also host a mental health center that complements Mayor Joe Hogsett's plan for criminal justice reform.
Some at the meeting spoke against the project, saying they are worried it will only contribute to unjust mass incarceration. And they doubt it will address mental health and rehabilitation needs on the scale it promises.
The council approved the proposal with a vote of 23 – 0.