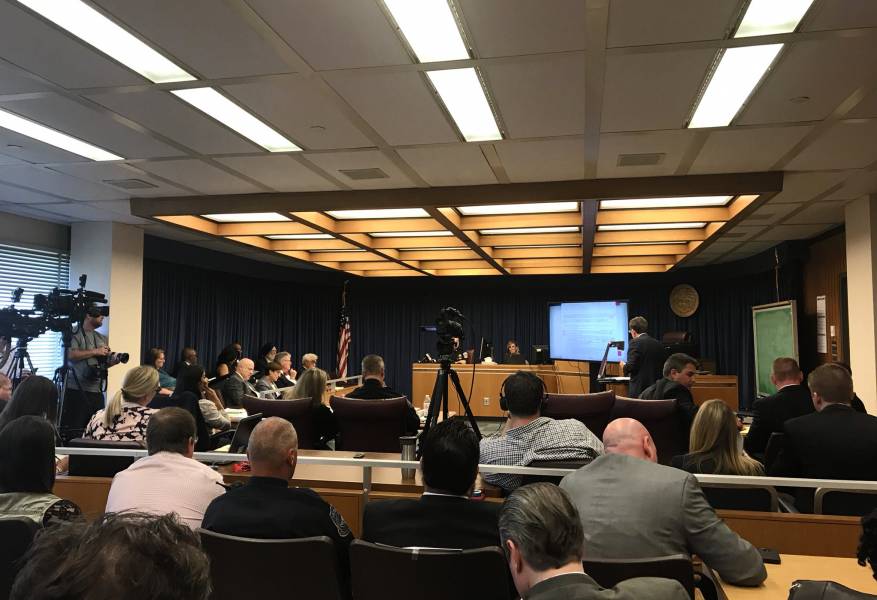 Attorneys representing officers Michal Dinnsen and Carlton Howard faced off against attorneys from the City of Indianapolis, in a three-day series of hearings before the Civilian Police Merit Board. (Photo by Drew Daudelin)
IMPD officers Michal Dinnsen and Carlton Howard shot and killed 45-year-old Aaron Bailey on June 29, 2017, after Bailey crashed into a tree during a high-speed car chase.
The shooting left an unarmed man dead and two officers under investigation. A special prosecutor found them innocent, and they received no criminal charges.
But soon after that decision, IMPD Chief Bryan Roach recommended Dinnsen and Howard be fired for failing to follow proper procedure, a decision that falls to a seven-member group called the Civilian Police Merit Board.
Roach's request prompted months of internal investigation that concluded Thursday night, when the board voted to clear the officers of any violations, allowing them to keep their jobs. The vote came after three days of cross-examination and testimony from the officers and a number of law enforcement officials.
The motion was approved with a vote of 5 to 2.

Cross-examination

Dinnsen and Howard say they fired on Bailey because they feared for their life. They say Bailey ignored calls to cooperate after the crash, and was seen digging in his car's center console before quickly turning towards Howard. This movement, they argue, was reasonably perceived as a man retreiving his gun.
There was no gun found in Bailey's vehicle. But the officers' attorney John Kautzman, along with multiple police training officers called as witness, argued that officers are trained not to wait to see a gun before using deadly force – an imminent threat only needs to be perceived.
"They did what they were trained to do," Kautzman says.
Skeptics of their story, like Chief Roach, suspect their decision to fire was driven by irrational fear.
Throughout the hearings, Kautzman accused IMPD leadership of ignoring evidence and running their internal investigation with a predetermined outcome in mind.
"They can't explain the unexplainable, a terrible tragedy that happened," Kautzman says. "But there's a big difference, folks, between a tragic outcome and an improper shooting."
Kautzman says he believes IMPD officials looking to fire the officers were motivated by a desire to placate a community looking for justice.
Both officers were cross-examined during the hearing.
Officer Michal Dinnsen was asked to reenact Bailey's actions as they approached his vehicle. When Dinnsen raised his voice, mimicking the way he yelled at Bailey to show his hands, he became emotional and needed to leave the room.
Dinnsen often became emotional while recalling the incident.
"It's a traumatic, traumatic incident, for not only myself but for everybody involved," Dinnsen says. "It's tested me. It's never something I wanted to do, or be a part of."
Dinnsen says he wants to help officers in the future, and hopes to support training that better prepares them for difficult situations.
Officer Howard says the motion of Bailey's upper body, the way his arms were moving together, was consistent with the motion of someone reaching for a gun.
"I thought I was going to be shot that night," Howard says.
City attorney Melissa Coxey made the closing argument for the police department. In it Coxey echoed Chief Roach's claim that Dinnsen and Howard did not follow proper procedure while approaching Bailey's car.
"They did not take cover, they did not give time and distance, they did not constantly assess," Coxey says. "Those are all things utilized not only for the safety of individual citizens, but also for the officers themselves."
Coxey also argued that physical evidence conflicts with the officers' testimony. She pointed to bullet trajectory reports from Bailey's autopsy, claiming inconsistencies between the reports and the officers' description of Bailey's position in the car.

Reactions

Chief Roach spoke to reporters after the decision was announced. Roach says he's frustrated by the result, but believes the review process was followed correctly.
"This was a lose-lose situation, I think it has been from the beginning," Roach says.
Outside the courtroom Rick Snyder, president of the Indianapolis Fraternal Order of Police #86, had harsh words for Roach and other officials who worked to fire the officers.
"I can't speak to the motivations of this police department and its executive staff, and why we are here today," Snyder says. "We unfortunately have some executive leaders who...I can't believe I'm saying this, really have destroyed a police department, and we are left to pick up the pieces now."
"Rather than managing expectations of the public and this police department," Snyder continued, "my fear is that the police chief allowed the political expectations of a few to manage him."
Snyder says it was the leaders of the police department that brought the case, but also called out Indianapolis Mayor Joe Hogsett for his ultimate responsibility over IMPD.
Mayor Hogsett released a statement Thursday night. In it, he says the decision is a dissapointing reminder that much work needs to be done to reform the criminal justice system.
"The fact that Chief Roach's experienced, well-reasoned decision to terminate two officers has been overturned by the votes of five individuals highlights a Merit Board system that must be changed if we are to continue building bridges of trust between our brave police officers and the communities they proudly serve," Hogsett says.
Hogsett says he will be engaging with community and public safety leaders in the coming days to discuss what can be done.