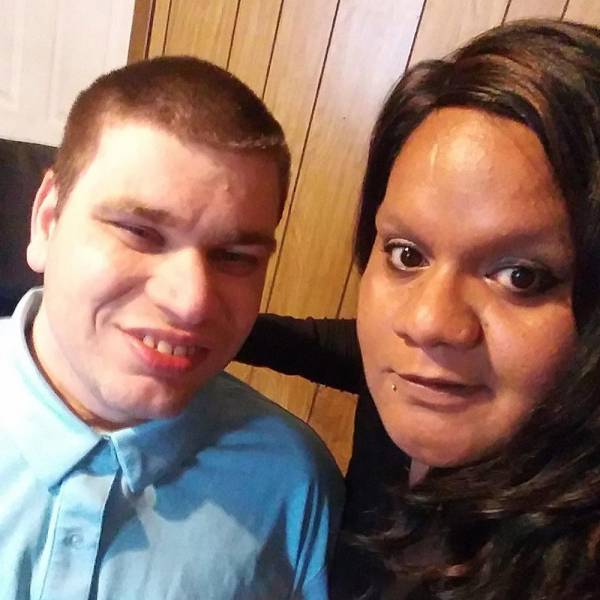 Kristina Ortiz and Tim Himes aren't brother and sister by blood, but they might as well be. They've never known life apart. Ortiz was six months old when her foster mother brought Himes home from the hospital.
"I'm always there for you," Himes said on a video call with Ortiz.
"Mama Monica," as her many foster children called her, was more than a mom. For the first 30 years of his life, she was Himes' full-time caregiver. Himes was born with cerebral palsy, and he's had other health issues over the years. He's had multiple surgeries on his legs, and at one point needed a pacemaker. Now he uses a power wheelchair to get around, which Ortiz says makes him more independent.
"I see him and he can do just as much as me," Ortiz said. "He's kind of an inspiration to me."
But Himes still needs 24/7 care. So when Monica died in early 2019, Ortiz worried about what would happen to her little brother.
"Timmy just couldn't go to a nursing home. Honestly, it probably would have, in my opinion, hurt him more than helped him," she said. "So, of course, I stepped up and I was like, you know, let's try to figure something out."
Ortiz became one of the estimated 850,000 family caregivers in Indiana. According to AARP, more than one in five Americans are caregivers – people who support a family member through an illness, disability or aging. Ortiz is responsible for all of Himes' care, from bathing and dressing him to managing his medications and doctors appointments.
"Absolutely I was nervous," Ortiz said. "Making sure I just did everything right. What do I ask? What do I say? What do I request?"
The family got into a routine that included Himes, Ortiz and her 1-year-old son, Zaevion. Then in March, everything changed.
"When this COVID-19 thing happened, everything slowed down drastically," Ortiz said.
Adjusting to life in a pandemic
Caregivers juggle work and family, and coordinate medical care for a loved one – a lot of responsibility under normal conditions. Now, with the COVID-19 pandemic, millions of caregivers across the country are adjusting to new ways of life.
"From the caregiver standpoint, you notice the supports you did rely on are not available," said Kelly Fischer, a lecturer in the department of psychological science at Ball State University and a licensed mental health counselor. "I think sometimes the average person doesn't realize that this can also mean very rapidly having to learn medical interventions and things like that."
Fischer knows this firsthand. She's also a caregiver for her 19-year-old son Noah, who is blind, has autism and is developmentally delayed, among other physical disabilities. When his school moved to online instruction, Fischer was responsible for his care during the day while she worked from home.
"I'm fortunate that I was already working from home, so that wasn't an adjustment for me. But how do you fit in when he needs to eat, because that's not something he can do independently. And even needing to go use the restroom," she said. "What we find is a lot of families, our income, their income is directly dependent on their ability to access supports."
Losing skills without support
Many in-person therapy programs for people with disabilities also stopped. Emily Ransom's 5-year-old son, Kash, has a severe form of autism, epilepsy, among other health issues. He's spent years in applied behavioral analysis, a form of therapy that helps people with autism build skills and manage challenging behaviors. He was also in speech and occupational therapy.
"He would have skills that he's gained during these therapies like matching colors, like sorting different shapes," Ransom said. "He would make sounds for his speech."
But those programs closed in March, and over the next four months, Ransom started to see Kash lose those skills.
"All that work that he put in and we put in and it was just going away because of the whole pandemic and there was nothing that we could do," she said.
Losing skills has been a concern for many families supporting people with autism through the pandemic, according to Donna Murray, vice president of clinical programs at Autism Speaks, an autism advocacy organization. People with autism are comforted by routine, and when their routines, like going to school or therapy, are disrupted, they can get anxious. Replacing those services with telehealth options has helped some families, but Murray said transitioning from in-person service has been difficult for others.
"We've really encouraged families to think about things and skills that they can learn in the home so that perhaps they're gaining new skills in hygiene, self-care, daily living skills that maybe they wouldn't have had in the school," Murray said. "I also think the important thing is realizing that going back to the routine -- like going back into work, going back into school -- will still be a transition."
On top of everything else, Ransom is pregnant. Her pregnancy is high-risk, so she's only left home for doctor's appointments, which she can't bring her husband or Kash to, since most health care facilities don't allow visitors. Without therapy, Ransom says Kash has been frustrated and had more challenging behaviors.
"He would hit, he would kick, he would self-destruct. It got to the point to where it was getting close to himself injuring himself, and we have not seen that since he was little," Ransom said. "And then, of course, with me being pregnant, when he gets frustrated he would turn on me and then I would have to be careful to make sure he wouldn't attack me because of the baby."
Describing Kash's challenging behaviors is difficult in the social media groups Ransom has turned to for support during the pandemic. She said it can feel like the other parents are judging her.
Getting help
Fischer says caregivers also judge themselves. They reported high rates of burnout, even before the pandemic. Fischer says signs of burnout include feeling exhausted all the time, losing interest in activities and feeling like every day is going to be a bad day.
"Or they feel like the tasks that they're doing are either overwhelming or underappreciated or just not making a difference," she said.
Fischer says caregivers also have to accept help. After Ortiz took over her brother's care, she got help from Caregiver Homes, a program that supports family caregivers. Ortiz says the program helped get Himes' power wheelchair, and it also referred her to a company to make their home in South Bend more accessible.
"They do home visits and everything. Of course, that stopped when COVID-19 happened," Ortiz said. "But we have this really cool app and we're able to send videos and pictures and kind of stay connected in that way too."
Regina Smelser, the clinical team lead for Caregiver Homes, said during the pandemic clients have had difficulty finding fresh food and accessing their doctors. Caregivers like Ortiz use an app to ask for support in filling prescriptions or getting paperwork to their health care providers.
"I can't imagine how it's been for people who have no one and has been having to figure out what life is like now, when they can't go anywhere and they can't do anything and they didn't have anyone there to help them," Smelser said. "I feel very fortunate to be in the position where we are to support those family caregivers, and the extra legwork that they've had to do over the past several months to make things continue as usual."
Fischer says self-care – taking time for yourself and activities you enjoy – is important, too. For Ransom, that's schoolwork. She's also a full-time grad student. And some things for her family are getting back to normal. Kash has started in-person therapy again, working to rebuild old skills and adding new ones.
"He has sensory issues and he can't handle things on his head, his ears, his face. But they are working on kids wearing a mask," she said. "We've been working so hard and he was able to keep the mask on for a full doctor's appointment last week. So that was a huge milestone, him keeping that mask on his face and not getting upset."
Ortiz says being stuck inside has brought her family closer. They miss their regular activities, like going bowling, but she has learned how to bake cookies. And, she sends Caregiver Homes photos of the family's favorite activity while stuck at home – karaoke.
"We probably know almost every Disney song, don't we?" Ortiz asked.
"Yup," Himes replied.
This story was produced by Side Effects Public Media, a news collaborative covering public health. It is part of the Move to Include Initiative funded by the Corporation for Public Broadcasting. It focuses on people with disabilities and the issues they face.
Contact reporter Lauren Bavis at lbavis@wfyi.org or follow her on Twitter @lauren_bavis