The new COVID-19 vaccine is being rolled out across the country — a process that will take months. But there were hopeful signs Wednesday at an Indianapolis hospital where some of the first shots were given.
In a makeshift clinic, nurse Phyllis Watts is preparing internal medicine resident Dr. Saad Ali for his first dose of the Pfizer-BioNTech vaccine.
Indiana University Health has received 975 doses in its initial batch, and Ali is one of around 200 frontline workers to get the first vaccinations. He's grateful the vaccine has come so soon.
"I'm excited," Ali says. "That's a modern breakthrough in science and art. I'm happy to be one of the first to get it."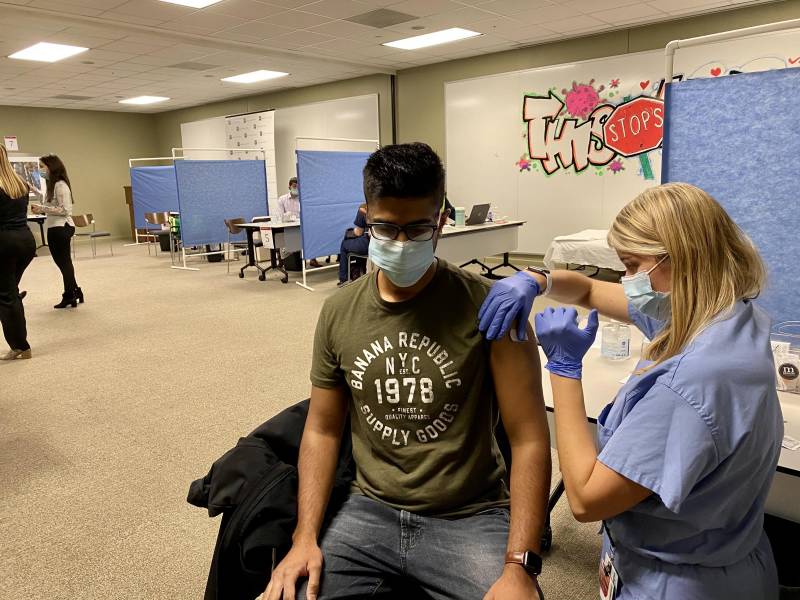 The Food and Drug administration approved the Pfizer vaccine for emergency use last week. It came as COVID cases — and deaths — continued to surge across the nation. On Wednesday, Indiana announced another 125 COVID deaths, bringing the toll to nearly 7,000 people.
Dr. Bill Rutherford is retired, but has volunteered to administer injections.
"I'm giving injections, because it's the opportunity to begin the hope," he says. "To give people hope that we will get through this. To relieve the fatigue, to relieve the depression, to relieve the worry."
The vaccination clinic is in a room on the first floor of the IU Neuroscience Center. A half- dozen card tables have been converted into stations staffed by nurses and doctors who wait to administer vaccines. One wall is really a giant white board — a message reads "this stops here."
There's also candy and stickers for each person who gets a shot.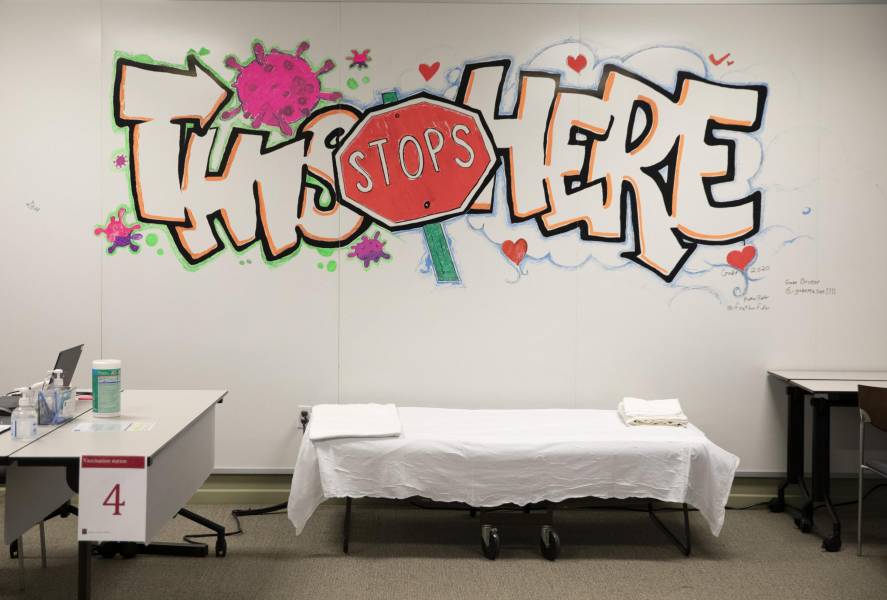 Rutherford points to the other health professionals in the clinic. He says many of them may have already had the virus and don't want other people to get it.
"They're here giving or getting the injections too, you know, to send a message to others," he says. "We trust the science. We don't want you to go through this.
Dr. Phil Forys, a pulmonary and critical care fellow at IU, also received his first dose of the vaccine. He has advice for people who are hesitant to receive their vaccine.
"The short answer is if you don't want to wear a mask and you want life to go back to normal get a vaccine," he says.
Forys provides an analogy to help people understand the importance of getting vaccinated.
"The long answer is think about COVID like a bag of Skittles," he says. "If you're forced to eat a Skittle and one in 100 times you get sick and 10 in 100 times you have to go to the hospital. That's not a good bag of Skittles.
"But if you get a vaccine, and now instead of one in 100 times you get a poisoned Skittle. It's one in 10,000 or one and 20,000 or one and 50,000. It's a lot better for you. It's a lot better for your community."
Like other states, Indiana is starting vaccinations with health care workers and people in long-term care facilities like nursing homes.
But the health care workers who were vaccinated Wednesday aren't done yet. The Pfizer vaccine requires two doses, a few weeks apart.
Meanwhile, a second vaccine by Moderna is slated to be reviewed by the FDA this week. And others are being tested.
This story was produced by Side Effects Public Media, a news collaborative covering public health.