During his first State of the City address in May, Indianapolis Mayor Joe Hogsett announced the creation of the Criminal Justice Reform Task Force. He told its members to spend six months crafting a detailed plan to fix issues within the Marion County justice system, and Monday morning the team presented its work.
The full report is 120 pages long and addresses two major topics: the prevalence of untreated mental illness and drug addiction in Marion County jails, and the construction of a campus that includes a new county jail.
The mayor spoke Monday afternoon, before the final Criminal Justice Planning Committee meeting of the year. He says there needs to be less of a focus on overcrowded jails, and more of a focus on preventing the right people from being sent there in the first place.
"The question is not 'How many jail beds do we need?' Hogsett says. "The question rather is 'How many jail beds can we avoid?'"
Creating "Off-Ramps" For Treatment
An estimated 30 to 40 percent of Marion County inmates are classified as mentally ill, and 85 percent have substance abuse problems, according to a report from the city.
The Task Force says the primary goal of its suggested reform is to keep people who shouldn't be incarcerated – namely those suffering from mental illness and drug addiction doing time for minor offenses – out of the jail system and into some kind of treatment program. And they say the linchpin of achieving that goal is to help police officers identify those issues before they make an arrest.
The team says it wants to build "off-ramps" for people in the justice system who don't belong in jail. There need to be more opportunities, they say, for non-violent criminals with mental illness and drug addiction to recieve treatment instead of incarceration.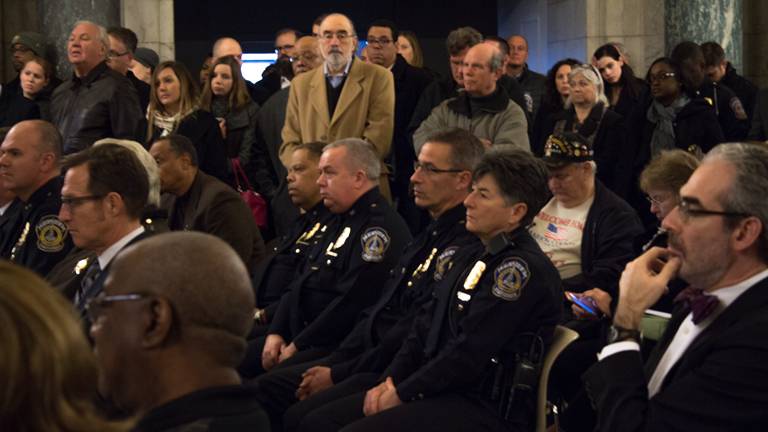 It's a complicated problem to solve, and the Task Force's report is multi-faceted. The plan calls for the creation of Mobile Crisis Units within the IMPD, staff members who specialize in identifying and helping suspects who might have mental illness or drug problems, letting beat officers in a tough situation get back to work.
And to make sure officers can better make that judgment, the team is recommending all officers and 911 operators undergo crisis intervention training. This training is already underway, but a goal has been set to get everyone trained by 2018.
The team is also working with New York University to develop a tool, likely in the form of a checklist, to help officers more quickly analyze a situation.
Building The Jail
The Task Force is also working on the construction of two new facilities – an Assessment and Intervention Center and a campus that includes a county jail. The location of the jail hasn't been decided, but the team says it will have a final recommendation by January 31st.
The county jail, which will replace multiple facilities, will cost upwards of $40 million a year.
The team says they've put a plan together to reallocate $35 million already going toward criminal justice, most of it from the County Sheriff's Department.
Community Support
Members of the Indianapolis Congregation Action Network (IndyCAN), one of many local groups the Task Force says it worked with throughout the last six months, say they applaud the mayor's efforts in a press release Monday.
"Today, faith leaders with IndyCAN celebrate a major victory with Hogsett's commitment to righteous justice that will help heal our community," says Rev. Juard Barnes, IndyCAN Community Organizer. "This is a great start to ending mass incarceration and criminalization by putting people and their families first."
IndyCAN's support is significant because the group was highly critical of former Indianapolis Mayor Greg Ballard's failed attempt to build a $1.7 billion justice center.
The group also confirms claims by the mayor's team that they were part of the planning process.