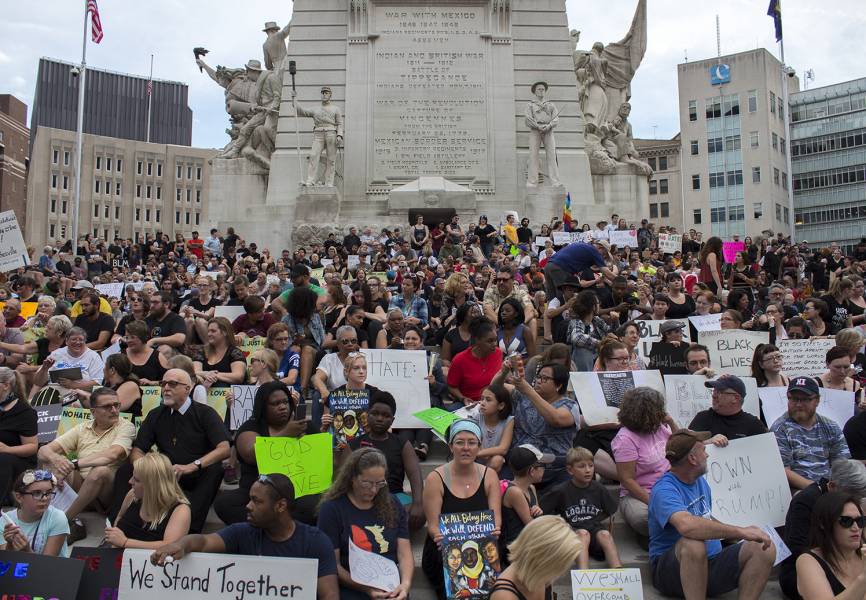 The vigil was hosted by the Indianapolis group Showing Up for Racial Justice. (Photo by Drew Daudelin)

Hundreds gathered Sunday night in downtown Indianapolis, in solidarity with Charlottesville, Virginia – after a weekend of violent protests there surrounding a white nationalist rally.
One speaker was Musa, a member of the local Muslim community. Like many at the event, Musa pointed to the ideology behind the Charlottesville rally.
"And we call on President Trump to call this out for what it is: radical, white supremacist terrorism," Musa says
Leah Humphrey is from Indy 10 Black Lives Matter which helped run the event. She said in a speech that white supremacy contributes to many societal issues.
"Food insecurity is a form of white supremacy. Lack of education is white supremacy, OK? Housing discrimination…gentrification," Humphrey says.
Other groups represented include MelaNation Indy, Jewish Voice for Peace, and the American Indian Movement.