Avi doesn't usually pay attention to school board elections. But last fall's race was different. The 16-year-old is nonbinary and attends Carmel Clay schools, an affluent and majority White district.
"When you have people, like, verbally talking about outright banning your presence from a classroom, it's startling and worrying," Avi said about rhetoric they heard during the campaign. "Especially because there were people that agreed with them."
WFYI is not using Avi's full name to protect their privacy. Avi learned about the school board race in Carmel from their dad, Phil.
Phil said he took an early interest in the candidates because of rising tensions over the district's adoption of diversity, equity and inclusion measures over the last two years.
People in Carmel and other communities across the country started attending school board meetings to voice their concern and anger regarding school policies. In Carmel and elsewhere in Hamilton County, schools were accused of teaching critical race theory and pushing liberal ideologies on students. Administrators at Carmel Clay and other Hamilton County schools have refuted these claims.
Phil said he was particularly concerned about a slate of conservative school board candidates who were running together for three open seats in an effort to gain majority control of the five-member Carmel Clay board. School boards have the power to vote on a district's budget, hire the superintendent, set strategic goals, and oversee other priorities and policies.
The group campaigned on a platform that included academic excellence, transparency and parental rights; the latter has become a rallying cry for those who believe schools are teaching critical race theory — a theoretical framework that's been conflated with diversity, equity and inclusion — and promoting LGBTQ identities.
The trio of Jenny Brake, Greg Brown and Adam Sharp were among hundreds of conservative candidates who ran in school board races across the country this past election cycle. Many campaigned on similar platforms and were supported by Republican politicians and groups like Moms for Liberty, a national conservative organization that has railed against COVID-19 policies, critical race theory and LGBTQ inclusion.
Phil said he and his family were worried about the consequences of the election for Avi if the conservative candidates won a majority of seats.
"We did have serious reservations and concerns about our future in the Carmel Clay school district," he said. "Because we weren't sure that it was going to be a safe space for our kid."
Avi was full of dread in the lead up to last November's election.
"Because of the fact that I was worried that these candidates were going to get seats and then be able to greatly affect my school and my life," Avi said. "But I was pleasantly surprised."
Only Brown, one of the three members of the conservative slate, won a seat on the Carmel Clay school board. Jenny Brake and Adam Sharp lost to Jennifer Nelson-Williams and Kristin Kouka, who were running as a slate along with Jake Nichols. Nichols narrowly lost to Brown.
In an interview with WFYI in December, Brown said stories of liberal indoctrination in schools motivated him to run for office.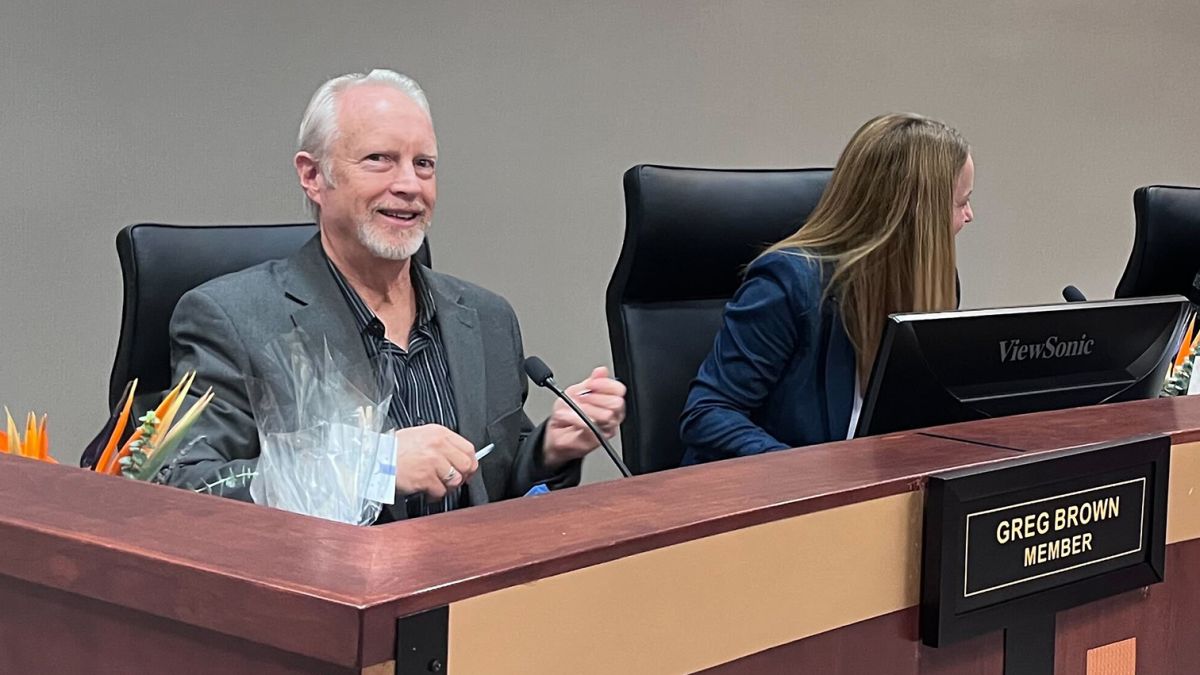 Brown was sworn into a four-year term as Carmel Clay School Board member on Jan. 9. He was chosen to be the board's representative to the Carmel Redevelopment Commission, a city commission that partners with developers and businesses on projects.
The race in Carmel was close, with neither slate claiming landslide victories in what are supposed to be nonpartisan races.
A mixed bag of victories and losses
What happened in Carmel mirrors local school board results across the country. Republican candidates promoted by conservative groups had a mixed bag of victories and losses.
"It seems like the sort of push from the right worked electorally in some places and it didn't work in others," said Jon Valant, a senior fellow and director of the Brown Center on Education Policy at the Brookings Institution.
Conservative school board candidates won seats on school boards in states like Florida and South Carolina, but many failed to win races in places like Michigan and California. An analysis from Ballotpedia concluded that school board elections that were previously uncontested races drew slates of candidates who were motivated by three issues: race in education or critical race theory, responses to the COVID-19 pandemic, and sex and gender in schools.
The Ballotpedia analysis found that about 41 percent of winning candidates expressed support for these issues, while about 30 percent opposed them, and another 27 percent had stances that were unclear.
The results were also mixed across Indiana. Pro-parental rights candidates supported in social media posts by the Hamilton County chapter of Moms for Liberty swept to victory in Hamilton Southeastern schools — which neighbors Carmel — and now hold a majority on the seven-member board.
After being sworn in last week to the HSE board, three of the just elected members were nominated by the fourth new member to be president, vice president and secretary. The slate won in a 5-2 vote.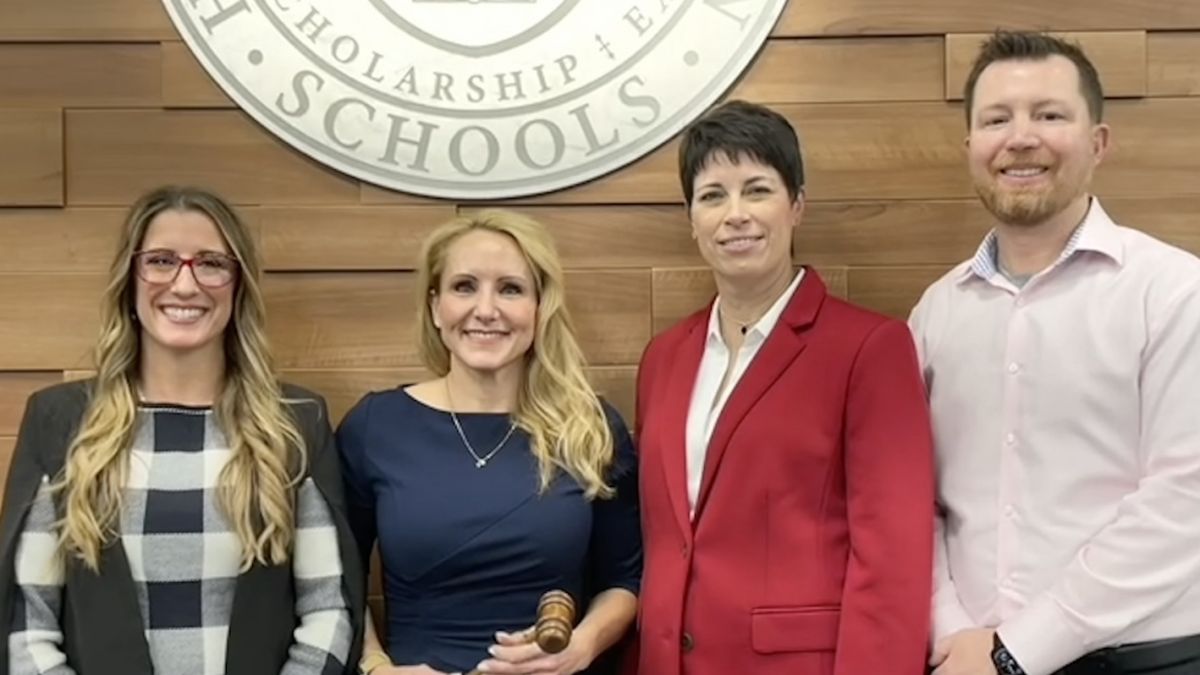 But candidates promoted by the national Moms for Liberty group lost their races in Allen, Boone and LaPorte counties. And a majority of those promoted by Moms for Liberty in Howard County also lost.
Valant said voter perspectives on schools and the world at large vary from community to community.
"And I think what we're seeing is a reflection of that in these school board election results," Valant said. "In some places, those groups that were pushing these sort of far right extreme agendas that were focused on some of the components of the sort of parental rights ideology, they did really well, because it resonates in those communities. But then in a lot of other places, it just doesn't resonate."
The idea that there's widespread indoctrination of students is a result of a media landscape that has amplified isolated incidents and made-up stories, Valant said. Conservative activists have also pushed the narrative that schools are sexualizing children.
"I think it's giving people a really warped sense of what's happening in the vast majority of American classrooms," he said.
A fear of indoctrination
Brown moved to Carmel nearly three decades ago because of the reputation of its school district. Brown said he and his wife were involved in the district while his son was in school, and that it was a great experience for the family. His son graduated from Carmel Clay High School in 2007.
Today, about 16,400 students attend Carmel Clay Schools. Nearly 71 percent of all students are White and less than 11 percent qualify for free or reduced meals due to family income, according to state data.
Brown acknowledged that at the time he chose to run, he didn't know many parents of current students in the school district. But he filed for candidacy because of stories he saw in the media and stories he heard from others around the country.
"I'm concerned with where schools are going across the nation. I am not saying that Carmel has lots of progressive teachers that are doing these things. I don't know," Brown said. "I just want to make sure we don't head that way."
Brown said he doesn't have any evidence to suggest liberal indoctrination is happening in Carmel Clay schools.
The Brake, Brown and Sharp campaign sent out a message a week before the election that claimed radical liberal teachers were indoctrinating students. Brown said he didn't sign off on that message, and if he could do it again, he would've blocked the campaign from sending it.
Carmel Clay Superintendent Michael Beresford said such a political narrative was false and insulting to teachers in a public video message released following the campaign email.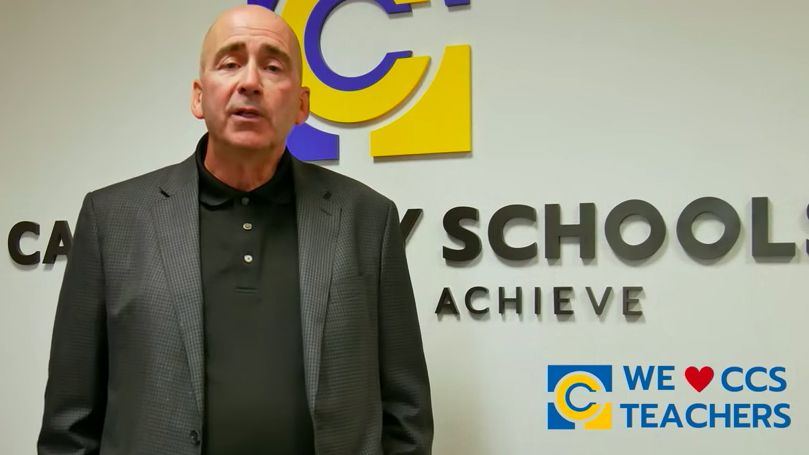 Indiana Attorney General Todd Rokita has also claimed teachers in the state are indoctrinating students. Last week, Rokita, a Republican, told the Northwest Times of Indiana "grooming, CRT-driven racial division, transgender extremism" is taught in Indiana public schools but the media ignores it. Rokita did not provide evidence.
During the campaign last fall, Rokita, along with U.S. Sens. Todd Young and Mike Braun, endorsed the Brake, Brown and Sharp campaign.
Brown said he wants to improve academic excellence and transparency in Carmel schools. He said he supports inclusion, and that inclusion should extend to families with different religious values and points of view.
"And I think, more and more, we're seeing an over emphasis on things like the LGBTQ community," Brown said.
Brown said allowing transgender students to use the bathroom that aligns with their gender identity is an example of progressive indoctrination in schools. Brown also doesn't believe students should be asked to share their pronouns. And he said discussions of controversial issues like gender identity shouldn't take place in the classroom.
"The schools are in charge of education, and they should be teaching education. They shouldn't be dabbling into the area of values," he said. "I find that absolutely wrong from a conservative Christian perspective."
Brown said he aims to find common ground with his fellow board members and solutions that work for all students and families.
"I envision it as a road, and there's guardrails on both sides," he said. "One says don't veer off and don't start teaching Christianity to the first graders, but there's a guardrail on the other side of the road that says don't start teaching and having our children question their gender."
Pushback from Carmel parents
Jim May is a Carmel Clay parent who became so concerned by the rhetoric from the Brake, Brown and Sharp campaign that he created a website to fact check their claims.
May's research and fact-checking focuses on multiple claims made by the Brake, Brown and Sharp campaign, including that the district's standardized test scores are in decline. May explained on his website that that claim doesn't take into account recent changes in Indiana's standardized testing or the impact of the pandemic on test scores across the state and country.
And May said the idea that teachers are indoctrinating students and that the district is hiding critical information from parents is "almost kind of laughable." May said he can easily access his children's curriculum online.
"We run the political spectrum in Carmel, and it's just absolutely insane for them to imply that there's some kind of, you know, liberal political movement within the school system. It just doesn't exist," May said.
May said that while he's relieved that only one of the three conservatives running as a slate won their race, the rhetoric of the campaign had a negative impact on the community.
"I think this has just been terrible for the morale of our teachers. We see that in our community. It's true nationally as well," May said. "But the people that want to politicize this stuff and try to use it as a wedge to divide the country, they really are, you know, they're taking a huge toll on the teachers and on the staff."
Hamilton County Moms for Liberty
Paige Miller spent 33 years as a teacher in the Carmel Clay school district. Her son graduated from the district in 2016. She retired in 2020, and that's when she said a parent approached her about concerns over what is being taught in the district.
Miller said the conversation galvanized her into action. In 2021, she, along with dissatisfied parents and community members got together to create a group called Unify Carmel. Members of the group disrupted Carmel Clay board meetings and read passages from books with transgender characters and others they believed were sexually explicit. They were also critical of the district's diversity, equity and inclusion efforts.
Miller said she broke from the group because she wanted to work with the district to find solutions. She then co-founded the Hamilton County chapter of Moms for Liberty last year.
"We have over 1,000 members. So we've grown very quickly," she said.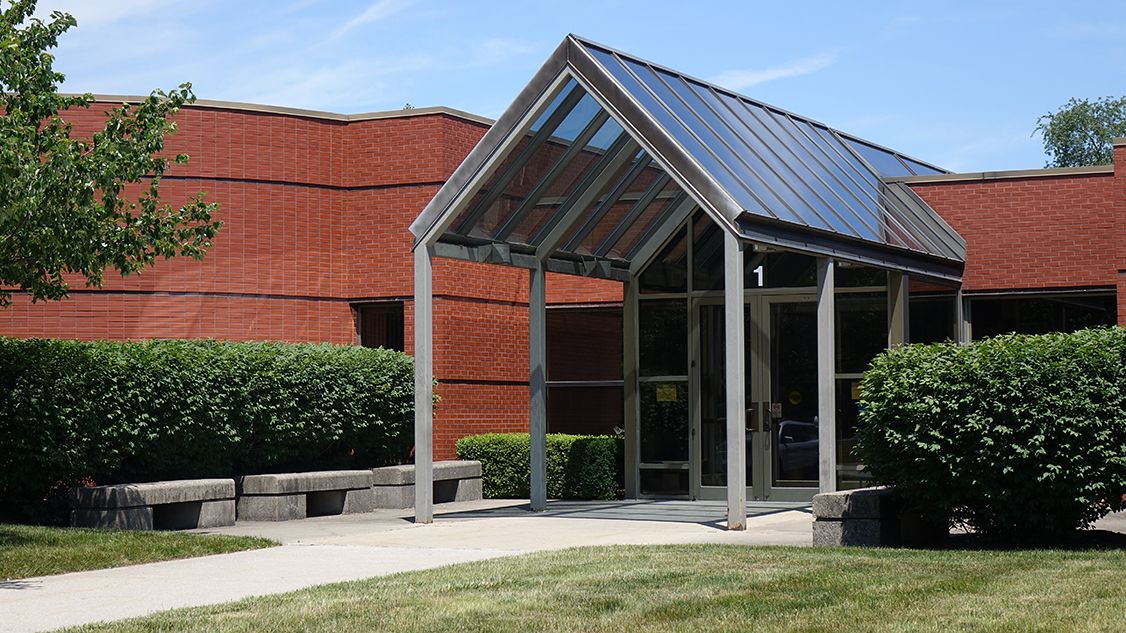 During the run-up to last November's election, the group used social media posts to promote school board candidates across the county, including Brake, Brown and Sharp.
Miller said she was also unhappy with the district's social emotional curriculum. She claimed students were being surveyed on issues like abortion and Planned Parenthood funding.
Social emotional learning is used to teach students how to manage their emotions, build empathy skills, and understand themselves and others better.
In recent years, school spending on SEL has increased due to the pandemic. More than half of states have social emotional learning standards for students in K-12 — including Indiana — according to the Center for The Collaborative for Academic, Social, and Emotional Learning (CASEL). Social emotional learning has been criticized by conservatives as critical race theory in disguise.
"People, me included, sent my child to school to learn not to be indoctrinated into social justice, or into social emotional learning that I didn't agree with," Miller said. "And the bottom line to all of this is it is taking time away from our curriculum."
Miller acknowledged that it will be hard to find consensus among people who have fundamental disagreements over what should and should not be discussed in the classroom.
"I just don't know, moving forward, what that would look like," she said.
Overall, Miller said she's satisfied with the results of the past election cycle, and she's already looking toward the future — including the 2024 school board election and potential property-tax operating referendum to replace a levy set to end in 2024.
"So we've learned a lot this past year," she said "We've got a lot of great things coming up."
Look to the future
Jim May, the Carmel parent, believes campaigning by parents who disagree with people like Miller and Brown is a big reason why the Brake, Brown and Sharp campaign was ultimately unsuccessful in their bid to get a majority on the Carmel Clay school board.
A political action group called Support CCS sprung up in opposition to the conservative slate. The group promoted the candidacy of Jennifer Nelson-Williams, Kristin Kouka and Jake Nichols, a slate of candidates who believe the district should continue its diversity, equity and inclusion efforts.
May, who was not involved with Support CCS, hopes concerned parents start organizing well before the next election.
"We're certainly going to be trying to get a core group of parents organized with a larger network of parents throughout the school system, and figure out, you know, what do we do? How do we structure things in such a way, that if this does rear its head again in 2024, we can just attack it head on as soon as we see the first signs of it, and really not give it a chance to take root in the community."
State laws for school board races could also change. Republican lawmakers introduced bills this month that would require candidates to declare affiliation with a political party and move up the time a person must declare that candidacy for a school board.
For now, Avi, the nonbinary student from Carmel, is relieved. They say indoctrination of students isn't a real issue. But removing books and barring discussions of LGBTQ identities and race in the classroom is something people should be worried about.
"For so many minority kids, school is already Hell," Avi said. "So to see yourself reflected in those spaces is crucial to helping you understand that you also deserve a spot in the world."
Avi said they'll continue to pay close attention to politics. And they're eager to vote in future elections.
Clarification: This story was updated to clarify Paige Miller's connection to the Carmel Clay school district.
Contact WFYI education reporter Lee V. Gaines at lgaines@wfyi.org. Follow on Twitter: @LeeVGaines.