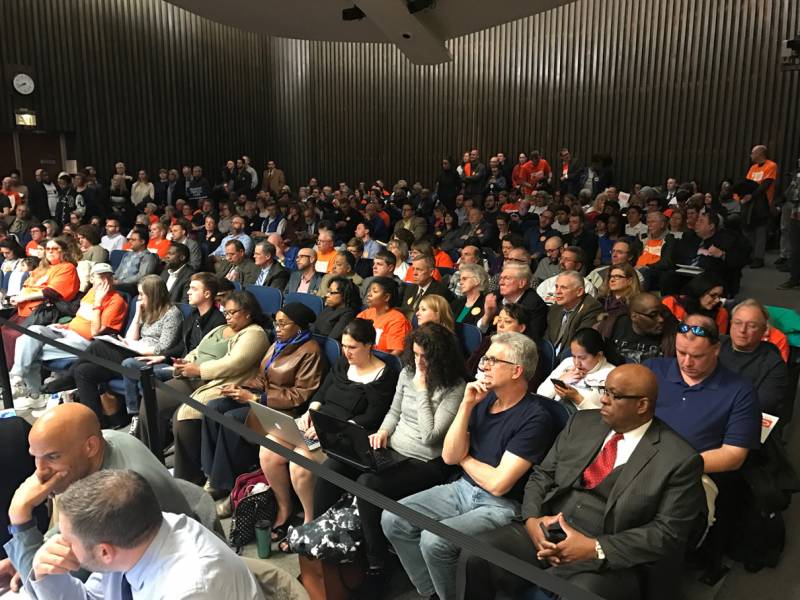 The council meeting room was packed with a lively crowd, the vast majority of whom erupted in applause when the votes came through. (Photo by Drew Daudelin)

The Indianapolis City-County Council approved a plan Monday night to expand Marion County's public transit system.
A lively crowd was on hand as the council voted 17 – 8 on the Marion County transit plan. The vote followed a November referendum in which a majority of voters gave the council the power to impose a 0.25 percent tax increase to improve mass transit.
Under the plan, a resident making $50,000 a year in taxable income will pay an extra $125 in income tax.
This is expected to raise about $54 million starting in 2018. IndyGo says it will use that money to expand bus routes and improve infrastructure in densely populated areas.
Many who support the plan, like Councilor Vop Osili, say it will bring newfound freedom and job opportunities to those who need it most.
"The commitment has been greater frequency, greater infrastructure," Osili says. "An opportunity to not have to wait for an hour, or half an hour, when I want to get on a bus. I think those days have passed."
A number of issues remain by those who oppose the plan. Councilors Joseph Simpson and Stephen Clay voted no, and say the plan does not prioritize the most impoverished areas of the city.
Others voiced concern about the budget's inclusion of $75 million from a federal program, which isn't a guarantee. IndyGo officials say losing the money would simply delay their plan by a year.
In a statement released after the vote, Indianapolis Mayor Joe Hogsett said he plans to sign the transit ordinance.