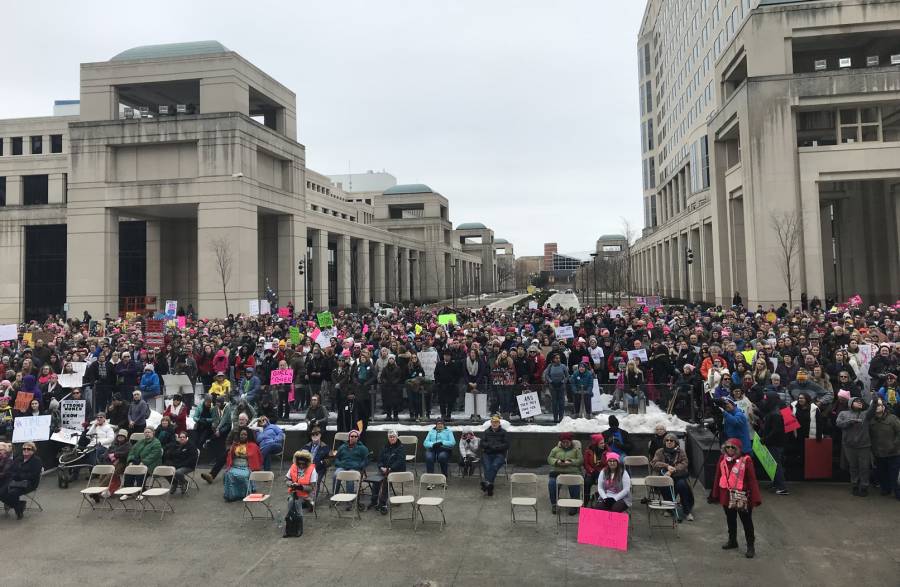 Speakers at the event represented organizations like Indy 10 Black Lives Matter, Planned Parenthood and Spencer Pride. - Photo: Drew Daudelin/WFYI

More than a thousand people showed up Saturday for the Women's March in Indianapolis. A diverse line-up of speakers focused primarily on this year's midterm elections.
The march was called Reclaiming Our State: Power to the Polls. An undercurrent of resistance to the Trump administration ran throughout. Speakers covered a wide variety of topics, including sexual harassment, immigration, transgender rights, and institutionalized racism.
Savannah Pearlman is communications director for Women's March on Washington - Indiana and says the march aims to unite marginalized groups.
"One thing, going into this midterm election cycle, is recognition that we can all power to the polls if we unify and pull together and show a united face, and get everybody registered and out to vote," Pearlman says.
The group, which is now a nonprofit, hosted booths for merchants, nonprofits and political candidates.
Pearlman says what started last year as a single protest has since become a movement. But she says they haven't decided whether to make it an annual event.