Amber Gritter is a home daycare provider in Lafayette serving newborns to pre-teens. The pandemic has changed a lot of the day-to-day routines in her house. But there's one big change in particular.
"The cleaning is insane," she said. "I'm constantly taking the toys out of their mouths and putting them in the 'yuck bucket.'"
But as Gritter has watched her cleaning demands increase, she's seen the cost of those products rise, too.
"You used to be able to buy a box of Clorox wipes for two bucks," Gritter said. "Now it's, like, six."
Like the majority of child care providers in Indiana, Gritter applied for statewide temporary assistance grants to offset the costs of those additional cleaning supplies, among other necessities. She said those grants were "lifesaving" to her business.
Still, she's felt the financial pressures of her home care spill over into her personal life.
"We had to go back down to minimum payments on credit cards, and try and pay as much as we could on the electric bill," she said. "So there's a few things that we had to finagle, [like] not take the animals to the vet, skip some doctor's appointments — stuff like that."
Gritter isn't alone. A recent Indiana survey found 73 percent of providers have seen operating costs increase during the pandemic, according to the state's Office of Early Education and Out-of-School Learning. Nationally, 43 percent of child care providers have taken on personal debt for their business expenses during COVID-19, the National Association for the Education of Young Children found in a survey.
Financial margins in the child care industry remain razor thin for providers, even with help from state and federal grants.
"If you break down what we make hourly, it's not even minimum wage, usually," Gritter said. "It's scary. I've been down there, I've been down to, what, 3, 4 dollars an hour."
LiTrina Hobbs is in a similar predicament. Hobbs runs a home daycare just north of Indianapolis that's intentionally inclusive of children with special needs, and she employs three additional teachers. She pays them first, and then after paying rent, utilities, food, cleaning supplies, and other necessary expenses, she takes home whatever's left.
"There are some times that I'm able to get paid," Hobbs said, "and there are some times that I'm not."
Most of Hobbs' teachers make around $10 an hour, which is standard for child care workers in the state. The average hourly wage for a child care worker in Indiana is $10.80, with an annual average salary of $22,470, according to the Bureau of Labor Statistics. The median wages are slightly lower, at $10.31 an hour and $21,450 a year.
Maureen Weber, the executive director of Early Learning Indiana, said the margins in the industry make it difficult to keep staff long-term.
"The math simply doesn't work, and it barely works in this industry, even in the best of times" she said. "It's pretty clear to me that the status quo is not working. We cannot attract the workforce that we need."
The fact is, early educators — who are disproportionately women of color — pay a sharp price for working with children even a few years younger than those in the K-12 system. The poverty rate for early educators in Indiana is 22.8 percent — more than double the statewide poverty rate, and eight times the poverty rate of a K-8 teacher.
---
---
In addition, national research indicates that Black child care workers face significant wage gaps, earning just 78 cents on the dollar compared to white child care workers.
And there are lifestyle trade-offs to working in early education as well.
"If your choice is to teach a classroom of 4-year-olds or to teach a classroom of 5-year-olds, if you go into that kindergarten classroom, you're going to have summers off, you're going to have spring break, and shorter hours during the week as well," Weber said.
With all that, child care is an industry characterized by high staff turnover even before COVID-19. While reliable national numbers are hard to find, some studies estimate that child care turnover rates range between 26 and 40 percent.
Those trends were further exacerbated during the pandemic. Nationally, there were about 170,000 fewer child care workers in the industry in January of 2021 as there were in January 2020. In addition, 69 percent of providers reported that COVID-19 has made it harder to hire and retain employees.
READ MORE: after pandemic shrunk daycare enrollment, indiana providers try to recover
But raising wages to make these jobs more appealing is often a challenge within narrow margins. For LiTrina Hobbs, paying her teachers any more than the standard $10-an-hour wage isn't financially feasible.
"Unfortunately, you know, with taxes, insurance, and everything else. I will probably go under, unless I raise tuition."
Hobbs, like many other providers across the state and country, said she felt wrong raising tuition while so many families she serves struggle to meet basic needs.
A Policy Fix
There are some policy proposals out there that would help child care workers, including increasing public funding for early childhood education, or creating more economical ways for caregivers to earn a degree. But implementing that level of systemic change often requires data behind it.
Lea Austin, the executive director of the Center for the Study of Child Care Employment at UC Berkeley, said those hard numbers are often difficult to come by.
"One thing that has happened in this pandemic is that states have not, on balance, been able to answer questions about their early education workforce," Austin said. "We have seen over the years, and absolutely in this crisis, that this lack of data has just allowed inequities to persist, and has allowed disparities to go unseen."
In a recent report released by Austin and her team on the state of the child care workforce, Indiana was one of just seven states with no child care workforce data available for 2020. There have been statewide reports on the state's workforce in previous years, but those tend to get released every four or five years. The most recent report was released in 2019.
For its part, however, Indiana has documented years of wage stagnation and workforce challenges in its child care industry. But in one of the industry's most challenging years, there's limited legislation dedicated to addressing these issues.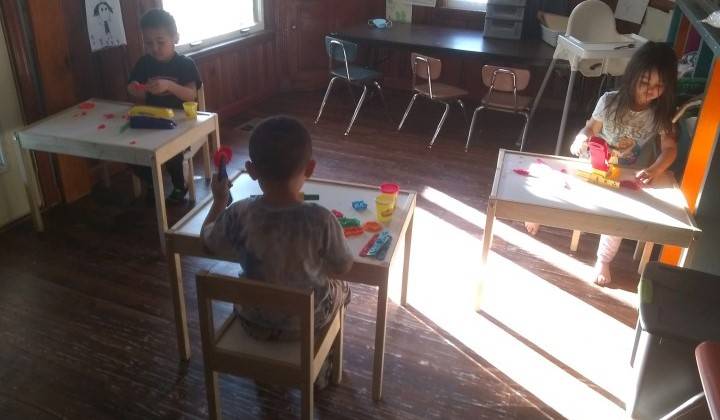 Lafayette's Amber Gritter wishes people understood that day care providers are providing an essential service, and while additional financial support is important, she's ultimately not in it for the money.
"We're not making millions here," Gritter said. "But daycare providers do it because of the love of the kids. That's what it comes down to. We love our children like family. And we want to set them up for the best possible start to life."
Contact WFYI business and economy reporter Pria Mahadevan at pmahadevan@wfyi.org. Follow on Twitter: @priamaha.