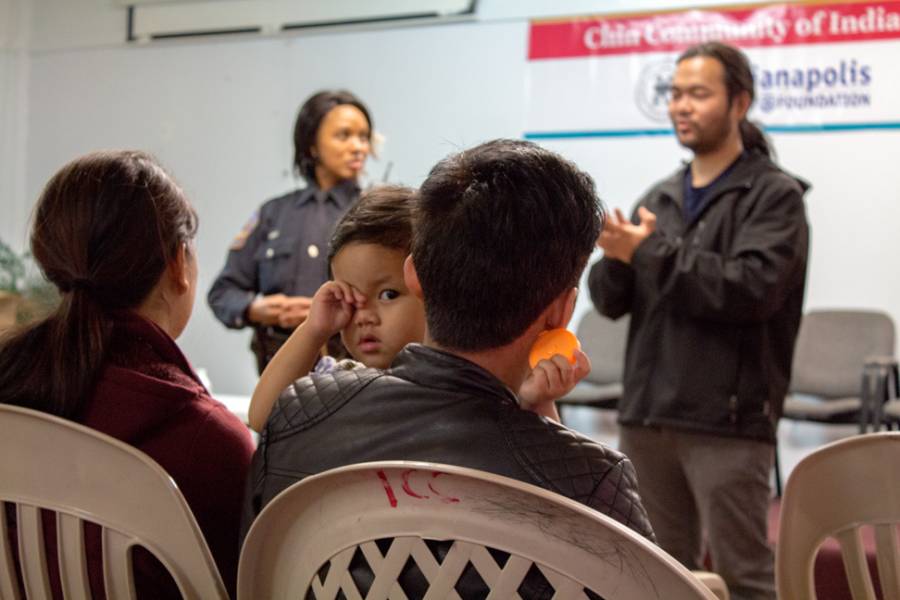 Some within Indiana's Burmese community are hopeful its second generation will grow up less isolated, and more at home, than their immigrant parents. – Photo by Drew Daudelin

The foreign-born population in Indiana has exploded in the last 15 years, from 25,000 to about 80,000 in Marion County alone.
But as immigrant communities grow, they often become isolated from the city around them. The Indianapolis Metropolitan Police Department noticed the trend and decided to do something about it.
In a recent visit to a grocery store on the south side of Indianapolis, IMPD Officer Randy Diaz struck up a friendly conversation with the owner.
He told Diaz he'd been stolen from, over and over.
"So I asked him," Diaz says, "'Did you call the police?' and he said, 'No.'"
It turns out the owner didn't call police because he didn't know they could help him.
Diaz's partner Candi Perry was there too.
"He asked this question, 'Should I stop them, and frisk them?' Basic things like that, he just didn't know," Perry says.
The storeowner is Chin. He's one of over 10,000 members of the Burmese ethnic group that migrated to Indy's south side starting about 15 years ago. His story represents a growing problem that IMPD is trying to address with its Immigrant Outreach Unit, comprised entirely of Diaz and Perry.
Perry has been involved with immigrant outreach efforts for a number of years, but says new leadership in the department recognized a need for more, so they brought Diaz in to help and expanded their beat from the east side to the whole city.
The officers do this work full-time. They start each day with typical office responsibilities, returning phone calls, emails, doing paperwork, but then they head out, into immigrant communities where they visit bus stops and stores to tell all kinds of people – parents, storeowners, community leaders – that they're available to help.
In meeting the two you quickly realize why they were chosen for the unit – Perry exudes warmth and a genuine curiosity in people, Diaz is soft spoken and, according to Perry, famously popular in diverse communities.
Since Diaz and Perry are the only officers on the unit, they have a lot of ground to cover. To reach more people they sometimes travel to immigrant communities to put on special events.
How to get pulled over
About a dozen Chin immigrants gathered in January, at a community center in their area, for a two-hour crash course on police in Indiana. It's tailor made not only for people who speak very little English, but for immigrants and refugees who might not know anything about the role of American police.
"We're gonna talk a little bit about keeping safe when we come to and from our homes, or to and from our cars, in our community," Perry said.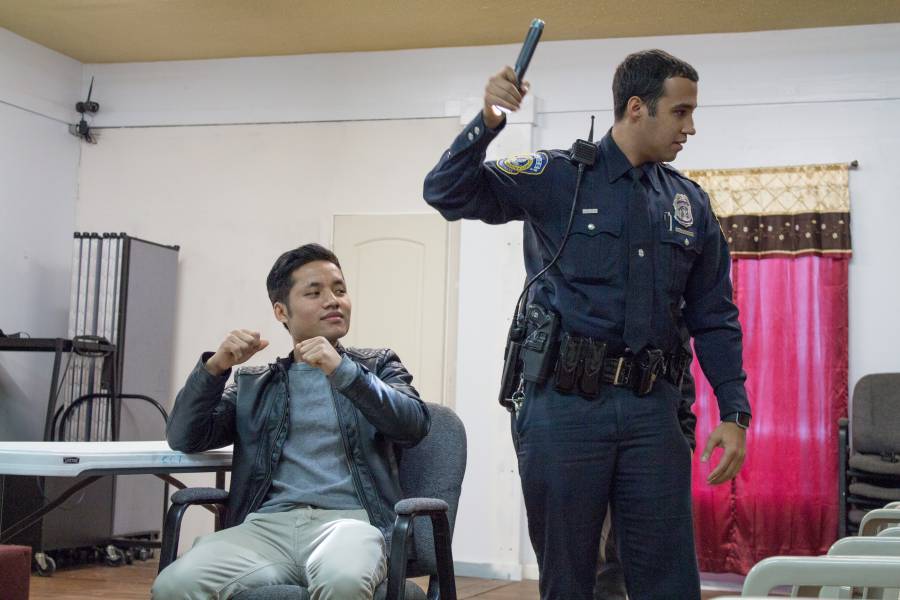 Officer Randy Diaz, right, one of just two members on IMPD's Immigrant Outeach Unit, runs through a mock traffic stop for an audience of Burmese immigrants. – Photo by Drew Daudelin.
One lesson led the audience through a simulated traffic stop, using two chairs and a table as a makeshift car. Diaz describes in meticulous detail the ritual officers follow and what to do if you get pulled over.
"The number one thing is to always stay in your car," Diaz said.
The lesson is especially important for Chin immigrants. During a traffic stop in Burma, people get out of their cars to greet the officer – a move that could be dangerous in America.
Elijah Len is a Chin refugee, in the process of moving to Indianapolis from Grand Rapids, Michigan. He attended the event to help with translation. When asked about how police here compare to police where he's from, he laughed.
"Yeah, they're more approachable here," Len says.
Len says police officers in Burma were people you didn't look at, or talk to, if you could help it. The IMPD effort to educate immigrants like Len is also an effort to calm them, to ease the fear and distrust of police departments built up over the course of their previous lives.
Len says with such a massive Burmese community in the city, it will be difficult but crucial to get them invested in learning how their new world works. And he says culture and language barriers, particularly for adults, can be too big a hurdle.
"I think most of the people, they don't want to deal with the police, because they're kind of busy, so they just forget it. And they just move on," Len says.
Building up trust
Naw Phaw is a Chin native who moved to Indiana in 2002. She echoes Len, saying Chin in Burma often feared the police. And she saw that fear in some of the refugee children she helped drive to their new Indiana homes.
"I remember some kids would see a police car pass by and they would be like, 'Oh, there is police!' so they would just go down to the floor," Phaw says.
She says events that offer a personal relationship with police have had a profound impact on immigrants from Burma.
Phaw has two children of her own. And she says she's confident the second generation of Burmese in Indiana will be able to shake off the distrust of police their parents brought with them.
"Especially for the Burmese, it's always in our mind that you see the police in a negative way," Phaw says. "So that needs to be changed completely, and you have to build up the trust."

Officer Candi Perry, right, has been involved with immigrant outreach efforts for a number of years, but says new IMPD leadership recognized a need for more. Elijah Len, left, is a Chin refugee. – photo by Drew Daudelin

The bigger picture
IMPD Assistant Chief James Waters, who oversees the Immigrant Outreach Unit, says he's watched as Indianapolis has rapidly evolved into a multicultural city.
Waters sees the program as part of a bigger cultural shift in the police department towards community policing. His goal is to expand the unit to six officers, one for each city district.
He says in the early days Candi Perry helped test his immigrant outreach strategy on the east side, in a Latino community rife with unreported crime.
"As we began to talk to them, they began to talk to us," Waters says. "And so statistically crime went up, but we were able to identify where to put our resources to reduce that crime."
Perry says she hopes more contact with the police – real, human contact – will build trust between immigrants and the force.
She remembers a recent meeting with a group of non-English speakers.
"We went to each of them and we were like, 'Hello!' and they were like, 'He…llo?' And everyone starts laughing," Perry says. "And it becomes a positive thing. To say 'Ok, we're human. We're people. And we want to get to know you. And we want you to know us.'"
And Perry says for her, it's not just about the police. She says when community institutions like IMPD promote a culture that welcomes immigrants into Indiana, the native population will ultimately follow suit.