The chief lobbyist for Eli Lilly and Company was unanimously voted in as the president of the Indianapolis Public Schools Board of Commissioners Monday night.
Michael O'Connor, the board's former vice president, has been a commissioner since September 2015. He says the board has many challenges ahead this year as members oversee high school reconfiguration and seek new ways to turn around failing schools.
The current board has supported partnering with charter school operators and outside groups to restart long-struggling schools. Some community groups and state lawmakers have criticized the strategy.
"Truthfully, the biggest challenge for us is -- the work that we are doing is sometimes controversial," he says. "The work that we are doing sometimes makes people aggravated at us. And we can't get fatigued with that.
"We need to make sure our commitment is, every neighborhood has a high-quality school."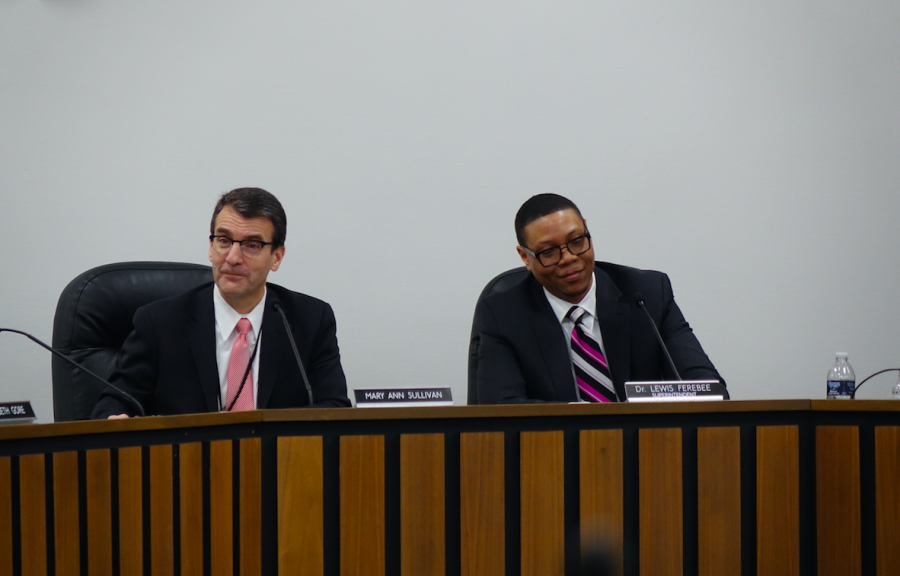 Newly elected IPS Board of Commissioners President Michael O'Connor, left, talks with IPS Superintendent Lewis Ferebee during the board organization meeting Monday, Jan. 8, 2018. (Eric Weddle/WFYI Public Media)

O'Connor, 54, represents District 1. He won re-election in November and will serve a four-year term through December 2020. He's a former Indianapolis deputy mayor under Mayor Bart Peterson. He's been the senior director of state government affairs at Eli Lilly since 2010.
Mary Ann Sullivan, outgoing board president, praised O'Connor and other commissioners in remarks. She described the seven-member board as "not afraid to do things differently."
"Governing an urban school district is handwork but this board is up to the challenge," she says. "Over the past several years we have thoughtfully laid the ground for a new type of urban school … (one that is) designed for continuous improvement."
Sullivan, who holds an at-large seat, is up for reelection in November.
Board members Venita Moore, District 2, was elected vice president and Elizabeth Gore, at-large, was re-elected secretary for the second consecutive year. Both were unanimously approved.
Contact WFYI education reporter Eric Weddle at eweddle@wfyi.org or call (317) 614-0470. Follow on Twitter: @ericweddle.