Candidates running for the Indianapolis Public Schools Board election on Nov. 6 are reporting large campaign chests that signal the fierce competition between rival ideologies.
In past years, the race for a seat on the seven-member board has seen tens of thousands of dollars flow in from out-of-state groups and individuals who want to support reform in the urban district.
But this year, some of the candidates critical of those reforms are reporting the most money raised. The bulk of contributions challenging the current IPS administration comes from I-PACE, or the Indiana Political Action Committee for Education, the advocacy arm of the Indiana State Teachers Association. ISTA and the local IPS teachers union have been critical of reforms supported by the current district administration and board of commissioners, such as the creation of innovation network schools.
Taria Slack, a candidate for District 5, is challenging incumbent Dorene Rodriguez Hoops. Slack reported the largest campaign contributions this reporting cycle at $28,950. All but $450 was donated by I-PACE, according to campaign finance reports filed today.
Michele Lorbieski, a candidate for District 3, reported the second largest total in campaign contributions at $27,345. The bulk of that comes from a $24,900 donation from I-PACE.
Slack and Lorbieski, during a recent candidate forum, raised concerns about the performance and growth of innovation schools.
"I think we need to pump the brakes on these innovation schools," Lorbieski said.
Evan Hawkins, a District 3 candidate, raised the third largest amount in campaign contributions at $25,972. Hawkins contributions include support from Brandon Brown, the CEO of the Mind Trust. The local non-profit was instrumental in the passage of state law that created innovation network schools and has since partnered with IPS Superintendent Lewis Ferebee and the Mayor's charter school board to support the proliferation of innovation schools in the city.
Hawkins, who was recently endorsed by outgoing District 3 Commissioner Kelly Bentley, has said innovation schools are not a magic bullet but a vital method to avoid state intervention at failing IPS schools.
Unknown Support
The campaign filings do not include all of the support a candidate can receive, such as costly mailers or other get-out-the-vote efforts.
Organizations registered as a social welfare organization, also known as a 501(c)(4), are not required to disclose detailed expenses, such as the cost of mailers for one candidate, or from whom they receive contributions.
The school reform group Stand For Children Indiana is one of those groups. They've endorsed incumbents Mary Ann Sullivan, Hoops and first-time candidate Hawkins. The group is running online ads and sending mailers, among other efforts, to support the candidates.
Stand For Children Indiana declined to tell WFYI News how much it is spending on the November 2018 election. It's previously funded lobbying to pass the law creating the innovation network schools law.
Other Candidates, Donors
The fourth highest grossing contender is at-large candidate Susan Coons-Collins, who filed $16,421 in contributions. Similar to Lorbieski and Slack, a bulk of her campaign funds, $15,000, was contributed by I-PACE.
Familiar supporters of school reform also appeared in the campaign finance reports filed today, such as local advocate Al Hubbard.
Hubbard, a former economic adviser to President George W. Bush and Indiana Republican Party chairman, was eyed as a potential U.S. Education Department deputy secretary earlier this year before he took himself out of the running.
Hubbard gave the incumbents –– Mary Ann Sullivan and Hoops –– and newcomer Hawkins each $5,000 in campaign contributions.
Another common donor was Reid Litwack and his company Steel House. Litwack is a former board president at KIPP Indy that has since become an IPS innovation charter school. Under his own name, he donated $2,500 to Hawkins. His company also gave incumbent Sullivan $1,000.
Indy Chamber's advocacy committee also gave Hoops, Hawkins and Sullivan each $4,670. The Indy Chamber is partnering with IPS in a cost-cutting plan supported by these candidates.
Here are summaries of other candidates' campaign finance reports:
The size of a campaign war chest does not guarantee a win. In 2016 Elizabeth Gore upset incumbent Sam Odel for an at-large seat. In Gore's pre-election report, she reported just $250 in donations versus the $37,000 raised by Odel during the same period.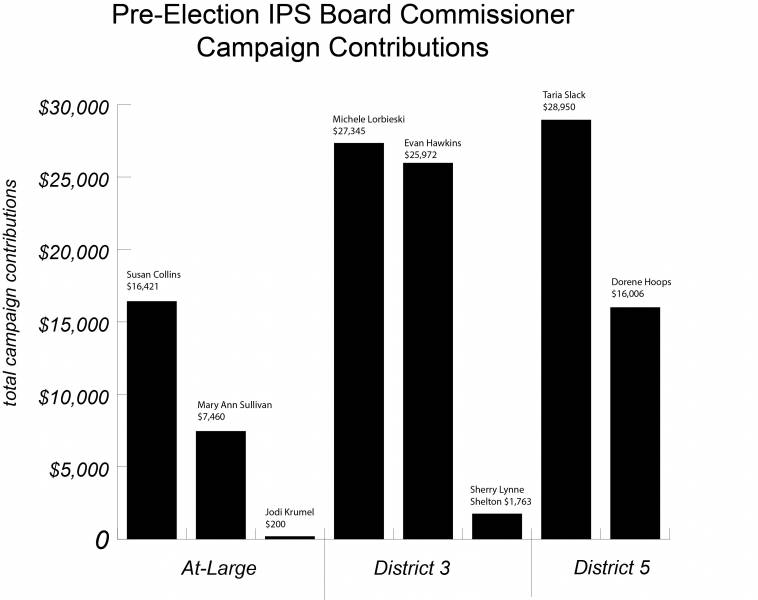 WFYI reporter Eric Weddle contributed to this report.