On a recent day, Melvin Strong drove a carload of his children to George Buck School 94 on the city's far east side. He dropped them off at school for one of the last times.
At the end of May, the facility will be one of six buildings that will no longer serve students in the Indianapolis Public Schools district. Now Strong has to find new schools for his three children.
"We got one going to the seventh grade, so she'll be in a real middle school. And the other two babies, we're not sure yet," Strong said. "It's a lot of thinking we got to do."
The Indianapolis Public Schools Board unanimously voted in October to close or merge six schools. The decision is part of the district's Rebuilding Stronger plan, which aims to boost poor academic scores by providing all students with robust academic and extracurricular offerings.
Students at closing schools have been given priority enrollment to attend a district school of their choice that best fits their family's needs. But Strong said is still undecided as his family weighs a lot of factors. He'll have to juggle dropping off three kids at two different buildings.
"With closing schools and all, we don't really know about the other schools," Strong said of the options available to his family. "So we got to, you know, do some research and figure it out."
School 94 staff and students are celebrating the closure of the 62-year-old facility by going through the alphabet backwards, and matching a theme each day to the specific letter. For example, the school celebrated the letter "P" by hosting a picnic and pajama day.
Fifth grader Jeremiah, dressed in pajamas, was eager to get to class because he likes his school even though, he said, it gets a bad rap.
"I think it's pretty sad how the school is closing down,"Jeremiah said from the backseat of a van with his siblings and cousins.
Jeremiah said the teachers make the school fun, but he doesn't know which school his teachers are going to next year.
Will closing schools help students?
Deven Carlson said the decision to close schools is not done lightly. Carlson is an associate director for education with the University of Oklahoma, and studies school closures.
"One of the most well-established findings in the educational literature is that school mobility, changing schools, is disruptive," Carlson said. "It's a net negative for students' academic outcomes, mental wellbeing, satisfaction, friend making — those sorts of things."
Carlson said school closures have been used in a variety of ways to address declining enrollment as populations dwindle, and to address low performing schools due to the quality of instruction.
The decision by IPS officials to close schools hinges on a number of financial factors, such as addressing declining enrollment and reallocating the district's budget before it goes into the red.
Altogether, the district has the capacity to serve roughly 46,600 children, but only enrolls 28,100 students — a 60 percent utilization rate, according to an IPS facilities report. Only 231 students are currently enrolled at School 94, despite the ability to serve more than 500.
The other schools closing are: Floro Torrence School 83; Raymond Brandes School 65; Francis Bellamy School 102; Francis Parker School 56; Paul Miller Elementary School 114.
Five years ago, facing the same enrollment challenges, the district closed Broad Ripple High School, and Arlington and Northwest high schools transitioned into middle grade facilities. The consolidation intended to pool more academic resources to fewer schools.
The Rebuilding Stronger plan included a proposal to ask voters for a $413.6 million operating property tax referendum during the recent May primary election, but the district decided not to put it on the ballot due to a lack of community support.
Without a new operating referendum, the district projects a fiscal deficit of at least $42 million, beginning during the 2026-2027 school year.
IPS Superintendent Aleesia Johnson has said the Rebuilding Stronger plan will continue. But it's unclear how the plan will unfold and how beneficial it will be if an operating referendum isn't approved.
"You look at cases like Chicago, like Philadelphia, like other places where it's just not clear that the next school and the disruption associated with closure is going to be better for the student," Carlson said. "And so I'm not sure that families ultimately are going to be able to judge whether this is going to be good or this is going to be bad."
Carlson said many school districts that close facilities don't always work with neighborhood organizations and community leaders. They may not include student and parent feedback before decisions are made, or plan where students will go next.
But IPS held numerous feedback and information sessions before announcing the Rebuilding Stronger plan, then students were assigned default schools for families that don't choose one. It's supposed to make things slightly easier for parents like Strong.
Strong said IPS' decision to formalize these changes in the middle of the school year has been both hectic and a headache.
"I grew up in IPS," Strong said. "They taught me a lot. Hopefully they can do the same for my kids. We love IPS, but they've got to get it together."
But for some, the closures are a sign of better support for students.
Brandon Warren, principal of Raymond F. Brandes School 65, said his school offers few extra classes in addition to required academics. The school on the southside of Indianapolis started the year with a music class, but Warren said the teaching position was cut due low school enrollment. Enrollment is around 150 students.
School 65 has one classroom for each grade level. He said it's a disservice for teachers because they don't have colleagues within their grade levels to support them.
"We're still able to get it done, but how much better would it be to be able to have a colleague that's teaching the same content as you to be able to collab with," Warren said.
Warren believes the students and staff will have more opportunities to learn at a school with more robust academic offerings due to the larger enrollment.
"This has truly been an opportunity for everyone to see that change is hard, but the benefits outweigh the things that we may be losing at the moment," Warren said.
Christina Aden Hamer, IPS' chief human resources officer, said all teachers at closing schools were offered at least one position at a different school. Teachers were also able to work with the HR team to figure out other options that work best for them.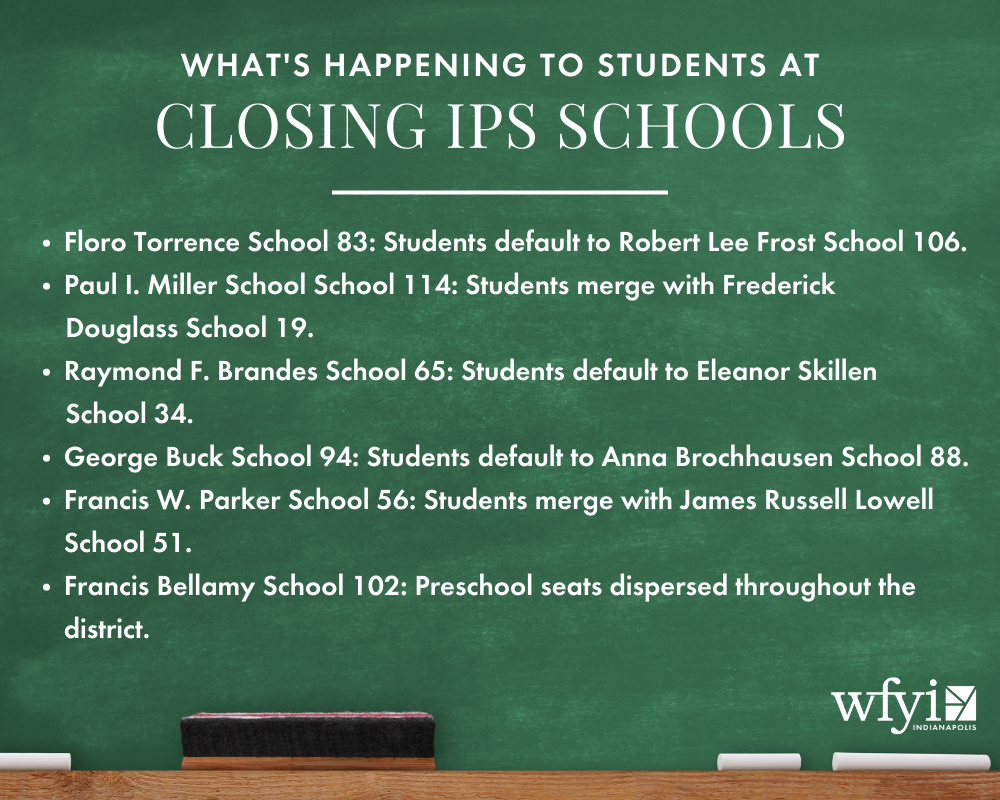 Retaining educators
School 94 teacher Julie Schimmel said they've been celebrating for months to make the goodbye this week extra special for students, families and staff. Schimmel has taught for 22 years at IPS. This was the special education teacher's first year at School 94, and the decision to close the school has left her heartbroken. This is the first time she's faced closure.
"I was looking forward to my journey here," Schimmel said. "One of those things you have to do as an educator is you kind of have to learn to roll with it and be adaptable. And we had heard that consolidations might take place, but I guess until you really hear it, you're still not expecting it."
Now Schimmel is preparing to say goodbye to some students.
"There's kind of that mourning period where we have to say goodbye to many students because not all of the students are going to the same school," she said.
Schimmel will continue teaching special education at Anna Brochhausen School 88, a building about four miles away. A couple of her students and coworkers will join her there, she said.
"One of the things that IPS did really well is making sure that if you wanted to be placed within the district, that you had an offer," Schimmel said. "And if you did not like the offer that you were given, you can of course interview multiple times or interview for multiple positions or whatever it is that you're interested in."
Neighborhood impact
Ashley Virden, a local parent and education advocate, lives a few blocks away from School 94. An IPS graduate herself, she's seen the district's enrollment decline over the years — in the last decade 7,000 fewer students attend district-controlled schools. Virden said that's partially due to a lack of a rigorous curriculum at all schools and access to the same extra-curricular offerings provided in neighboring districts.
"I was born and raised in this neighborhood and it was always like the creme de la creme of schools growing up. [I've] just been kind of leery of choosing IPS for my kids now that I am a parent," Virden said. "So we chose a charter school for our kids."
Although Virden is excited IPS students will have more access to a variety of academic opportunities, she was concerned about how a closed building could impact the neighborhood. IPS previously closed T.C. Steele School 98 in 2009, and Virden said the neighborhood immediately felt the impact.
"You started to see people leaving the neighborhood," Virden said. "So we had a lot of abandoned homes for quite some time."
Virden said the dynamic in the area has changed since the building was purchased by the Tindley Accelerated Schools charter school network in 2017 for its Summit Academy.
But School 94 won't stay empty. The IPS board recently approved the Indiana School for the Blind and Visually Impaired to temporarily use the building for the next few years as their facilities undergo renovations.
Although Virden has her concerns, she said she's hopeful and excited about the changes IPS is trying to make. She might, potentially, reconsider the district for her own children in the future.
Contact WFYI education reporter Elizabeth Gabriel at egabriel@wfyi.org. Follow on Twitter: @_elizabethgabs.