Kia Cadenza is Beautiful, Comfortable
The Kia Cadenza has a 3.3-liter V6 engine that generates 290 horsepower and 20/28-MPG city/hwy. Provided photo

Kia once built cheap little cars for economically-challenged drivers. Nobody would compare them to Buick, Lexus, or Lincoln. And, boy, has that changed. Today's Kia builds world-class style makers that are among the world's most beautiful cars – wheeled art like the redesigned 2017 Cadenza sedan. Take a drive and you'll find it's every bit the equal of its competitors with classy looks that are second to none.
I mean, take an eyeful of the 2017 Cadenza. It is a stylish, sexy full-size sedan that's as beautiful as it is comfortable. The front is both elegant and menacing, starting with a chrome concave version of Kia's trademark "tiger nose" grille flanked by projector beam headlamps that blend into the fenders. Below are deftly-applied chrome detailing and four-element foglamps. A strong shoulderline, multi-contour sheetmetal, and squared rear windowline lend the car upscale sophistication. Around back, LED "piano key" taillamps over twin exhausts and connected by thin chrome give the car a memorable finish. Place it all over 19-inch wheels.
European Craftsmanship
The interior exhibits high levels of craftsmanship that would look appropriate in an Audi or Bentley. Open the door and you immediately focus on the diamond-quilted Nappa leather on heated/cooled seats. A heated steering wheel soothes winter's chill while a wide expanse of stitched dashboard looks luxurious. Upper and lower sections are separated by dark woodgrain. Rear passengers stretch their legs in comfort from heated seats and under a power sunshade.
Drivers are confronted by a sporty leather-wrapped steering wheel and look at large analog gauges under a head-up display with speed and navigation directions. Dual-zone automatic climate control, panoramic sunroof, and 12-speaker Harman/Kardon audio enhance comfort and style. Apple CarPlay and Android Auto make accessing Kia's UVO screen easier.
Safety is enhanced by Lane Departure Warning, Smart Cruise Control with stop and go functionality, rear cross path detection, Forward Collision Warning, and Autonomous Emergency Braking systems. The Smart Blind Spot Detection System senses drifting towards other vehicles and automatically brakes opposite side front wheels to correct course. Cadenza earns the Insurance Institute for Highway Safety's Top Safety Pick+ rating.
Smooth, Efficient Power
Putting restrained authority to pavement is a 3.3-liter V6 engine that generates a smooth 290 horsepower and 20/28-MPG city/hwy. Highway fuel economy over 30-MPG would be even better. The engine connects to the front-driven wheels through an eight-speed automatic transmission with paddle shifters for the manual shift mode. More power is always good, but nearly 300 horsepower on the front wheels is plenty to move a mid-class luxury car.
Drivers are placed lower in the car than previously, lowering center of gravity and providing a sportier feel. The suspension works hard to tame the large wheels, but virtually no harshness gets through and the steering is firm enough to plant the big car in corners. This is no European sport sedan, but strikes the right balance between deft handling and sublime comfort.
Nobody styles a car like Kia. The Cadenza is beautiful. It has ample power, and in Limited trim, comes loaded with all of the comfort and safety tech one could expect. Being a Kia, it is also a good value. Prices start at $31,990, but came to $45,290 all in. That makes it a tough competitor for the Buick LaCrosse, Toyota Avalon, Acura TLX, Nissan Maxima, Chrysler 300, and Lincoln MKZ.
Kia Stokes its Little Soul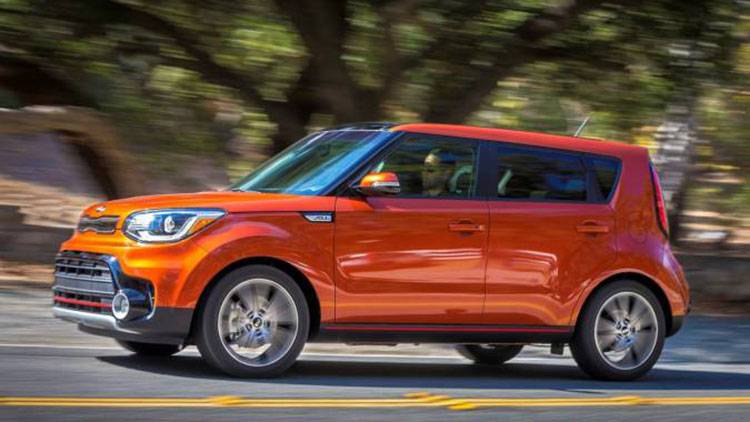 The Kia Soul's fuel economy is rated 26/31-MPG city/hwy. Provided photo

Kia's Soul is much more than a uniquely styled little box aimed at first-time buyers, club queens, or a teenage fashion diva. Well into its second generation, it's proven to exude competence and driving pleasure beyond what may be your first impressions. Stoking it with a new turbocharged engine makes it a practical and comfy ride for driving enthusiasts.
The base 1.6-liter engine enjoys an additional 40 horsepower and 45 lb.-ft. of torque over the mid-level 2.0-liter four-cylinder, for 201 horsepower and 195 lb.-ft. All of that power is sent to the front wheels through a new 7-speed dual clutch automatic transmission with manual shift mode. The turbo, especially with Sport mode engaged, serves up hair trigger acceleration off the line and spirited running at highway speed. It's no sports car, and power will eventually run out, but adds zip to morning commutes. Fuel economy is rated 26/31-MPG city/hwy.
Sporty Interior
You know you're in Sport mode when you press the console button and a mini-tachometer with digital speedometer appears in the instrument cluster. Heated leather-and-houndstooth cloth seats, dual-pane sunroof, and Harman/Kardon audio system elevate the car's ambience and comfort – as do a heated D-shaped leather-wrapped steering wheel, push-button starting, and an infotainment system with easy-to-use touchscreen, Android Auto, and Apple CarPlay compatibility. Navigation gets you there. Rock out with customizable ambient lighting. Safety is enhanced by Rear Cross Traffic Alert and Blind Spot Detection.
The Soul Exclaim with the Turbo engine looks the part of a hot hatch from its 18-inch alloy wheels with low profile tires, red accented body trim, chrome grille surround, and unique tailgate badge. Check the dual chrome exhaust pipes too. Redesigned headlights and foglights, finessed front and rear facias, and sporty color choices amp up the visual appeal.
Peppy Turbo
Kia did far more than just create a funky urban commuter with a peppy powertrain. Interior materials exceed their class, the dash-top audio speakers could have come from Audi, and every detail of the cabin seems as if designers did their best work. The suspension is firm, yet compliant, and crossover ride height provides a good view out of all windows. If you only think of the Soul as a cute hatchback, go throttle the turbo engine. You'll be surprised.
Kia prices the Soul at just $15,990, but the Soul Exclaim with the turbo engine rises from a very affordable $22,650. Our loaded test model came to a heftier $28,625. Given all that comes with the car, it's serious competition for the Volkswagen GTI, Mini Countryman, Nissan Juke, Chevy Trax, and upcoming Toyota C-HR.
Storm Forward!
E-mail Casey at AutoCasey@aol.com; follow him on YouTube and Twitter: @AutoCasey.
2017 Kia Cadenza Limited
Five-passenger, AWD Sedan
Powertrain: 290hp 3.3-liter V6, 8-speed auto trans
Suspension f/r: Ind/Ind
Wheels f/r: 19"/19" alloy
Brakes f/r: disc/disc
Must-have features: Comfort, Style
Fuel economy: 20/28 mpg city/hwy
Assembly: S. Korea
Base/as-tested price: $31,990/45,290
2017 Kia Soul Turbo
Five-passenger, FWD Hatch
Powertrain: 201hp 1.6-liter T4, 7-speed auto trans
Suspension f/r: Ind/Torsion beam
Wheels f/r: 18"/18" alloy
Brakes f/r: disc/disc
Must-have features: Comfort, Style
Fuel economy: 26/31 mpg city/hwy
Assembly: S. Korea
Base/as-tested price: $15,990/28,625