More people need training for good jobs – not jobs that pay above the poverty line, jobs where they can save money and afford health care. In Indiana, only around 40 percent of workers are in those jobs.
That's bad for the economy. And if more people aren't connected to good jobs, the problem is likely to get worse. Lauren Smith has one of those good jobs. She directs semitractor-trailers that carry freight for a company called First Call Logistics. In her experience, most people have never heard of the kind of work she does.
"There are a lot of people out there that I know -- even my closest friends -- they're asking me 'What's logistics?' 'What do you do,'" Smith said.
She learned about logistics from a professor at Ivy Tech Community College, where she got the certificates and training to take a job in that field. Smith didn't know much about logistics when she started school. She was studying to get a general business degree and working at Cabela's as a part-time sales associate. Then faculty put her in contact with employers looking to hire -- like the managers at First Call.
"For people that are actually looking for a well paying job, or a really great career, that's here," Smith said. "I never thought I'd get here. But I did with the help of Ivy Tech. If it weren't for them, I wouldn't be here."
---
---
Many people stuck in not-good jobs work in retail and other service industries. The estimated number of those people in Indiana's workforce is 1.3 million. And Brookings Institute research indicates that number is going to go up. It gives these reasons:
The amount of good jobs in the state is small and growing too slowly.
Not enough people are trained to take the good jobs we have.
That lack of talent – and some things that come with it — deter companies from setting up good jobs here.
And then it's a self-perpetuating cycle – fewer good jobs means more people have to take lower paying jobs in service industries.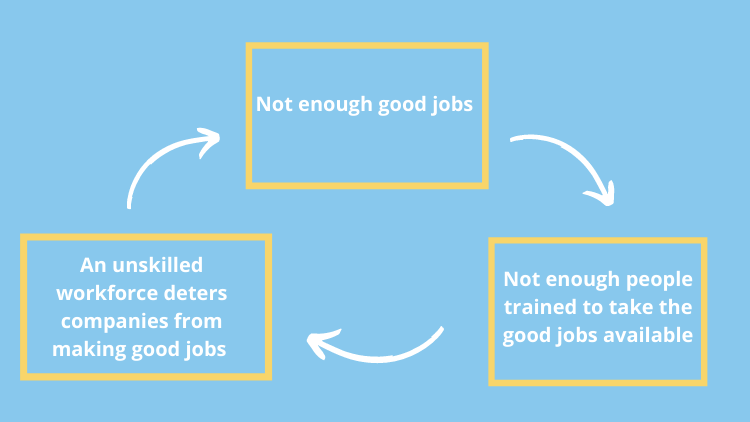 Mark Muro, an author on that Brookings report, said the cycle began with the decline of manufacturing.
"What has happened in Indiana, and many other states, is the erosion of that sector pushed a large number of workers into lower paid service industries," Muro said.
The number of workers in low-wage positions has increased by 86,000 in the last decade. What's more, the pandemic eradicated tens of thousands of good jobs across the state that were accessible without a college degree.
These shifts reflect the division of Indiana's labor market, as middle-wage occupations are replaced primarily by lower-wage occupations. And that increases poverty, strains social service systems, and fewer people have money to spend and support other industries. Good jobs provide a baseline for regional prosperity and a modest livelihood. The average wage of a good job in Indiana is around $36,900 a year.
---
---
Meanwhile, the top 10 percent of earners in the state have been experiencing the most wage growth in the last decade. Indiana struggles with significant gender, racial, and educational wage gaps.
While 65 percent of Hoosier workers with a bachelor's degree are employed in a good job, only 33 percent of those with less education are. Additionally, while 50 percent of male workers in Indiana are employed in a good job, only 33 percent of women are. Similarly, over 44 percent of white workers in the state have a good job, compared to just 30 percent and 25 percent of Black and Hispanic workers.
Because many agree this is a problem, an increasing number of groups – including Ivy Tech – work to get people into fields like logistics, construction and advanced manufacturing because they are high-demand, high-pay, and offer the opportunity to build new skills. And those skills learned on a good job help break the cycle in another way – they open up more, higher paying job opportunities for a career.
If your job doesn't offer opportunities to learn – what's next?
"Sometimes we think of that as dead end employment," Emily Ahonen, a former Indiana University professor who studies precarious employment, said.
She said many jobs are limited to only a few duties or tasks.
"If someone leaves that job, their ability to speak to being able to do something else is limited because they haven't done anything else," Ahonen said. "Because that was the way the job was structured, there was no way to expand your skills or grow into that job because the job was designed that way."
That inhibits one's economic mobility. When you're stuck in a not-good job, it can be difficult to get a better one. That's why some employers work to invest in their employees by providing the training and resources they need -- including a living wage.
That was the case for Kyle Ford. She worked as a food service director for most of her life. When Ford arrived in Indianapolis, she was fleeing a domestic violence situation and had trouble finding work.
"Due to COVID, there were a lot of hiring restrictions at the time," Ford said. "And so I couldn't find work in the area that I've held a position for years."
Then she connected with Goodwill of Central and Southern Indiana– one of the companies highlighted in the Brookings Report on Indiana's economy as a company creating good jobs. They taught her what she needed to know to do her job and eventually get hired as a shift lead. They also connected her with housing and other social services to get her on her feet.
READ MORE: In Northeast Indianapolis, Business Pushes Boundaries In Trend To Counter Community Disinvestment
"I think it's called wraparound services for a reason," Ford said. "I feel like Goodwill is taking their arms and absolutely wrapping them around the human being as if to say, 'I care about you.'"
In January, Ford will be one of the first employees at a new manufacturing site on the city's eastside. It's part of a partnership called the 38th and Sheridan project that is expected to offer around 100 new job opportunities, especially for people living nearby.
Contact WFYI economic equity reporter Sydney Dauphinais at sdauphinais@wfyi.org. Follow on Twitter: @syddauphinais.