Along the White River in downtown Indianapolis, a large, cracked parking lot borders the now abandoned Diamond Chain Factory. On a recent morning, historian and researcher Leon Bates pointed across the lot and said in the name of progress, history has been sacrificed here.
"Cheney Lively was the first African American property owner in Indianapolis," Bates said. "And she died in 1858. She was buried here, but we don't know what happened to Cheney Lively after they decided to close Greenlawn in the 1890s."
Greenlawn Cemetery was Indianapolis's first public burial ground, opened in the 1820s. Thousands were buried here, including many Civil War soldiers.
Now the site is about to undergo another period of modern day development – and some have raised concerns about how that process excludes Black history in Indianapolis.
Researchers don't know exactly where the segregated African American section was located in the cemetery, but incomplete records indicate between 500 to 1,000 Black souls found their final resting place here.
There are no known records of removals for that section when relocation took place in the late 1800s. Bates said there is a need for a more complete census.
"We're not trying to find these people – we're just going to pave over them and ignore a problem that has been here since the 1890s in the city of Indianapolis," Bates said.
As the cycle of redevelopment turns ground again, bulldozers will roll in. The cemetery site will yield a new 20,000-seat Indy Eleven soccer stadium, mixed-use buildings and housing.
A new vehicle/pedestrian bridge, part of another development project at the site of the old GM stamping plant, will be erected over the river. That project includes an expansion of the Cultural Trail that connects near westside neighborhoods.
When the latest plans started to come together, the city of Indianapolis reached out to consult Indiana Landmarks's director of Black Heritage Preservation, Eunice Trotter.
"I knew that when they called me, that meant there had to be some African American presence in that cemetery," Trotter said.
She said the new development represents a chance to do the right thing.
"To the extent that we can do something about it, that we can remove these people, that we can honor these people, that we can respect these people, and that we can stop the injustice that has been historically the case," Trotter said, "particularly for African Americans and in poor people….then we must do that."
Every time the site has been redeveloped, graves, headstones, bones and artifacts have been found. Trotter is worried about the strategy for this latest round of construction.
"Right now, the plan is to have an archaeologist on site, checking the soil as a bulldozer digs through the grounds and we are convinced that we're just going to miss so many," she said. "We're going to miss graves. We're going to miss bodies."
Notable Black people buried at Greenlawn served in the Civil War, escaped slavery, and died by lynching.
Trotter and Bates advocate for a shovel dig instead of a backhoe dig. But a full archaeological dig where a team would go out with shovels and comb through 200 years of remains is unlikely.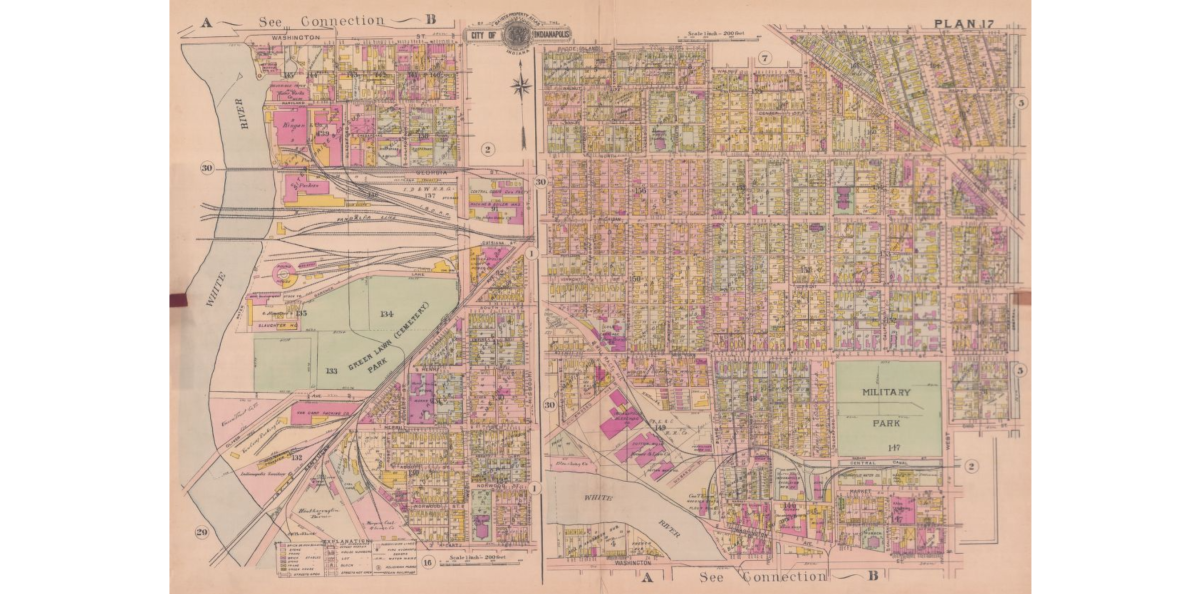 Indianapolis Department of Public Works Director Brandon Herget said the city is aware of the concerns, but that the site has already been compromised.
"Given the economic development that is taking place on these sites over that 150 year period, we know that this site has been impacted in the past," Herget said. "And so I would argue that it would be impossible to know exactly what this site looked like in its infancy."
Archaeologists are contracted by the city and Indy Eleven. The city also has historians on their team. Indy Eleven and developers Keystone says plans are set and follow historic preservation laws. In an emailed statement, a Keystone representative said that if remains are found, plans approved by the Division of Historic Preservation and Archaeology from the Indiana Department of Natural Resources will ensure the proper historic preservation and reinterring.
Some see a chance to do something positive, build trust and place value on Black history in Indianapolis. Judith Thomas is deputy mayor of neighborhood engagement for Indianapolis, and said there is an opportunity to right the social inequities highlighted over the past few years.
"I think after 2020 and the kind of racial reckoning after the George Floyd murder, and then you look at COVID and inequities that have come out," Thomas said. "Now people are really wanting to understand why our country, our state, our city reacted the way it did. And really just the basic history of how this country was built."
Historical markers will likely be installed. Art projects or other memorials could also be included as the landscape transforms. A new community advisory committee is planned to collaborate with the city as it moves forward with the bridge over White River.
"This bridge is literally, physically a bridge. But it's also a bridge from the past to the future," Thomas said. "We're able to tell our story and build such a better future by understanding where we are today."
Historian Leon Bates would like to see more people of color on the city's team making these decisions. He, too, is working on a historical marker project for one person buried at Greenlawn.
"John Tucker was lynched in Indianapolis in 1845, July 4, downtown," Bates said. "He was beaten to death by three men and almost 100 people stood by and watched it happen. John Tucker was buried here. These are real people in history, and we can go find their stories."
Groundbreaking for the Indy Eleven stadium project is planned for this week.
Contact WFYI city government and policy reporter Jill Sheridan at jsheridan@wfyi.org. Follow on Twitter: @JillASheridan.