A large gym in an Indiana National Guard facility on the westside of Indianapolis is set up with rows of tables. At an annual Helping Veterans and Families, or HVAF, event, Hoosier veterans weave through the lines picking up sleeping bags, food, sweatshirts, socks and toiletries.
Veteran Aaron Irvin waited in line for an electronic tablet at one busy table. Irvin said he's still working toward permanent housing.
"Today I'm still homeless, but it's getting better," Irvin said. "I'm just glad to see we got a lot of people that are helping veterans."
He hopes to land in one HVAF's transitional housing units. HVAF provides employment services, food, clothes and street outreach and housing. It has a totoal of almost 200 units of transitional and permanent housing.
"Right now it'd be transitional. But later on it'd be full time housing," Irvin says.
Permanent supportive housing is often the best outcome for someone at risk of homelessness.
That goal could become reality for Irvin and many others in Marion County. The city of Indianapolis is still a long way off from ending homelessness but the number of unhoused veterans dropped 35 percent in the last annual assessment.
HVAF led efforts to decrease the number through a housing-first model. Advocates are validated by this success, and the city sees it as a clear map to move forward.
---
---
Homelessness is often one crisis away
Emmy Hildebrand is CEO of HVAF. The organization is the only one in Indiana dedicated solely to helping Hoosier veterans at risk of homelessness. Hildebrand said the path to becoming unhoused is often a domino effect.
"If you fall behind on your child support in the state of Indiana, the repercussion then is they can suspend your driver's license. Without a driver's license, it becomes significantly harder to find and get to work," Hilebrand said, "Obviously, you're no longer getting paid and then you're behind on your bills. And it's just a snowball of things."
HVAF was able to utilize $4 million in relief from the Veterans Administration during the past two years. It also received nearly $1 million in emergency funds from the city. Much of that money went to pay rent for veterans.
"Obviously that funding is starting to decrease as we move hopefully to the end of the pandemic but you know I think that we need to hold on to the lessons that we learned what that when you know government and you know local nonprofits work together we can make a huge impact," Hildebrand said.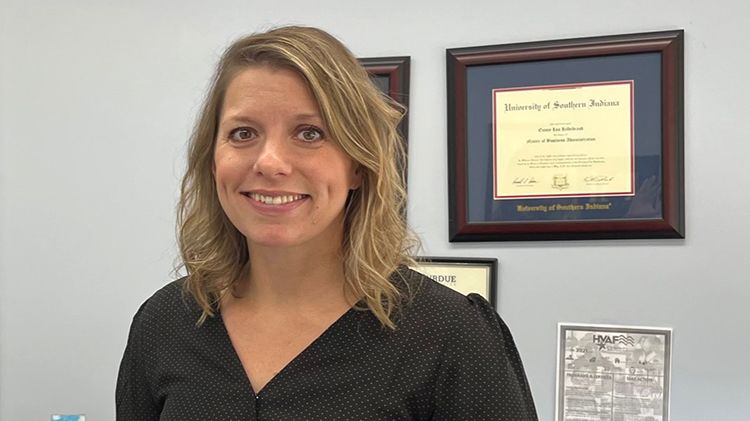 A 35 percent drop in veteran homelessness during the pandemic is not only due to the surge of federal funds. The pandemic spurred better collaboration between agencies, community and advocates to address the issues facing people at risk of homelessness. But the system to reach people also has to be in place.
More than just money
As an established nonprofit in Indiana, HVAF has been helping Hoosier veterans since the mid 90's. It is uniquely positioned to end veteran homelessness because it knows what it takes. It's more than just keys to an apartment.
Many veterans face added barriers to stable housing including employment history, credit history, previous evictions or criminal history.
Permanent affordable, supportive housing helps ensure continued stable housing, says HVAF's Hildebrand.
"Then we can also stay engaged with the veteran like 'hey like let's work on budgeting, let's make sure before we even move in that this unit is affordable based on your income'. To prevent some of those things that have been issues in the past," Hildebrand said.
The influx of money to help people experiencing homelessness as the pandemic took hold totalled about $40 million in Indianapolis. The city operated a successful hotel for over a year and other assistance bolstered agencies across the county that provide wrap-around services including housing.
But the success in permanently housing more veterans hasn't reached other populations as Indianapolis continues work to end homelessness. The annual point in time count finds that subgroups like families and children are on the rise and overall homelessness numbers are higher than pre-pandemic.
---
---
Indianapolis has become a lot better at accessing federal funding from HUD for overall efforts and has helped more people stay housed. But Indianapolis Deputy Mayor of Community Development Jeff Bennett said cash is not the only answer.
"Even though we've gotten way better at bringing those funds to Indianapolis it's never going to be enough money. We have to be creative in the alignment of other resources that we have at our disposal," Bennet said.
Indianapolis' plan to end homelessness by 2023 is steered by a council with the Coalition for Homelessness Intervention and Prevention, CHIP, at the helm. Executive Director Chelsea Haring-Cozi said the drop in veteran homelessness is thanks to pointed efforts.
"When you target resources to specific populations, and you really focus, you start to see that impact," Haring-Cozi said. "That brought a huge, I think, kind of new continuum of housing and choice and services."
The city has also engaged in new ways to increase housing. A complex opening this week is a good example of a successful collaboration of funding and agencies. Proctor Place on the west side provides 15 permanent supportive housing units for veterans in a new affordable housing complex. The project diversifies city, state, nonprofit and private efforts using a variety of credits, funds and other programs to make and keep veterans housed.
"There's another piece of the puzzle, Housing Tax Credits vouchers for rental assistance, payments in lieu of taxes to help operate the property at a lower cost going forward and supporting the services that HVAF is providing with housing to recovery funds," Bennett said.
Those support services including mental health care, addiction treatment or legal services and they can be the hardest to connect with.
A veteran finds a home
Fifty-five-year old Timothy Wright is a veteran of the Marines and the Navy. He spent the past 25 years in and out of prison. He said many of his issues stem from post-traumatic stress after the Persian Gulf War.
"Transition from military life to civilian life was very difficult because I had all these ghosts and these issues with everything that I had to do," Wright said.
He spent years self-medicating and addiction soon followed.
"My use was so bad then because," Wright said, "I'm still seeing bodies. I'm still hearing screams. I'm still hearing gunfire. I'm still smelling smoke. I'm still hearing cries for help."
One of the last times he was incarcerated his dad, who had supported him for decades, died a day before his release. That was Wright's rock bottom. The next time he was in prison he took advantage of services including substance abuse help and transitional housing provided by HVAF.
"The Department of Corrections dropped me off and I went straight to them," Wright said, "They gave me the keys to my room and gave me a lot of food and clothes. It was amazing."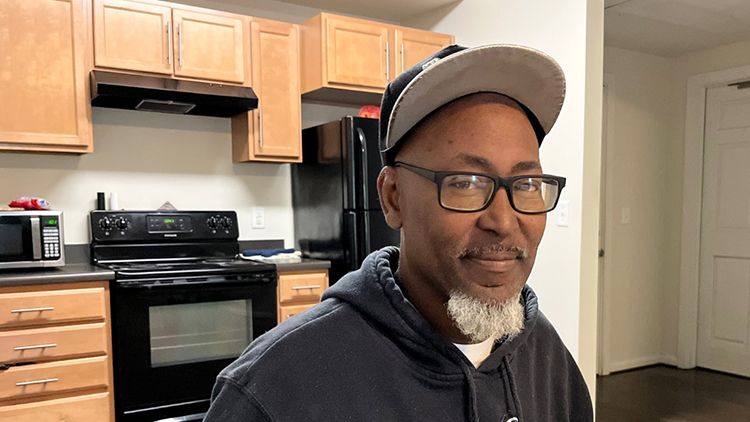 He's been in that HVAF apartment for a few months now. HVAF pays half his rent. This type of permanent supportive housing is important for people at risk of homelessnes.
Earlier this year, Wright was one of 167 counted homeless during the 2022 annual point in time count as he stayed in HVAF transitional housing right out of prison. Almost all veterans were counted sheltered, as opposed to unsheltered.
The count of veterans in 2022 is a significant improvement to a count of 257 veterans in 2021.
The city's lack of affordable housing units continues to be an issue. Indianapolis Deputy Mayor Jeff Bennett says the city is trying to get a better understanding exactly how many units are needed because ending homelessness is possible.
"It really does break down the need for units whether we are newly constructing or acquiring existing units and apartments, rental assistance and support services."