Artrageous with Nate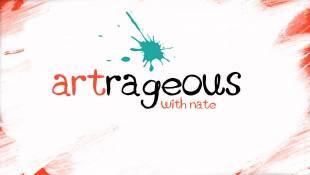 Artrageous with Nate is an Emmy award winning video series that strives to educate and inspire creativity in elementary-aged children through interactive lessons in art, science and history. Each episode focuses on the history of a renowned artist and their technique, demonstrates relevant scientific principles and teaches students how to apply the lesson by creating their own pieces at home or school.
---
Olympic Gold for Sculpture?

What if you could compete to win an Olympic gold medal in painting?Believe it or not, between 1912-48 you could have! Olympic competition is the pinnacle of the international sports scene, but artists in both the ancient and modern Olympic games also competed to win. Watch this episode to find out more!
---
Pollock Who? Legit Art History

I believe art history should make sense. In this episode I give you the 101 on one of the most misunderstood artist in the world, Jackson Pollock. You probably have heard of Pollock, and may be able to recognize some of his work. But, did you know he was from Wyoming, or that Native American sand paintings inspired his drip technique? So much sweet art history in this one!
---
Kids Make Jackson Pollock Painting from the Sky

While filming an episode on Jackson Pollock we decided to do a massive Pollock inspired painting using pool guns and tons of paint! Be sure to check out more Artrageous episodes!
---
The Art of the Selfie

With millions of selfies out there you might not realize the idea has been around for years. People have been trying to capture their own image for centuries. We dive into the history behind the selfie, and then discover how artists like Dali, Picasso, Warhol, Frida Khalo, and Van Gogh used the self portrait as their mode of self discovery!
---
How Did Paul Klee Define Abstract Art?

Paul Klee could easily be compared to the likes of Picasso or Van Gogh. Within his very short life span he created some 10,000 artworks! Find out how he accomplished all this work despite war, disease, and more. Studying his work and life left me inspired, and I hope you will be as well!
---
Art Ninja: Warrior Meets Paint

Fueled by a love of Bob Ross and action films, a young boy dreams of marrying his passions and becoming a mixed martial artist. Fast forward 30 years, and that boy becomes a man who endures grueling training from his sensei on a quest to become THE ART NINJA. Watch this gripping portrayal of valor and creativity inspired by Fruit Ninja in Real Life to Dubstep.
---
The Art of the Samurai: Japanese Warrior Armor

If you thought Bruce Lee and Chuck Norris were tough, take a look at the Japanese Samurai class of warriors! In this episode, Nate visits the Cincinnati Art Museum to explore the history of the Samurai and the beauty of their battle armor.
---
The Art of Engineering: Industrial Design at Delta Faucet

Ever wonder who designs every day objects like your kitchen faucet? We head to Delta Faucet to meet Jordan, an industrial designer who works with engineers to take creative sketches from concept to functional art. Design and function come together in this fascinating episode!
---
Michelangelo & The Science of Fresco

You know Michelangelo had mad skills, but did you know how dangerous the painting technique he used was? Did you know he had to mix corrosive chemicals together and work against the clock? He even used volcanic ash from the ancient, buried city of Pompeii. Learn with us about the science behind fresco painting!
---
Do you know Michelangelo & the Sistine Chapel?

Michelangelo is known as one of the greatest artists to walk the earth simply due to his work on the ceiling of the Sistine Chapel. But do you know just how difficult a feat this creation was? Join us as we explore Michelangelo's awkward relationship to Pope Julius II and his skill at painting in the complex and often dangerous Fresco style.
---
Michelangelo: Painter or Sculptor?

You know Michelangelo for his great work on the Sistine Chapel. But you might not know that his true passion was for sculpture! Find out more about Michelangelo's childhood and his Wonder Years as he moves between sculptor and painter.
---
Did Jackson Pollock Trade a Painting for Beer?

You might have known Jackson Pollock had a drinking problem, and that he once traded a painting for some beer at a local store. But, you may not know what happened to that painting. The answer is pretty amazing!
---
Sculpture or Fashion? The Haute Couture of Issey Miyake

What does haute couture fashion, the atomic bomb, Steve Jobs, and Issey Miyake have in common? Join Nate at the Cincinnati Art Museum for a brief history of fashion and a behind the scenes look at the Minaret Dress designed by Issey Miyake.
---
Was Escher Inspired by Islamic Art?

You might know the famous creations of MC Escher, but do you know where he found much of his inspiration for those amazing tessellations? We dig into the answer, which will take us to Spain, Damascus, and the Cincinnati Art Museum. We end this one back at the studio with a project blending Escher and Islamic Art!
---
Making a Street Artist

Street Art—you see it everywhere, on buildings, buses, bridges, overpasses, in the alley behind your house. But what divides graffiti and street tags from graphic illustration and mural art?
---
Epic 100 Gallon Slip n Slide Body Painting

What do you get when you combine 80 feet of rolled vinyl, over 50 people, 100 gallons of paint, and an amazing DJ? An epic paint slide that's truly Artrageous! Who says paint has to go on a canvas?
---
Thrill Ride: Designing a Roller Coaster Experience

Where do creativity and science combine for one amazing experience? Meet a dynamic duo, Lauren Crosby and James Olliver. Lauren's art and theatre background provide the perfect match to James's engineering skill, creating an unparalleled roller coaster experience on the Thunderbird at Holiday World Theme Park.
---
Sandoval: Kidney Cell Kaleidoscope

Is there beauty in a kidney cell? Microscopist Ruben Sandoval thinks so! Sandoval creates tessellated kaleidoscope-like artworks from the microscopic cell images he generates through his work. His art was born from the science he practices, and his scientific techniques have now been influenced by his art!
---
Vining: Redefining Landscape Painting

What happens when your background includes law, education, and art? You become an amazingly diverse painter! Justin Vining is redefining the watercolor landscape. This episode will leave you inspired to push color and bold lines to a whole new level.